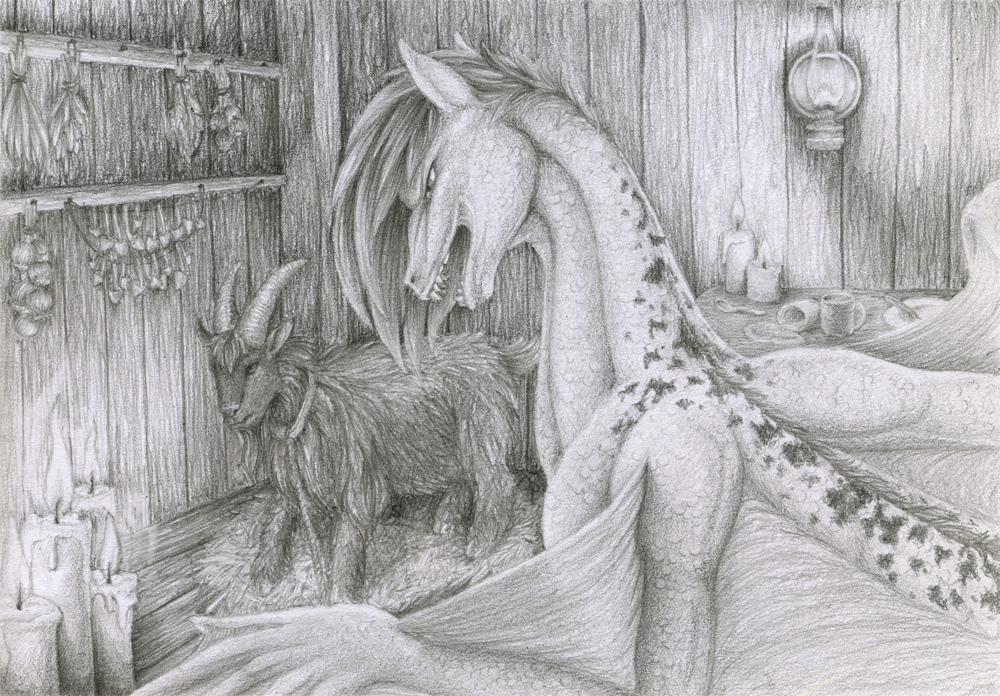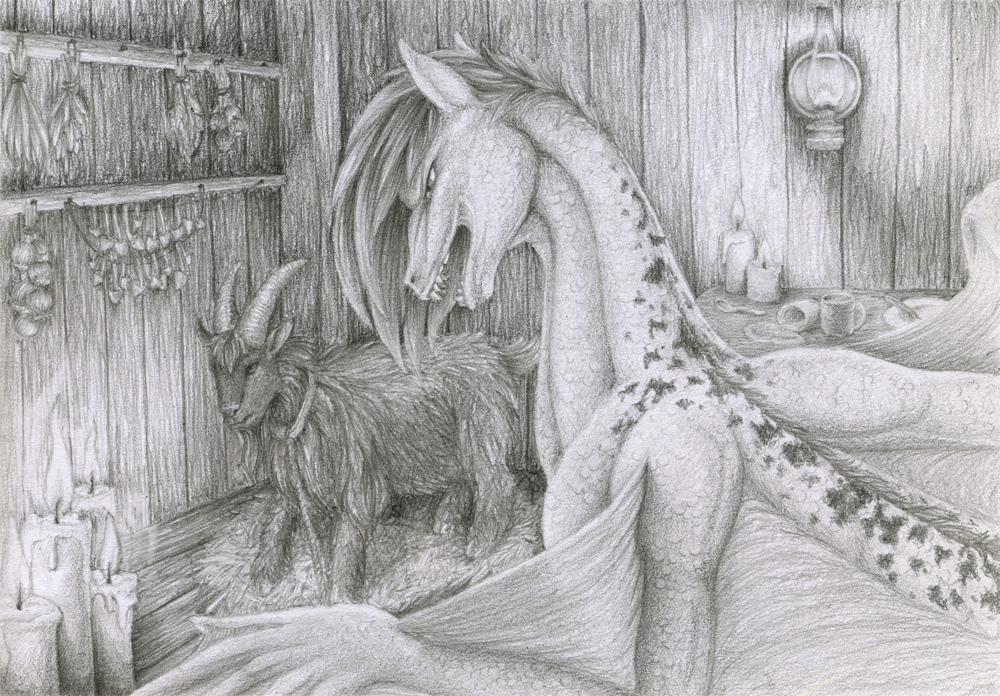 Obrázek kreslený na zakázku pro Olafsonna na téma jeho knížky Chuť dračího života. Jedná se o jednu z důležitých postav, Elizabeth, častěji ale používající zkrácenou verzi jména Liz. Tento obrázek je ilustrací doprovázející jednu ze scén v ukázkách

Více o knížce + ukázky jsou zde!
Pomozte této knížce na svět! Můžete přímo finančně (za velmi pěkné odměny) podpořit vydání nebo můžete projektu pomoci prostřednictvím sdílení mezi ostatní.

Je to knížka pro nás všechny a bez naší pomoci to nepůjde

- Projekt můžete podpořit zde

Děkujeme, povedlo se nasbírat dostatek financí na vydání knížky! :3
Ukázky a informace o projektu jsou však stále k dispozici.
- FB projektu
použito: tužky 2H-6B
papír: kladívková čtvrtka
formát: A5


ostatní mé obrázky z tohoto projektu:
---
Picture commissioned by Olafsonn as an illustration art for his project campaing - he would like to collect enough money to release book with his stories about family where some members can turn into dragons

Sadly, all about this is in Czech so you can read about it probably only using translator

If it happened and you would still like to support the project then please send me Note and we will see what we can do about it

Project already collected enough money so soon there will be finished book! :3
- More about the project + the supprot page
- FB of project
used: graphite pencils 2H-6B
paper: (not any special brand)
size: A5

other pictures by me realized for this project:


Další neokomentovaný obrázek! Za trest se pošlu spát, abych věděl! Ale předtím poděkuji Sam za tuto vůbec nejlepší ilustraci k mému příběhu - díky!
A ještě přidám úryvek, který se k tomuto výjevu váže:
"Grrrrumm!" Až ke mně dolehlo hlasité zakručení dračího žaludku. Liz se začala vrtět a otáčet hlavou na všechny strany.
No jo, holka, na metabolický šok jsi měla myslet, než jsi udělala tuhle blbost, pomyslel jsem si škodolibě. To by mě zajímalo, jak tohle vyřešíš?
V druhém rohu místnosti meknul Belzebub.
Liz bleskurychle otočila hlavu po zvuku a zaostřila svůj roztěkaný pohled. Hlasitě zamlaskala a vyrazila nejistým krokem směrem, kde stál uvázaný kozel. Bezohledně si při tom razila cestu záplavou nahých tanečníků, jako Krasin ledovcovým polem.
Co se bude dít, až se ke kozlovi dostane, jsem opravdu už vidět nemusel.


(Neumíte česky? Smůla, ale alespoň jsme na tom stejně, já taky neumím vaši řeč. Budete si to muset hodit do překladače.)
Reply

Jéé, já bych se taky nechala za trest poslat spát!

Díky, jsem moc ráda, že se líbí a asi se shodneme na tom, že tady je prostě vidět jak strašně dlouho mi to trvalo... a z těch černobílých mě tato rozhodně nejvíc bavila. Doufám, že se někdy naskytne další příležitost kreslit ilustrace, třeba už nebudu tak na větvi jen z faktu, že mi někdo svěří tolik důvěry

Reply

I guess I will have to get a translator so I can read this book

I wish I knew more about the characters.
Reply

You can use translator to read example parts of book here
www.startovac.cz/projekty/chut…
or
auto-translated
version here

First print of book is now sold out, so there maybe will be next set. But, still czech only

Reply
Reply

magnificent great perfectly аwesome art !
Reply

Reply

Amazing!

Reply

Mám rád
viděl
tradiční
umění na
DA
.
Tam je
spousta
digitálního umění
a
tradiční umění
stane
ignorovány.
Tenhle je
krásný
, protože
detailních
textur.
Také

ve velké míře využívají

kontrastu

.

(Google Translation helped. Sorry if this isn't too well written, I'm just beginning to learn new languages.)

I love seeing traditional art pop up on DA. There is so much digital art out there that traditional tends to be shoved aside and ignored online. But this one stands out so beautifully because of the carefully detailed textures. Great use of contrast too.
Reply

Wowww that looks fantastic!
Reply