Update
: I'm so happy that I won this beauty!

Phew, here is something what might be considered as full detailed illustration after some sketches!
I needed to test paper before I'll make a gouache sketchbook from it so technique was picked easily

And because I somehow missed art auction to adopt this sweet nebula mare I simply had to give it try!

Excuse me, I'm into nebula and galaxy designs

And so happy about many things here :3
Original import picture is here: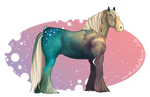 used: gouache
paper: light brown thick cardstock
size: A5
time: ~ 3 hours just of painting
references: mixed many photos into pose I had at mind


5 (fullbody mount) + 4 (detailed shading) + 2 (background) = 11
(c) character (Celestial) belongs to
me,
Samantha-dragon
(c) art belongs to me,
Samantha-dragon
, 2019
Image details
Image size
554x800px 596.21 KB