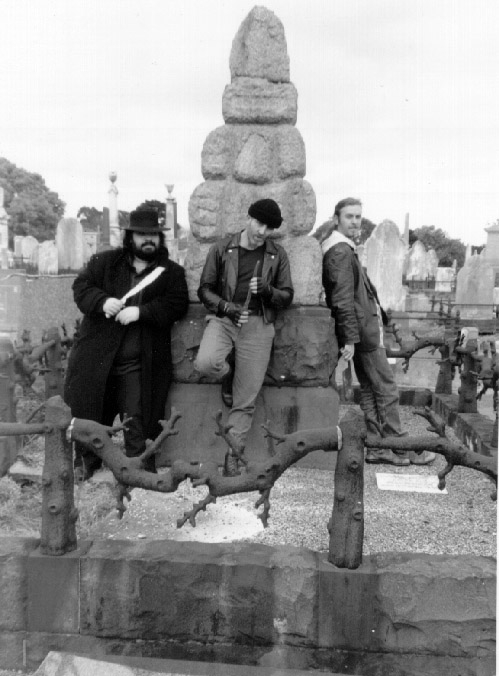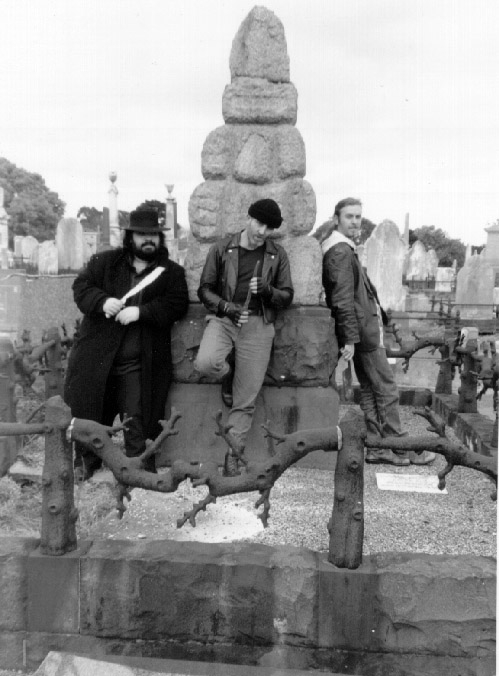 Watch
This is Chris A. Masters (aka the reverend Ian Sane), Bryce (B.J.) Stevens and Steve Proposch, editorial team for Bloodsongs magazine, taken in St.Kilda cemetery 1994.

Bloodsongs magazine was an Aussie-born horror mag, for which I did a little illo work alongside Shaun Tan, Steve Carter and Rod Williams, and which featured writers like Ramsay Campbell, Poppy Z. Brite, Robert Hood, Sean Williams, Richard Harland and D.F. Lewis.

This was just us, having a bit of fun. With knives. There's a shot of the three of them "killing" me, too. I'll have to see if I can dig it up.

Oh wow, I remember reading a bit of that mag back in the late 90's. I remember now that they were briefly owned by Implosion Publishing before that venture went belly-up.
I read a lot more of
Implosion
, though, since they focused on a broader range of underground & transgressive culture. Interviews w/Nick Zedd, articles about headhunters, that kind of thing.
I did read a lot of Poppy Z. Brite in those days, however.
It's weird that you knew, but I guess not surprising.
I like the old pieces you've posted as well. You make me feel so unaccomplished.

Reply
Wow. I haven't met many people OS who've read Bloodsongs. I think the earlier editions when it was still Australian were better, tbh, as far as underground-type content is concerned. I never read Implosion, though. Woot, headhunters.

And thanks. They all look very dated now, and I'm sure I can do better since the passage of time has mellowed me and all (sh). Unaccomplished my left tit, you're a veritable cornucopia of accomplishment, I am sure. Speaking of which, do you have links to any paintings of yours? I feel remiss in not asking you before.
Reply

Nice pic. guy on the left (our left) kind of looks like Silent Bob.
Reply

Hehe nice

TTFN
Me

Reply

Yanno, judging from the picture, I was gonna swear this was in Angor Wat. Okay, maybe I have an overactive imagination.

-Ark
Reply

bloodschlong, lol wow I drink too much, they look like real characters, is the magazine still running?
Reply

A photo of them "killing" you? hahaha You made me curious now! D8
I'd like to see that. Must be funny... lol
Reply