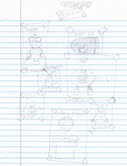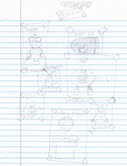 Watch
i drew this at 12:00 in the freakin morning it was not hard though

ya i know that computer i used was terrorable
Reply

Kind sir, this image is much too small. I cannot see make any of the images out.
Reply

i drew lightly wid penncciill
Reply

It's not just that. The image is just too small at 127x166 px. You need to make it at least something like 900x900 px, which is the size DA likes to shrink larger images to. If it's not pixel art, it needs to be WELL over 100 px in both dimensions.
Reply