Hey my name is SallyPrime16.
My favourite hobbys are Art and my Computer,I Love Music too.
I'm BIG fan from RC9GN, Lego Ninjago, Voltron, Disney like SvTFoE, DuckTales 2017 and Music.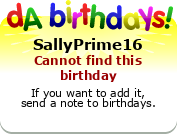 That's all about me,Thank you very much for Watching.:)
Favourite genre of music: Pop, Rock and Country
Favourite photographer: my cousins
Favourite style of art: Animation,Traditional
Favourite cartoon character: Queen Elsa (Frozen), Lena(Ducktales), Takashi Shirogane (Voltron)
Personal Quote: "leave and don't think on tomorrow"