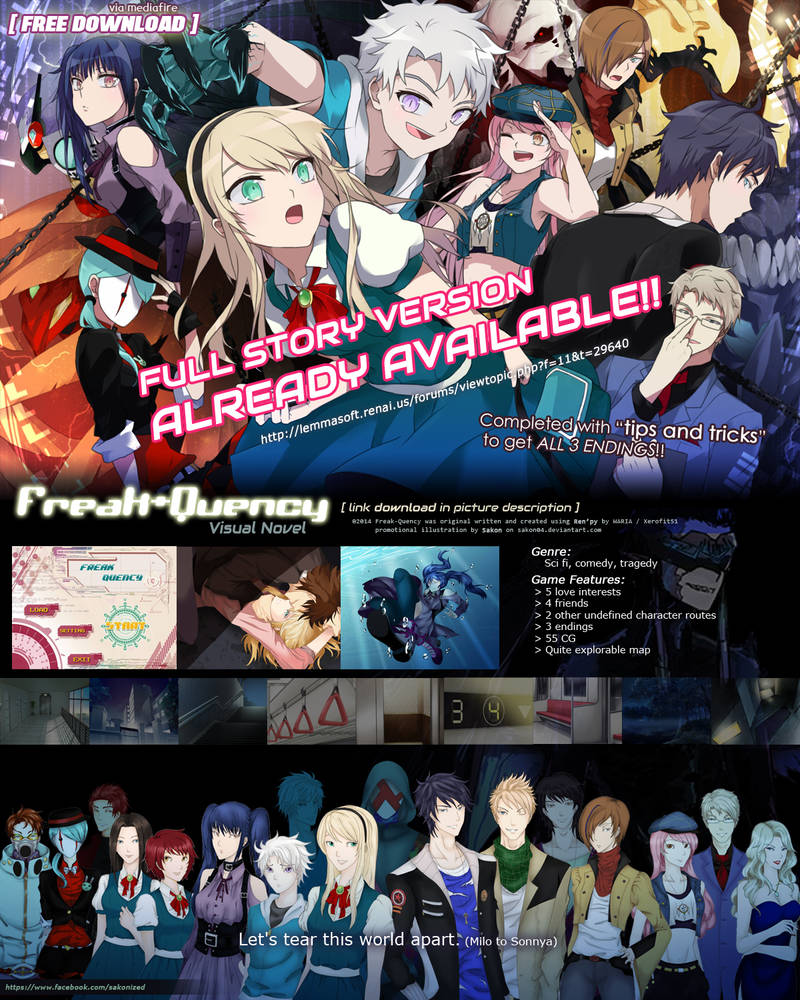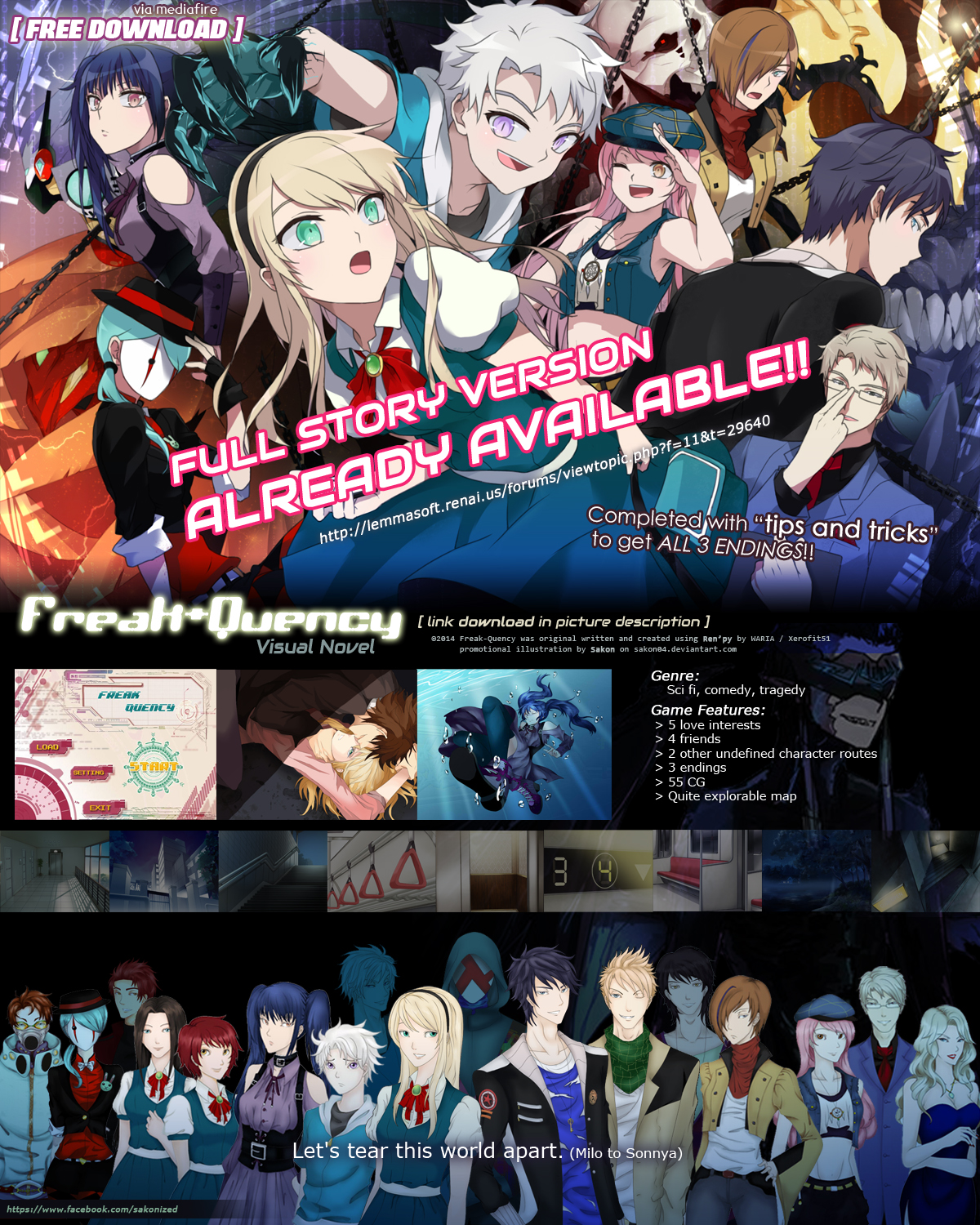 Watch
:thumb703057761::thumb703057761::thumb703057761::thumb703057761::thumb703057761:
12.25.2014 - FULL VERSION : AVAILABLE
PLEASE REBLOG IT AND SHARE SOME LOVE : REBLOG ON TUMBLR
[
watch the teaser here
]
www.youtube.com/watch?v=o1glkz…
FILE [FREE DOWNLOAD]
>
www.mediafire.com/download/r6t…
Tips and tricks to get all 3 endings:
>
www.mediafire.com/view/m1g3yh9…
Freak-Quency
, known to most people as a popular Virtual Reality video game. Then why is it that many of their players are being killed. It doesn't help with the fact that your brother is missing and he turns out to be an avid Freak-quency player. Where is he? Is he dead, alive, and why is all the freak-quency players dying!?
You play this game as Sonnya Gray, a young 16 year old whose attitude can be sweet or bitter depending on your choices. This is an otome game with a simple persona portable based map system and stat raising . You can basically do whatever you want, get a guy, make friends, or not. However be advised…that the choices you make will ultimately determine your fate.
Genre:
Sci fi, comedy, tragedy
Game Features:
> 5 love interests
> 4 friends
> 2 other undefined character routes
> 3 endings
> 55 CG
> Quite explorable map
---
Story and Character by
Xerofit51
(Waria) & some background art and promotion by
Sakon04
more info:
www.facebook.com/sakonized
forum:
lemmasoft.renai.us/forums/view…


Thank you

Sonnya is such a gorgeous, well-rounded, badass character and I ADORE HER, THANK YOU FOR MAKING HER AWESOME AS HECK instead of with a flat personality like so many otomes tend to do to their lead.
( also Milo is so good looking it hurts for quite a couple obvious reasons, and I accidentally happen to be the kind of person who likes attractive big bro characters (tears, what tears, these are not tears, you're imagining things ; v

)
All of the characters are so diverse in personality, which I can't NOT give you all the praise for because to achieve that with a cast as big as this one in just one game is nothing to laugh at. That thing with Kai DID bother me a little since it sort of came out of nowhere, but apart from that the rest of the routes were nearly perfection. I guess a little more backstory with Mary and Lily would've been nice too, even as a side-note because they were so important to her, and maybe to reflect the duality of her living two lives more as an ironic parody of what she finds out in the ending (on another note I find that the fact that they keep getting their memory wiped is hilarious because I keep thinking MIB). I felt a little disappointed that we couldn't interact with Jackal more, but I guess it's because he's a bit of an Easter Egg thing in the first place so it's understandable.
I forgot to max out the fifth love interest and ended up with the true ending by accident because I was busy freaking out over not maxing Crystal even though it ended up okay? /is a huge dumbass because the guy that wanted to lose weight kept getting in the way oops
LOVED THE GAME SO MUCH I PLAYED IT TWICE JUST BECAUSE I REALLY WANT TO SEE THE GOOD ENDING (but I'm still working on that >>) AND I NEVER PLAY OTOMES TWICE BECAUSE IT'S SO TEDIOUS BUT THIS ONE WAS ACTUALLY SO GOOD *slams hands on desk* I WOULD PROBABLY PAY FOR A SEQUEL WITH MAIN CHARACTER MALKAV (hinthintHINTHINT) IF I WASN'T BROKE AND THERE WAS A SEQUEL.
So, ahem, stunning job, and I really hope to see more lovely work from you guys soon?

The Artist thought this was FAIR
32 out of 32 deviants thought this was fair.