WISH LIST is HERE.


ITEMS FOR SALE or TRADE are HERE


FAQ are HERE


BLOG is HERE on blogger, and mirrored HERE on LJ.


TWITTER is SailorAstera.

Hi everyone! This is Sakky, AKA SarahsPlushNStuff! This account is used to showcase my Sailor Moon Collection!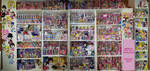 This is a photo of my collection taken on April 9, 2013. It is just the main room of the collection and does not include items in other rooms of my house. The gallery has individual photos of most items as well as details about where I purchased them and how much I paid.
You can look through the Scrapbook to see every item in the collection. I've also sorted items into folders where you can browse specific sections of the collection. If you are watching me for new items you will have to be watching my Scraps to see when new things are added.



If you have any questions (or corrections), please feel free to let me know! Questions? See my FAQ, but feel free to ask too!

You can see the May 2012 Video Tour here: youtu.be/t_IOCzawwAw

MOST OF THE ITEMS IN THIS ACCOUNT ARE NOT FOR SALE.
The only items for sale are the ones in the For Sale & Trade folder. All the items in the gallery are in my Scraps; they are just snapshot photos.

I am always looking to network with other collectors. Sailor Moon has a TON of merchandise so the more we all know about what's out there, the better off we are!



I WILL WORK FOR SAILORMOON ITEMS! If you have anything Sailormoon and you are interested in a trade for art, custom plushies, or cosplay accessories, please get more info from my Commission Journal on my other account.
________________________________


If you see anything in the gallery that is incorrectly labeled or could be labeled better, please let me know!