Hi everyone! I always thank for your watching, enjoying and supporting.
First of all, sorry for the delayed responses and I haven't updated the latter half of works for Inktober 2017 yet. For the last few weeks, I've been so busy that I couldn't afford to check DA. I'm going to post the drawings from 17th to 31st and the artworks shown at the latest exhibition.
I held my first solo exhibition "Swirls Tell Us" (28 October-3 November, 2017) at AAA GALLERY in Yokohama, Japan. On the then gallery staff's recommendation last year, I got started on planning this exhibition. It was a big and tough work--and also a work worth doing--for me to produce one show totally (including setting up the exhibition space). And, though it was a self-produced art exhibition, it couldn't be materialized without the supports by the gallery staffs, the career agents and my family.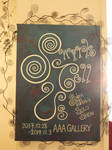 Many visitors and friends came to the show and gave me a lot of happy, cheering and meaningful impressions, and fortunately the goods and some artworks were sold out. (I took these photos at the time no visitors were there)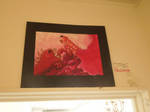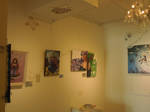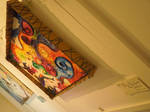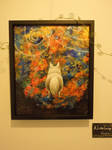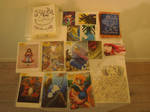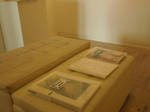 Thanks for all who spent their times: visited, enjoyed, and supported this show. I hope this show will be a part of your memories in this fall.