Three separate pencil sketchpages put together. Personal commissions for my dear patron Sandra, featuring her original Doctor Who fan-character Charlotte, the daughter of River Song and the Twelfth Doctor. I tried to capture as many small and cute moments with her parents as I could, also playing dress-up in the TARDIS wardrobe, reading books, even nicking her mom's vortex manipulator to go back in time and play the violin with the Eighth Doctor.
So much floofy-curly hair!


For commission information and notices of any openings, please visit my
Patreon
. I do not accept commissions outside of Patreon.
Older Charlotte: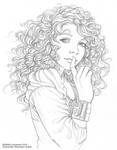 Website - TUMBLR - Patreon - Etsy Shop - Twitter - Instagram
Image details
Image size
700x1770px 532.11 KB