New version of my Prompto "Pickin' Up Chicks" painting with a background commissioned by Robbie Daymond (Prompto's VA)!

This is the second of three takes. You can see the Third and Final take
HERE on my website.
I went for a Polaroid photo border in honor of Prompto being a photographer. And Wiz's Chocobo Post in the background, of course, with even more baby chocobos! They're jealous that he's making off with just one chick and not all of them. (I know he'd absolutely take them all if he could!) I wanted to keep the sketchy feel and lines of the original portrait, but modified Prompto's lower body somewhat to better work with the 11x17" print composition Robbie requested for his signing table. I think it turned out well!
Original version and extra Prompto + chocobo sketches: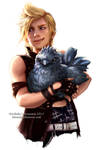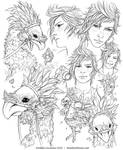 FFXV fanart; Artwork ©Adele Lorienne
PLEASE DO NOT REPOST
Website - Tumblr - Patreon - Etsy Shop - Twitter - Instagram
Image details
Image size
811x1192px 818.8 KB