182 Favourites
2 Comments
1K Views
A pencil sketchpage of my oldest friend's beautiful, fiery Warrior of Light character Adura from Final Fantasy XIV. Yes, she's a red-head. And my character Meadow's in there, too!



Meadow's sketchpage here: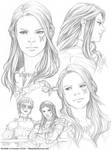 Final Fantasy XIV fanart ; Artwork ©Adele Lorienne
PLEASE DO NOT REPOST - You can reblog from my Tumblr or Twitter.
Website - TUMBLR - Patreon - Etsy Shop - Twitter - Instagram
IMAGE DETAILS
Image size
700x903px 229.91 KB

There's always a goodness and beauty that springs from your work.