Hello my dears, I have great news!
My friend
CrystalSetsuna
has created a
Senshi Brooch Creator
that is LAUNCHED!!!!
You can download it here: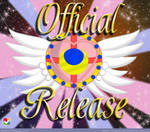 She created a video showcasing what you can do with it! Please show her some love by checking out the video... and maybe even commenting on it!

She has worked TWO YEARS on this and it is GORGEOUS!

www.youtube.com/watch?v=hl3j5J…
(As a SailorX fan you probably already know this, but just in case: The Otaku Senshi Brooch Creator is a module for the
EMCCV
. To read more about how to use these please visit
www.emccv.com
)