I get lots of fantastic suggestions/wishes/requests and I can't keep track of them in all these different places, so I'll do it here.
As per my previous status post I invite you to send me your requests, ideally collected in a journal entry of your own or as a text deviation, which you can then always add to (!). That's the easiest for me and therefore the most reliable. But you are welcome to also post them in comments. I'll transfer them here as soon as I can.
Therefore this post is a work in progress.
The contributors so far:








IN DETAIL:
The well organized
Katieline
(amazing!!!):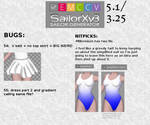 Xv3 ideasCause

SailorXv3

said to make one!
https://www.deviantart.com/sailorxv3/status/15516855
(full disclosure I am greedy as heck, welp)
(look you asked for this okay)


New things have this by them.
CODE


-scroll bar on the load entity screen
HAIR
-narrowed versions of the back hair like we discussed here
-RETRO HAIR!!! The original longer straight ponytails that had a sleeker look and a bit of wave, the longer straight pigtails that hung straight down, some of the bangs, some of the down hair, the three ponytails that the very first version (3.03) shipped with...
-Ami's hairstyle (the closest we have is the shorter straight ones and none of them are quiiiite right)
-Cosmos/Chibi Chibi bangs
-bend the braids so the longer ones are visible (for example)
-touch up the Moon and Luna odangos (they look a little fuzzy)
-Parallel Moon's odango
Suggestions by
chibialvin
:
-
weapons, flower odango, wings, and maybe double pigtails (two of the same pigtails on the same side)
-
odangos: stars, crescent moons, etc.
- sleeves similar to princess jasmine from Aladdin/Anna's coronation dress from Frozen.
- wavy pigtails
- rainbow gradients, braids wrapping around pigtails, school uniforms, and princess dresses
-
senshi uniforms based off their princess dresses (or Disney princess dresses)
-
flower petal skirts


Suggestions by
Iggwilv:

- ponytail braids for "low" ponytail
-
front and side split skirts
-
Double ribbons for the Eternal back bow
- Angled skirts where the skirt is longer on one side and shorter on the other side or longer on the back and shorter in the front.

-
The hair styles for the Asteroid Senshi and various shaped odangos buns such as stars, moons, bat wings, angel wings.

Suggestions by MariaTenebre:
-
Sailor Uranus's boots
- Super long hair (à la Mistress 9)

Suggestions by kittyocean:

- more lightning strokes; bigger; different placed (like the classic pose around the tiara), but honestly, anything sparkly would rule to me!


Suggestions by CrystalSetsuna:
-
choker more in the middle of the neck than the bottom (for SailorXv4)
- Starlight boots!

Suggestions by LordBlumiere:
- LACE! (for skirts and other places)

Suggestions by
Sketching-Panda-Ren
:

-
transparent glove rings and shoulder pads

My own request: All the musical details, like stripes on the front bow, pearls, etc...