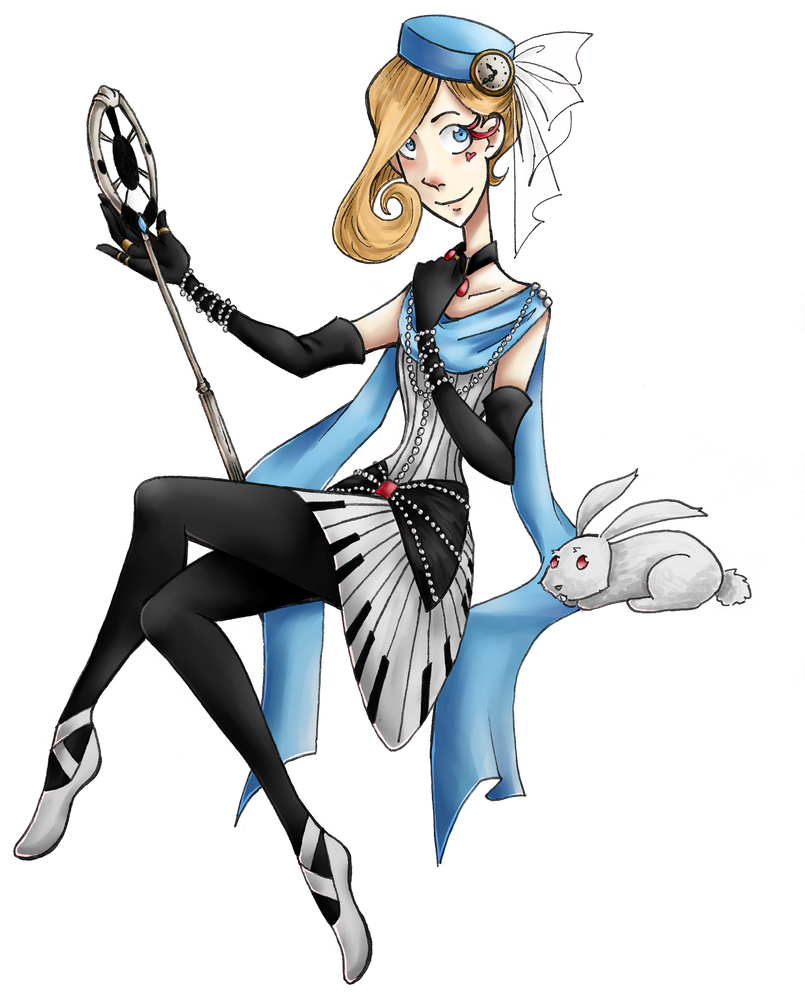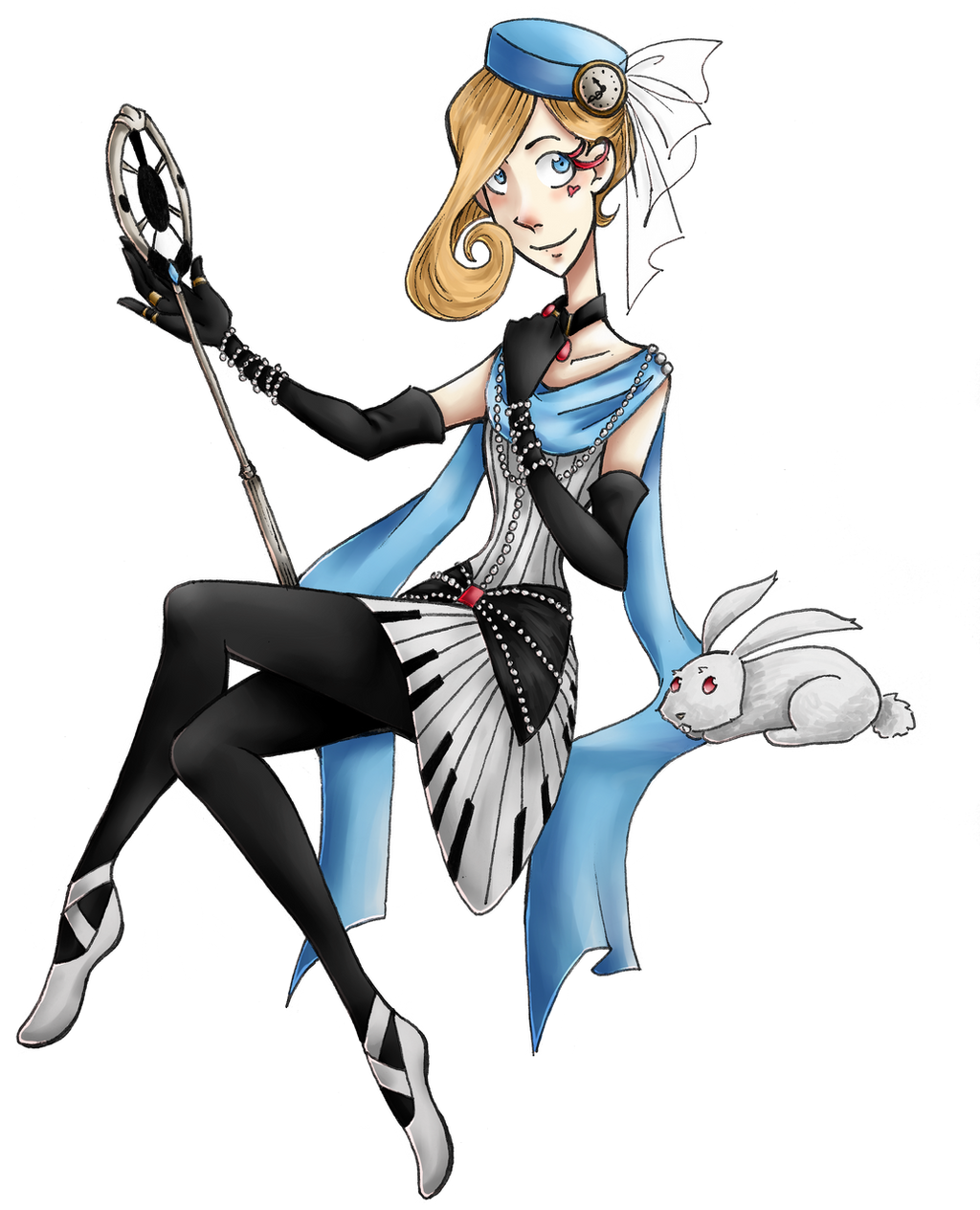 Watch
20 March 2014
-----------
So, for those who may have heard about the new French Vocaloid by VoxWave, there was a design contest for her back in February. I entered, and totally didn't win.
Ehh, it kinda sucks because I was all so excited about doing this and this design, but it was still super fun to do, even if I didn't get any recognition or anything for it. It was interesting seeing all those other designs too after it was all over. Definitely no hard feelings. I guess I just really wanted something a little bit different in a new Vocaloid. Because what Vocaloid doesn't have thigh-high socks these days?
I tried to add alot of different elements. Since she's a Vocaloid, I added plenty of musical elements, most obviously the skirt and microphone, and also the little clock on her hat has a treble clef for a minute hand. On top of that most other Vocaloids often have "cyber" elements to their look, so instead I went retro with it, though it still looks pretty modern. Her voice was more on the mature side, but still youthful, so that was something I tried to capture by making her cute, but not generically moe or something like that. I thought the colour scheme and pet rabbit would make a nice nod to Alice's Adventure in Wonderland without overdoing it, being more of an "interpret it yourself" kinda thing. I thought the hair was really fun, since alot of Vocaloids do kinda have their own thing going on there, whether it be an ahoge or unnatural hair colours. It also fit with in that it gave her a degree of asymmetry, kind like how Luka was thought out. Asymmetry as a nod to bilingual capabilities. Plus my art style does tend to blend a bunch of different influences, so I though that really worked to the design's advantage (especially if you look at what happened with Bruno and Clara's designs). Additionally I kept getting influences from things like Edith Piaf, Mozart l'Opera Rock, Coco Chanel, Music box ballerinas, a touch of Panic! At the Disco, Grace Kelly, Audrey Hepburn in Funny Face, Melody Gardot, and the fact I love pillbox hats.
Welp, I'd still like to hear what other people think of her look here, even though I didn't win.
It was just so much fun. And honestly, I think I'll draw this design again, since it really is fun to do (especially how her hair kinda swirls).
Check out the winning design and more about ALYS here:
vocaloid-voxwave.com/en-alys/
And her voice provider is known as Poucet.
--------
Materials:
-Mechanical Pencil; Red (0.5)
-Millipen (0.3)
-Paint Tool Sai
Estimated Time:
-1.5 HR
Music:
-Japanese Acapella of Poucet (ALYS's voice provider) youtu.be/pLGLsul7JiU
-French Acapella of Poucet (ALYS's voice provider) youtu.be/yCZDThaWFfI
-Circus Monster (Poucet) youtu.be/5BZXNA-f5ZM
-Vivre a en crever (Mozart l'Opera Rock) youtu.be/1yNEohtQSW8
-Non, Je Ne Regrette Rien (Edith Piaf) youtu.be/igASbnqpUo8
-La vie en Rose (Edith Piaf) youtu.be/0feNVUwQA8U
-Les Etoiles (Melody Gardot) youtu.be/F6Dm5hldI-k

I wanna make this outfit *drools*
Reply

Reply

Kinda makes me wish it was an adoptable
Reply

I've never really fully understood what those were, exactly.
I understand the basics and concept, I guess I'm just... meh. I can make my own peeps. Or draw fanart (They do say the key to character design is to make a character others would love to draw).
She was originally for a contest anyways. Which didn't win. Though that does mean I can use her for other things.

Reply

Yeah, I mostly come up with my own characters too... I mostly buy adoptables for the outfit
Reply

Hmm, well I've always had a thing for fashion, even if I don't have the cash for it. To me, it's just as much a part of the character design as the personality.

I like to research historical clothing alot, as well look at runway fashion and subcultures. I think it's good inspiration. And really, fashion is very much like architecture, all about shapes and proportions. So in the end, I really just like coming up with clothes, which is in junction with really everything else about the characters anyways.
There's a somewhat crappy explanation on how I came up with this particular outfit in the description box, at least.

Reply

Wow, great job, better than what I can do thats for sure XD
Reply

Nicely made, even though I'm not a fan of Vocaloid.
Reply

Thanks!
I'm not as into Vocaloid like I used to be, but I really wanted to do something that was a little different from the rest without jumping completely off the cliff (because most are really getting more on the generically cute end and don't stand out well in my head). But the final decision wasn't mine to make, but hey, I guess that means I could use this design for some personal project or something. Because I gotta say I probably won't get tired of drawing that hair.

Reply