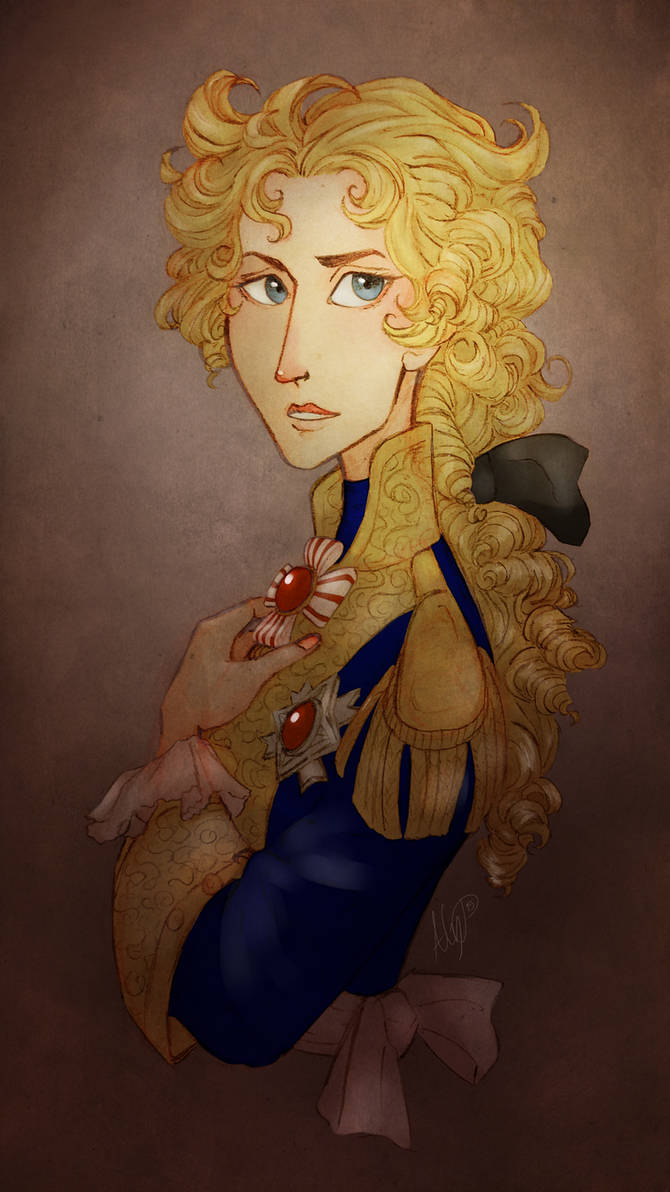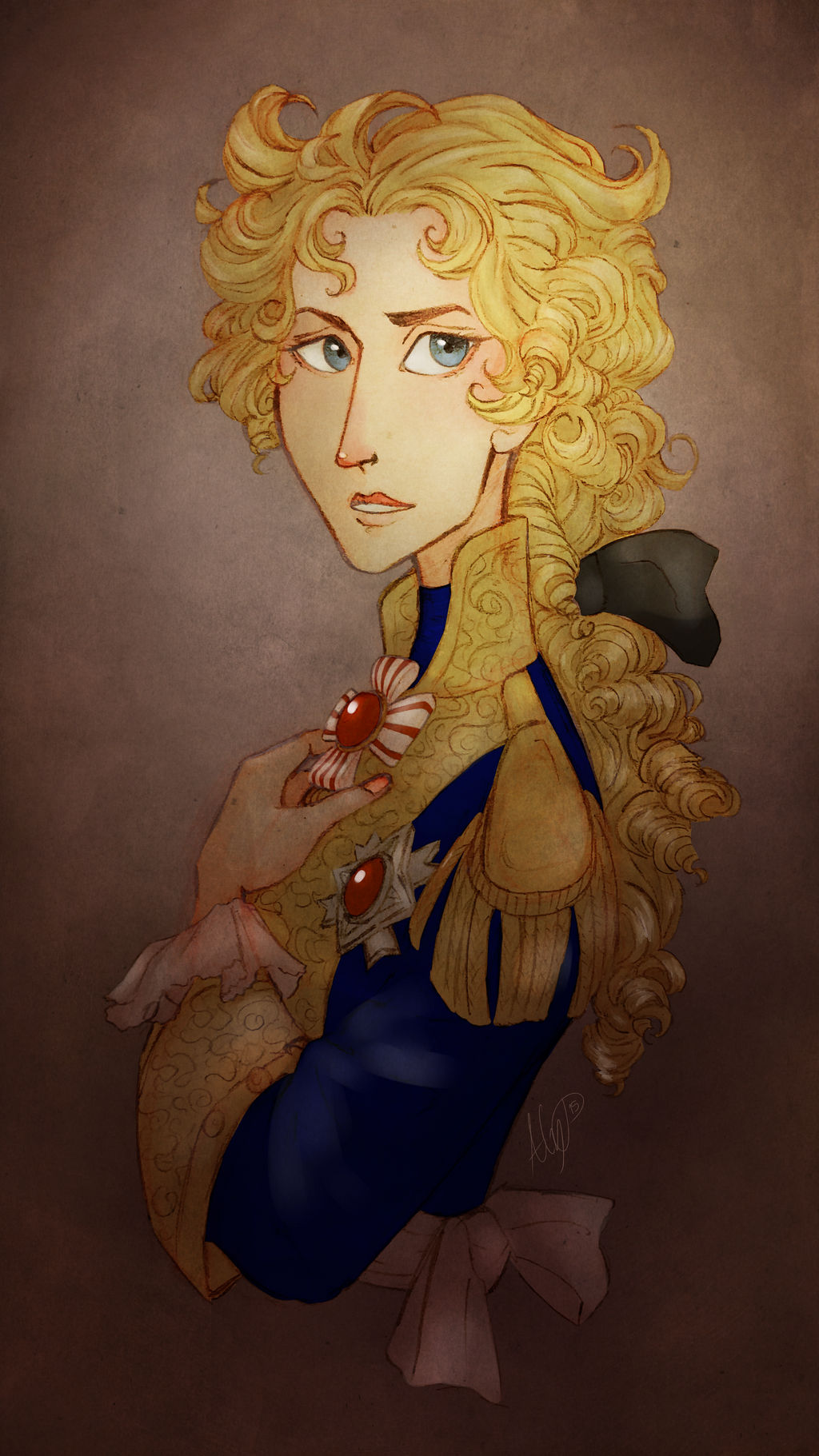 Watch
23 Febuary 2015
-----------
"Rose of all Roses, Rose of all the World!
You, too, have come where the dim tides are hurled
Upon the wharves of sorrow, and heard ring
The bell that calls us on; the sweet far thing."
-William Butler Yeats
I think I've been thinking a lot about historical anime for some reason. First I drew Emma from Victorian Romance Emma, and now I've got Oscar, from Rose of Versailles. Well, regardless, if you know anything about Rose of Versailles, it's that Oscar has a beautiful head of hair. You'll also note the story takes place in the 18th century, a time we all remember as men's fashion being filled with ponytails, powedered wigs or not. Yet our protagonist here always wears her hair loose, so I've always had this urge to give her a ponytail. The effort was definitely worth it.

And of course it's always fun to draw gorgeous bifauxen characters. I mean who doesn't love pretty girls who look like handsome and dashing prince-types? We need something like Takarazuka over here in this area, really...
I partially used Fran
ç
ois Boucher's self portrait as a reference, but I for some reason I'm slipping back into more dramatic lighting and darker colours today. It's not rococo, but it does have a more classical feel with these colours.
Comments are encouraged, like always~!

--------
Materials:
-Mechanical Pencil; Red (0.5)
-Graphite Pencil; 2H
-Paint Tool SAI
-Photoshop
References:
upload.wikimedia.org/wikipedia… | www.onlyshojo.com/Immagini/Lad… | www.onlyshojo.com/Immagini/Lad…
Estimated Time:
-2 Hrs.
Music:
-Piano Concerto No. 23 in A Major, K 488 Adagio (Wolfgang Amadeus Mozart)
-Bara Wa Utsukushiku Chiru (Hiroko Suzuki)
-Ai no Hikari to Kage (Hiroko Suzuki)
-Quartetto Rococo (Michelle Diehl)

Great portrait! Hooray for androgynously handsome characters. She's waay better looking than
Fran
ç
ois Boucher.

The Rose of Versailles
sounds very interesting. I gotta check it out sometime.
Reply

Rose of Versailles is a shoujo classic, and it remained the most well-known takarazuka play for a reason, so I'd definitely recommend it. Even if I do love it mostly for Lady Oscar who is basically intergender.

Reply

Ah, so beautiful! I really like her story; saw the 1970s live action movie once, too. This picture is very lovely, and I like how you got so much emotion into her face.

Reply

Thank you! Though honestly I think drawing an emotionless face is hard when you have good music going.

I saw some of that live action movie, though I don't know how to feel about it. I think Oscar should have looked and carried herself in a more androgynous manner, which was always my favorite part of the other versions (manga/anime/takarazuka).
Reply

Yeah, that's a good point. I'd love to get my hands on a translated version of the manga!
Reply

Well, there are always the scanlators floating around the internet if you can't find a hardcopy.
I do wish they could make a new live action though, with pretty aesthetics and better casting for Oscar. It kinda sucks that Rose of Versailles is still pretty obscure in English-speaking countries when it's a classic in Japan and Europe.

Reply

I love how you mimicked the lightning of the paintings of the old days, and mixed with your cartoonish style it creates an awesome picture. Good work ;D
Reply

The lighting looking like this wasn't even my original intention, but I regret nothing!

(Maybe it's a side-effect of all the grisailles I've been doing in painting class...)
Reply

Really nice

. I hope you will also again draw Marie Antoinette

Reply

Wow, it's been such a long time since I've drawn Marie Antoinette (or really any major historical figure), it's really overdue.

Reply