First, I will be away for most of November and I'm still planning on the

Holidays Art Gift Exchange

expected to start in December so please plan ahead for that.

Yay, I managed to finish a new chapter just in time before I leave Michigan for Florida and then Arizona.

here it is.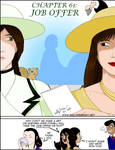 Queen Belinda Esteban learns that Miss Muneca Powell is staying at Madrid and wants to recruit her for her skills in legal matters and it appears that her rival brother, Necron is interested is her also. So some sibling trouble could be brewing....
Muneca Powell is too heat-exhausted to travel with her platoon so she stayed behind at "ApplyLady"'s place to rest. There she discovered that "Applelady" knew her relatives as well as encountering a memorial that is causing some of her repressed memories to surface...
The 61th chapter can be read at this link:

www.sailorenergy.net/MangaPaci…

(if the link doesn't work, just type in www.sailorenergy.net to get there and find it in the "What's News?" page)
Previous chapters:
The previous chapters can be read at

www.sailorenergy.net

under "Online Mangas"