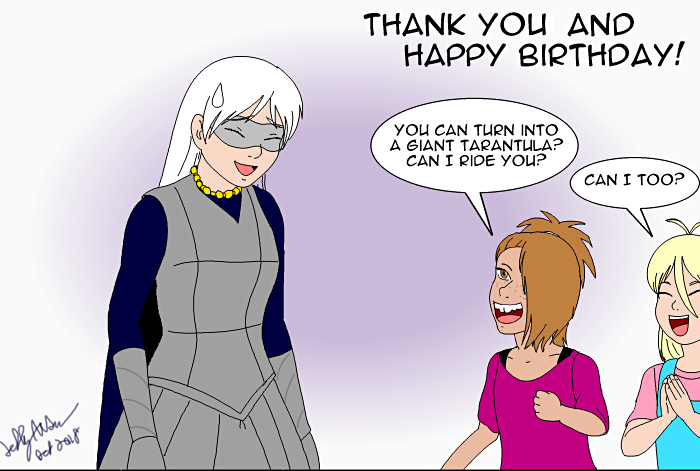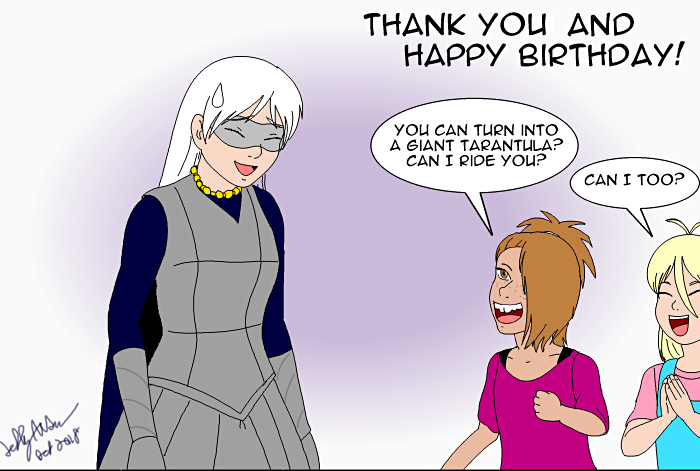 Watch
A thank you (and Happy Birthday) gift for

who made me a Birthday Gift using Kisakae dolls program. (please pardon me if I missed some details)
Jennifer is excited about the fact that Aranea has an ability to transform into a giant white tarantula as per the fact that her constellation is the spider.

Sailor Moon Doll-Maker Reference of Aranea created by


Aranea: *she transforms* ALL ABOARD!
Reply

Jennifer: "Yeah!"
Energeia: "Yay! Wow your fur is softer than kittens' furs!

Reply

Aranea: my daughter usually rides my abdomen into battle. I have to make sure it's soft.
Reply

Reply

Aranea: We guardians have beast modes based on our constellations. This is just one of many tricks I have up my sleeve. These tricks come quite useful when in combat. Here are just a few of them: I can use spider silk as a rather sticky rope, weave spider webs to be used as nets and cocoons to be used as shields, put myself inside an air bubble when underwater (A trick based off the Water Spider)... I can even combine my human and beast modes to make a "Monster Mode".

Me: *shivering about her monster mode* She can also communicate with animals and babies by reading minds, wield an energy pike, and cast rows upon rows of light pillars.

Aranea: Not to mention the ability to disguise myself!


Reply

Reply

I love it! Thank you so much for this!
Reply