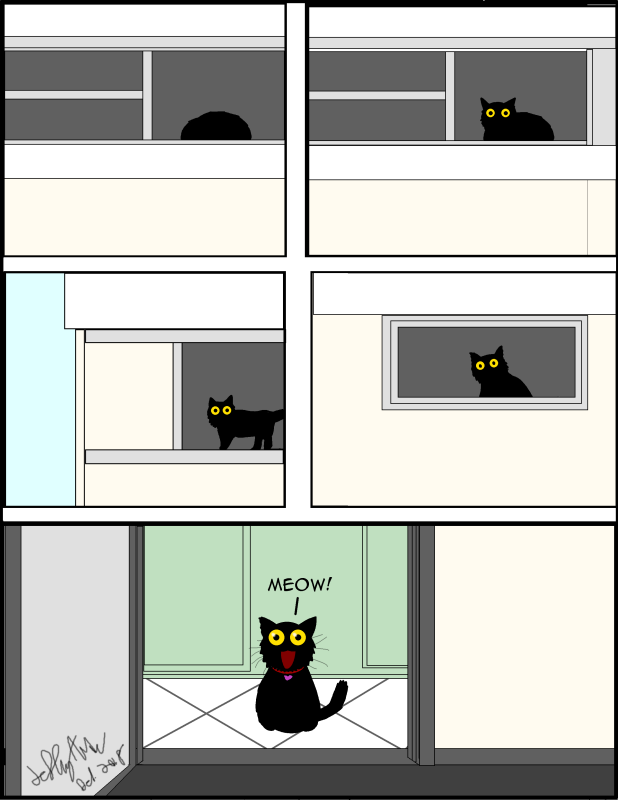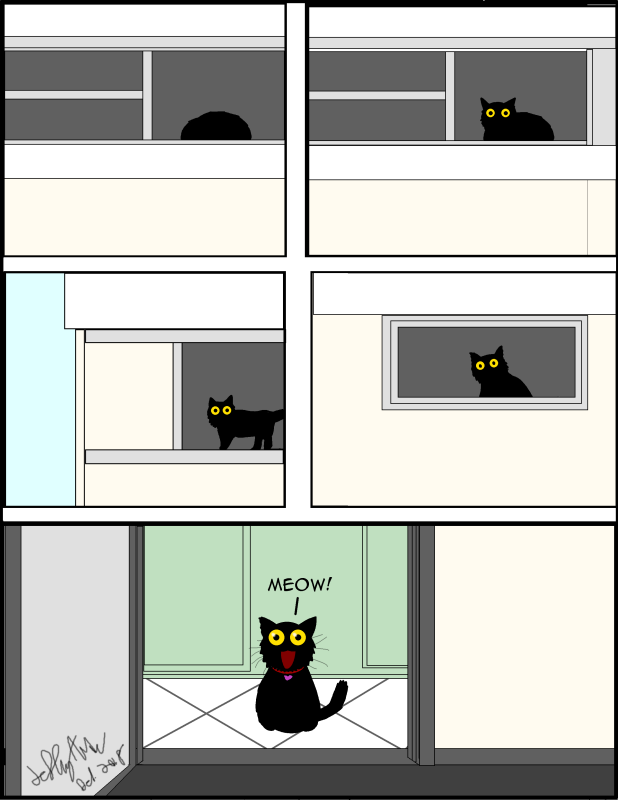 Watch
Now that my cat, Athena has died of old age (June 2018), I decided to draw the funny moments that I was able to remember and share them with you people.

This is the last of the funny things I could remember about her......she always greets me everytime I come back from a trip. She had been doing that for many years before she gets too old. When she gets old, she stayed on my bed, sleeping but she still popped her head up when I arrive.

That's it.

Thank you for sharing your memories of her with us, Jeff.

It was a bittersweet experience, but a wonderful one, nonetheless.

Reply

Now that it is the Final Comic, I have a surprise of my own for you! Keep watch on your Inbox!

Reply

OK and thanks.

Reply

You like what I did with my own Faving Folder? I titled it just for her!

I just left it blank for quiet a while and once I found out that I was reading the Final comic, I just filled it up with her memories.

Reply

Just saw it and thank you.

I noticed a cute and sleeping dog in your main gallery.

Reply

Your welcome and LOL! That puppy you see is my Dad's new baby girl, Maggie! If you want to know more about her, look no further than
Michael, Me And Maggie
!

Happy viewing!

Reply

This one kinda reminds me of Chii from Chii's Sweet Home, except for the age and color differences. Chii likes looking out of windows and trying to talk with her humans (though of course, they don't understand a single word/mew she says).
Reply

Chii... that's the gray tabby cat, right? I remember seeing several episodes.

Reply

Yeah.... though I think of the pelt as white with grey tabby splotches. I've yet to see the anime of it... A friend sent me the first five (unless that's all there is...) thin-ish manga of it. He also sent several cat plushies (mostly Beanie Babies) and one of them could just about be a Chii plushie.
Reply

Yep, that'd be Chii.

I think I do remember noticing the english-translated mangas of Chi at the bookstores.

Reply

"Family! You're back!"
A sweet memorial.
Reply

Nice that you jotted your memories down.
Reply

Hmmm. Nice to see all of the best moments you can remember about Athena, Jeff.
Reply