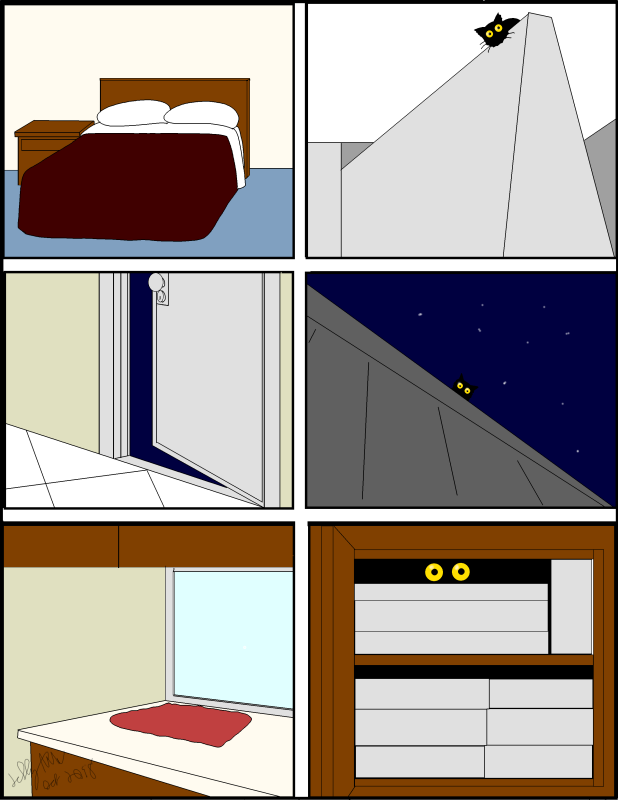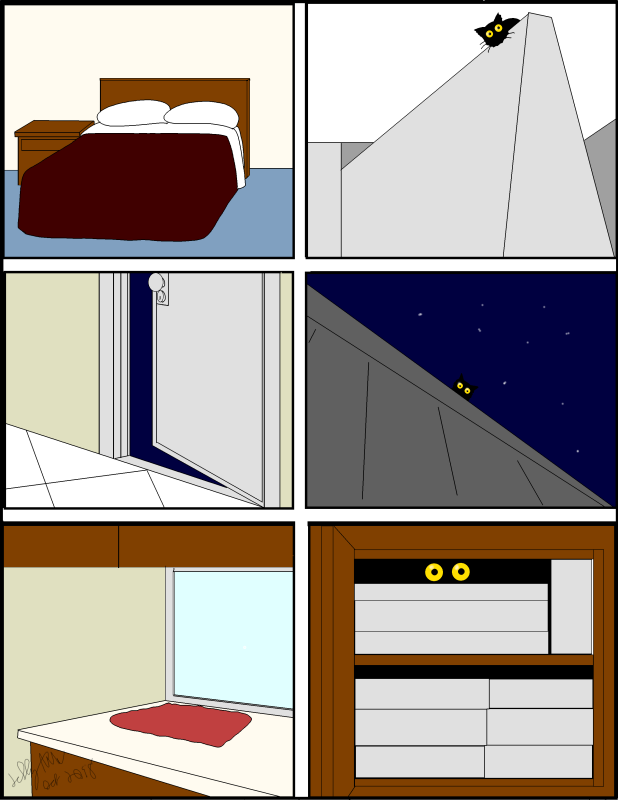 Watch
Now that my cat, Athena has died of old age (June 2018), I decided to draw the funny moments that I was able to remember and share them with you people.

As many people would know how the cats tend to like to find places to hide or relax that are usually inaccessible by the people. I stayed at a room at the top floor of a motel so the ceiling is part of the roof. Somehow Athena found her way to the gap between the wall and the roof.

Way up there. O.O
On a few occasions, she did escape out of my home in Arizona before I fixed the faulty door knob. Luckily for her, the Great Horned Owls are not around when she was up on the roof.... Coyotes are way more feared through.... Good thing she always come back and that's mainly because I always make her feel welcome by giving her some treats for coming back.

And how did she manage to get in those cabinets?!


Playing secret agent, are we?

Reply

Heh.

Thank you.

Reply

My pleasure. Keep up the cute work.
Reply

Thank you, but the story of my cat, Athena has come to an end like a story.

I'm going back to my original works even I sometimes sneak the cartoon look of my cat in there from time to time.

Reply

Alright. Maybe you could do a cartoon pug puppy...
Reply

Oh boy do I know THAT! I used to volunteer at the shelter for cats and one cat in particular would always try to hide in the cabinets with spare cat beds and such whenever cats were let out of the cages to play. She was also so quiet that it was easy to forget that she is in the cabinet. More than once I did the last-minute dash back to the shelter to get the cat out of the cabinet and into the cage. She never protested so may be that's why she was easy to "forget" compared with other more opinionated cats.
Reply

Cats are liquid. That's how they get into strange places.
More seriously, I don't know but I've seen things like videos of kittens squeezing through bars they look like they have no right to be able to go through

Reply

And how they were able to reach the supposedly unreachable places.....

Reply

If I leave the towel closet doors open, Renny will climb in and lay down on the towels.
Reply