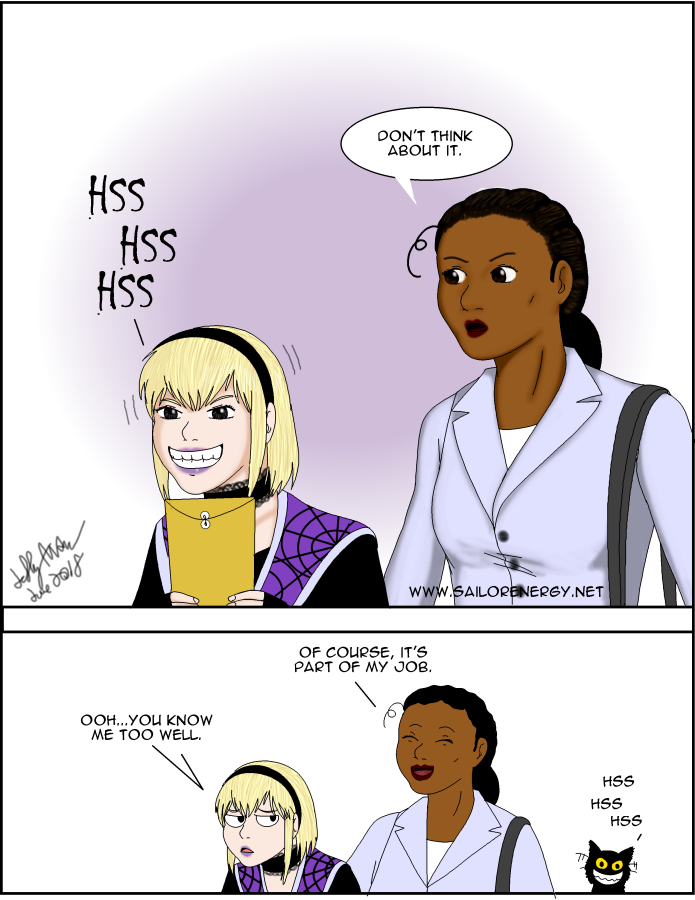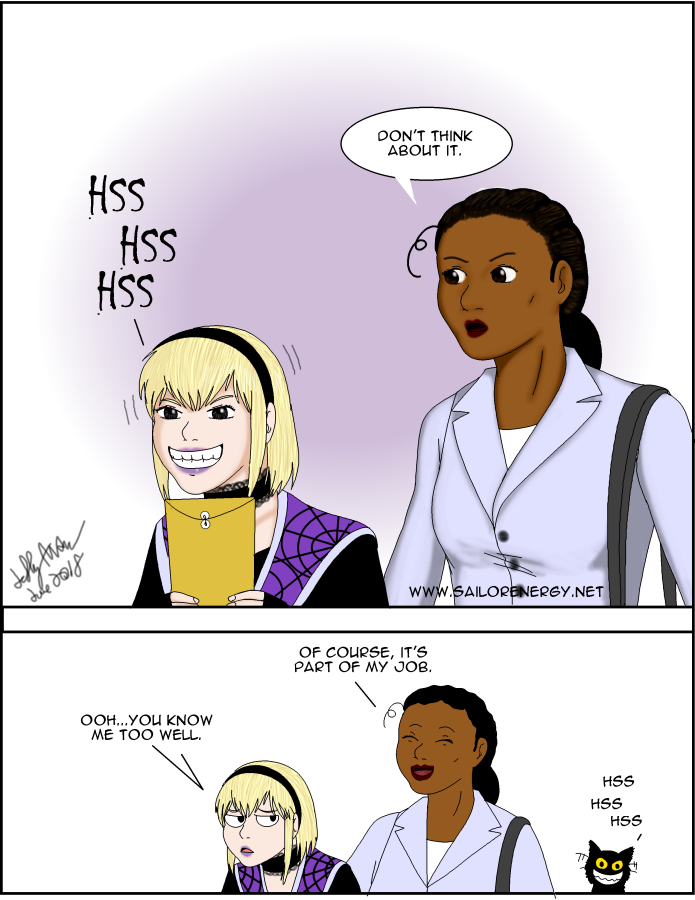 Watch
72nd theme of Theme Challenge is Mischief Managed

Breanne's thinking of something mischievous and it's a good thing that her secretary, Shirley's there to keep her from getting in trouble.

--All characters (Breanne and Shirley) shown are my own OCs from three of my webcomic series
located at www.sailorenergy.net/TRSEFanfi… .



Link to my website:
www.sailorenergy.net

Please check out my webcomics (free reading!)

It also still hosts the Ancient Sailor Moon fanwork archives.
Theme Challenge:
1. Introduction
Theme CH: Introducation
2. Love:
Theme CH: LOVE
3. Light
Theme Ch: Light
4. Dark
Theme Ch: Dark
5. Seeking Solace
Theme CH: Seeking Solace (Muneca)
6. Break Away
Theme CH Breaking Away
7. Heaven
Theme Challenge: Heaven
8. Innocence
08 Theme Ch: Innocence
9. Drive
THeme Challenge: Drive
10. Memory
10. Theme Challenge: Memory
11. Breath Again
11 Theme Ch: Breath Again (Censored)
12. Insanity
12 Theme challenge: Insanity
13. Misfortune
13 Theme Challenge: Misfortunate
14. Smile
14 Theme Challenge: Smile
15. Silence
15 Theme Challenge: Silence
16. Blood
Theme Challenge: Blood
17. Questioning
17 Theme Challenge: Questioning
18. Rainbow
18 Theme Ch: Rainbow
19. Gray
19 Theme Ch: Gray
20. Fortitude
20 Theme Ch: Fortitude
21. Vacation
21 Theme Challenge: Vacation
22. Mother
22 Theme Challenge: Mother
23. Cat
23 Theme Challenge: Cat
24. No Time
24 Theme Challenge: No Time
25. Trouble Lurking
25 Theme Challenge: Trouble Lurking
26. Tears
26 Theme Challenge: Tears
27. Foreign
27 Theme Challenge: Foreign
28. Sorrow
Theme Challenge: Sorrow and Happiness
29. Happiness
Theme Challenge: Sorrow and Happiness
30. Under the Rain
Theme Challenge: Under the Rain
31. Flowers
31 Theme Challenge: Flowers
32. Night
32 Theme Challenge Night
34. Expectations
33 Theme Challenge: Expectations
35. Stars
35 Theme Challenge Stars
36. Precious Treasure
36 Theme Ch: Precious Treasure
37. Eyes
37 ThemeChallenge: Eyes
38. Abandoned
38 Theme Challenge: Abandoned
39. Dreams
39 ThemeChallenge Dreams
40. Teamwork
40Theme Challenge: Teamwork
41. Standing Still
41 Theme Challenge: Standing Still
42. Rated
42 Theme Challenge: Rating
43. Dying
43 Theme Challenge: Dying
44. Two Roads
44 Theme Challenge Two Roads
45. Illusion
45 Theme Challenge: Illusion.
46. Family
46 Theme Challenge: Family
47. Creation
47 Theme Challenge: Creation
48. Childhood
48 Theme Challenge: Childhood
49. Stripes
49 Theme Challenge: Stripes
50. Breaking The Rules
50 Theme Challenge: Breaking the Rules
51. Sport (Croquet)
51 Theme Challenge: Sports (Croquet) REPOST
52. Keeping a Secret
52 Theme Challenge: Keeping a Secret
53. Deep in Thought
53 Theme Ch: Deep in Thought (censored by a cat)
54. Tower
54 Theme Ch: Tower
55. Waiting
55 Theme Ch: Waiting
56. Danger Ahead
56 Theme Challenge: Danger Ahead
57. Sacrifice
57 Theme Challenge: Sacrifice
58. Kick in the Head
58 Theme Challenge: Kick in the Head
59. No Way Out
59. Theme Ch. No Way Out
60. Rejection
60 Theme Ch. Rejection
61. Fairy Tale
61 Theme Ch. Fairy Tale
62. Magic
62 Theme Ch Magic
63. Do not Disturb
64. Multitasking
64 Theme Challenge: Multitasking
65. Horror
65 Theme Challenge: Horror
66. traps
66 Theme Challenge Traps
67. Music
67 Theme Ch. Music
68. Hero
68 Theme Challenge: Hero (censored)
69. Annoyance
69 Theme Challenge: Annoyance
70. 67%
70 Theme Challenge: 67 percentage
71. Obsession
71 Theme Challenge: Obsession
72. Mischief Managed
73. I Can't
74. Are You Challenging Me?
75. Mirror
76. Broken Pieces
77. Test
78. Drink
79. Starvation
80. Words
81. Pen and Paper
82. Can You Hear Me?
83. Heal
84. Out Cold
85. Spiral
86. Seeing Red
87. Food
88. Pain
89. Through The Fire
90. Triangle
91. Drowning
92. All That I Have
93. Give Up.
94. Last Hope
95. Advertisement
96. In the Storm
97. Safety First
98. Puzzle
99. Solitude
100. Relaxation

With that kind of grin and the way she laughs, I don't know if Breanne is an evil genius... or a serial killer...
Reply

Oh Breanne, you never cease to amuse me

Lovely work, Jeff!
Reply

Reply

Reply

Me: Hug me, Breanne-chan. Pwease? *offers*
Reply

Breanne: "In a moment..."
She walks away and then brings back a ladder.
She climbs on it and jumps off to glomp you.

Reply

If I had to bet on anything, with a grin like that, I'd bet that it involved biting something that should not be bit.
or someone
Reply

*Bellatrix emerges from the shadows, laughing maniacally*
Bellatrix: My, my. It seems as if little miss redhead will be running late. I must thank Miss Powell for her [accidental] help with my diabolical scheme. (a reference to our discussion on your "Do Not Disturb" theme challenge.)

Reply

What was she gonna do? Does it involve that envelope
Reply

Breanna: "Heh, that's nice... but I need Cinna to do one of my jobs."
Shirley raises an eyebrow.

Reply

It's probably a good thing that we don't know what she's planning.

Fear: "This is why I don't have any secretaries. No one can restrain me!"
Reply

Indeed!

Shirley: "That tentacle is asking to be hired as your secretary...."

Reply

Fear: "It can't become my secretary. It's guarding the inside of my fridge which has a gateway into what you humans would consider hell if it was turned upside down, thrown into a blender alongside blood, many different plague, diseases, sex, drugs and all the sorcery ever to existed."
Reply

I'm so curious now lol
What was that evil plan of hers.
Reply

Reply

Whatever Breanne had on her mind, we'll never know for sure.
Reply