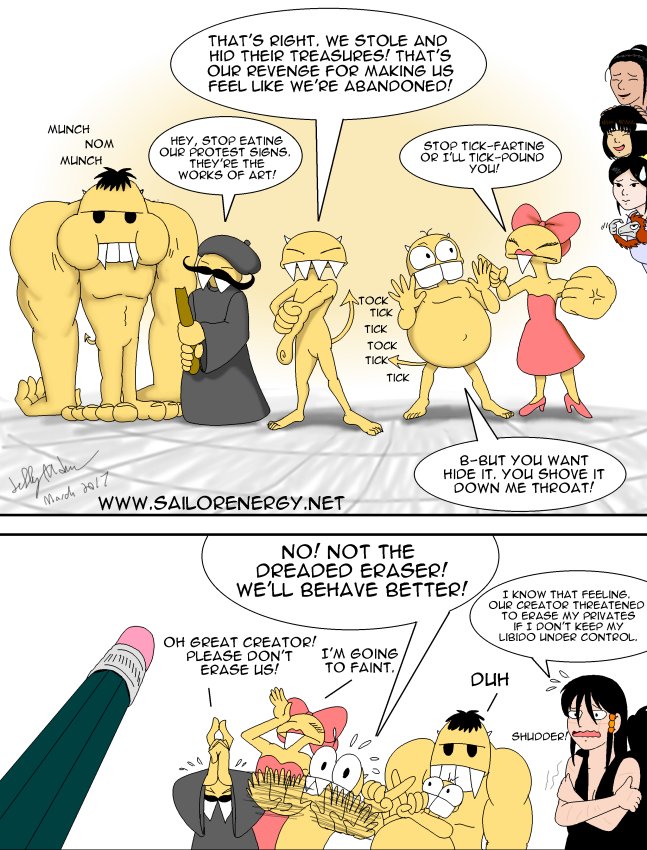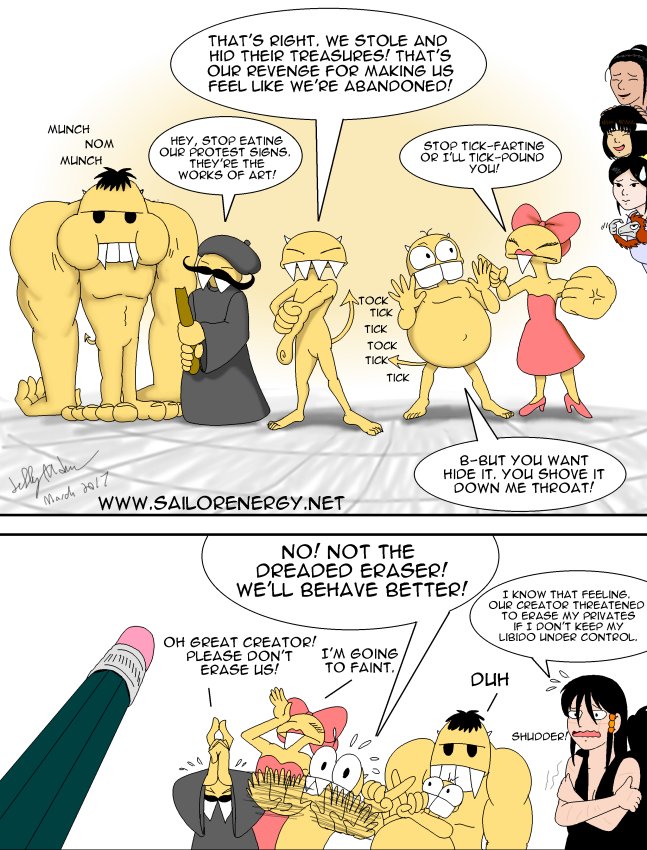 Watch
38th theme of Theme Challenge is "Abandoned".
Well, we found out who stole my OCs' treasures.

It's those little guys some people may remember from my older stories. I had those Dunce, Duncer, Duncest, Duncess and Duh characters for so long time since I was a pre-teen and now it's so rare for me to use them. They're not happy about since that makes them feel like they have been abandoned. I had to remind them of the "Creator's Dreaded Eraser".
And I didn't forget about Tokiyo (deaf girl with sword), Shuang (chinese scholar) and Jingo (exiled Kunoichi) from a comic project titled "That Sword Girl!" that has been shelved due to not having enough ideas.
Please find this Hidden Treasure: Muneca Powell's family pocket watch.
As stated in this picture, someone stolen my characters' treasures.
I have a little game for anyone to play. All they do is keep their eyes open for my characters' stolen treasures hidden in the next Theme Challenge pictures.

Some will be easy, some will be hard.
--All characters shown (Dunce, Duncer, Duncest, Duncess, Duh and Akosmia) are my own OCs from three of my webcomic series
located at www.sailorenergy.net/TRSEFanfi… .


Link to my website:
www.sailorenergy.net

Please check out my webcomics (free reading!)

It also still hosts the Ancient Sailor Moon fanwork archives.
Theme Challenge:
1. Introduction
Theme CH: Introducation
2. Love:
Theme CH: LOVE
3. Light
Theme Ch: Light
4. Dark
Theme Ch: Dark
5. Seeking Solace
Theme CH: Seeking Solace (Muneca)
6. Break Away
Theme CH Breaking Away
7. Heaven
Theme Challenge: Heaven
8. Innocence
08 Theme Ch: Innocence
9. Drive
THeme Challenge: Drive
10. Memory
10. Theme Challenge: Memory
11. Breath Again
11 Theme Ch: Breath Again (Censored)
12. Insanity
12 Theme challenge: Insanity
13. Misfortune
13 Theme Challenge: Misfortunate
14. Smile
14 Theme Challenge: Smile
15. Silence
15 Theme Challenge: Silence
16. Blood
Theme Challenge: Blood
17. Questioning
17 Theme Challenge: Questioning
18. Rainbow
18 Theme Ch: Rainbow
19. Gray
19 Theme Ch: Gray
20. Fortitude
20 Theme Ch: Fortitude
21. Vacation
21 Theme Challenge: Vacation
22. Mother
22 Theme Challenge: Mother
23. Cat
23 Theme Challenge: Cat
24. No Time
24 Theme Challenge: No Time
25. Trouble Lurking
25 Theme Challenge: Trouble Lurking
26. Tears
26 Theme Challenge: Tears
27. Foreign
27 Theme Challenge: Foreign
28. Sorrow
Theme Challenge: Sorrow and Happiness
29. Happiness
Theme Challenge: Sorrow and Happiness
30. Under the Rain
Theme Challenge: Under the Rain
31. Flowers
31 Theme Challenge: Flowers
32. Night
32 Theme Challenge Night
34. Expectations
33 Theme Challenge: Expectations
35. Stars
35 Theme Challenge Stars
36. Precious Treasure
36 Theme Ch: Precious Treasure
37. Eyes
37 ThemeChallenge: Eyes
38. Abandoned
39. Dreams
40. Rated
41. Teamwork
42. Standing Still
43. Dying
44. Two Roads
45. Illusion
46. Family
47. Creation
48. Childhood
49. Stripes
50. Breaking The Rules
51. Sport (Crocket)
52. Deep in Thought
53. Keeping a Secret
54. Tower
55. Waiting
56. Danger Ahead
57. Sacrifice
58. Kick in the Head
59. No Way Out
60. Rejection
61. Fairy Tale
62. Magic
63. Do not Disturb
64. Multitasking
65. Horror
66. traps
67. Music
68. Hero
69. Annoyance
70. 67%
71. Obsession
72. Mischief Managed
73. I Can't
74. Are You Challenging Me?
75. Mirror
76. Broken Pieces
77. Test
78. Drink
79. Starvation
80. Words
81. Pen and Paper
82. Can You Hear Me?
83. Heal
84. Out Cold
85. Spiral
86. Seeing Red
87. Food
88. Pain
89. Through The Fire
90. Triangle
91. Drowning
92. All That I Have
93. Give Up.
94. Last Hope
95. Advertisement
96. In the Storm
97. Safety First
98. Puzzle
99. Solitude
100. Relaxation
Working on a THeme Challenge List
Fashions:
Holiday
Gothic
Ancient Egypt
Tudors
Ancient Greece
1960s Flower Children
Colonial America
Minioan
Suggested Themes:
Autumn
Daycare
Chocolate
Medieval picnic
Mermaids
Space
Wrestling Match
Royality
Geology
Botany
Astromony
Pyschology
Physics