UPDATE 2.
Contest should be over by now. If you are still working on an entry, let me know so I can extend it.

UPDATE

You have till the end of February *like, 5,6 more days* for your entries. However if you still are not finished with yours, if any, please let me know so I can extend the deadline. Other than that, good luck to the winner!



Don't forget my stupid little poll to vote in. XD I shall soon start another contest.
I need HELP. I REALLY do.
I need help to figure out the Shen'Da: repto-mammal aliens trying to colonize the planet of the centaur-like Khatrus.
They have been working on their civilization for 300 years after fleeing their dying world in primitive, working spacecraft to make their home on this new planet. However political corruption with their dictator queen and their religion becoming violently radical, makes the general disposition racist to the natives. A war is being fought demoting the natives to disgusting delicious savages...to be used as slaves. In the meanwhile many of their own despise the slaughter and capture of destroying the natural balance to make way for their own civilization, and question the good motives of their religion being interpreted so Spanish-Inquisition like.
The Shen'Da are much like humans in that through genetic variations they don't have the same personality. Generally they are very clever and manipulative, and a bit more carnivorous in disposition than human generic behavior.
Their society functions like an elaborate primitive-like society intermixed with healing, weapon and computer technology rivaling the early 90's in earth informative databases, more advanced in medicine than us, and their own customs keep them from still developing a laser gun. They prefer swords, spears, armored mounts and whips rather than using gunpowder arrow-launchers, guns and chemical-engine automobiles in war, but they use them all. Cultural values play a apart in their battle-styles.
Currently they view the Khatru-extermination as a religious crusade.
So why all this? I'll tell you why. I am unsatisfied with how they look!
Earlier depiction, around many years ago: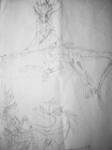 *the lizard man on the bigger lizard in the corner*
November 2008 drawings, when I called them Ragnas.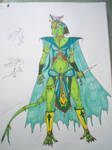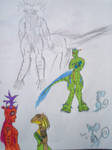 And now the currently Shen'Da: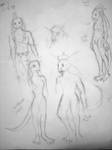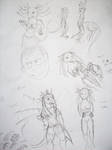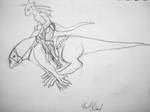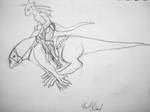 I have a problem though. I am unsatisfied. They have fin-flaps like JarJar Binks and then they look like the love-children of the TMNT, plus some hot poodles and hounds. I dislike it.
I need to have faces soft, humanized and yet obviously repilian-like. So far I have had been partial to fin-flaps, but I could also go horns, a crest, or something.
So, I do need help to go 'THATS A BINGO!' I cna't be passionate about them without looking at them, attracted and 'humanizing' to their physical appearance. So, here are the rules when designing such a race of creatures:
1. Repto-mammal-humanoids.
Scales to scaly like skin. Feathers might be also winning attributes if it especially makes sense. Just anything to their attributes, but keep in mind they must be humanoid *four limbs and be able to walk on two back legs*
2. Two pairs of boobies.
To make it damn interestestin' they have, yes, two sets of nipples! That means they have the main pectroals and two lesser ones. As such they're very strong in the upper body.
3. Tails.
Be it small or large, must have a sort of tail.
4. Something coming from the head.
It can be a better version of head-fins folded or not, or large mammalian ears, or a dragon-like crest, horns off the side, anything! Maybe even tentacles?
Wide variates of color are encouraged if your work is colored. I will accept all mediums except writing...because this is visual, not descriptive lists.
If your design wins, you will win a full, colored work of art by me, not shitty stuff about it either. You can request almost *anything* you want.
Now, I probably won't take your design completely. I will probably have most of the attributes adapted, tweaking it a little, to have the finished product design. I would work with you to figure it out. In return you will win a work of art and the credit announced in bold on my shoutboard for the rest of eternity to remind me how helpful you were.

I will probably continue crediting you for the ensuing art of the design for a long time afterwards. The best potential payoff is if I actually get the thing written and published in the far future, and you can smile and go 'I helped her!'.
Entries so far!
1.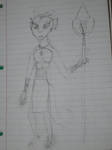 2. :thumb153389691: 3. :thumb153500294: 4.
5. :thumb156161246:
To get the spark going, here are some examples of body forms that I like and get your minds going into supple, muscled, reptilian-mammal like bodies. *though the faces don't have to always be an obvious reptile.*
:thumb150657647: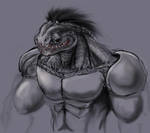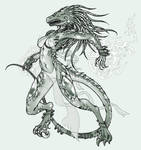 :thumb4088392: