Ok snakies, here is the full deal on the upcoming Bizenghast RPG:
1. It IS NOT A VIDEO GAME. NOT FOR THE PC, MAC, XBOX, DS, ETC. This is a tabletop roleplaying game, like Dungeons and Dragons or something, with the dice and the character sheets, etc. Mountain Dew and Cheetos are optional. It's created by Clint krause, and you can see his site here:
www.knrpg.com/
. I've worked with the game designer on the rules and mechanics and it actually seems REALLY fun. As soon as I get a copy of the full manual, Imma make my friends play it with me :3
2. It is going to be released SOMETIME AROUND MARCH/APRIL. I do NOT know exactly when. I will let you know as soon as I know. So don't ask me when, cuz I don't know!
3. The game will be centered around inventing your OWN characters, your OWN Guilds and your OWN ghosties. You can of course use regular characters like Edaniel in your game, but really the point is to invent your own. The game will include specific rules and suggestions for making your own Guild and characters, different powers you can give your guildsmen, and samples of never-before-seen Guilds from the Bizenghast universe. Super wicked fun!
4. I HAVE NO IDEA IF BZG WILL EVER BE MADE INTO A VIDEO GAME. I DON'T GET TO DECIDE THAT. But you know what would help? If you start a petition online to get signatures for just such a thing! Send that petition to Tokyopop and maybe they'll listen. Remember, publishers don't want to drop a ton of money on something expensive like a video game unless they know people will buy it. And they don't know if you'll buy it unless you TELL THEM. So tell them!
5. SNAKES ARE GREAT.
6. ???
7. PROFIT!!!!
m
---
new update at my Wonderful Wockets journal:
wonderfulwocket.livejournal.co…
---
I still want this!:
cgi.ebay.com/Jun-Planning-Doll…
RAAAWWWR WHY I CANNOT HAVE THE CUTE SHERLOCK DOLL WRRRYYYYYYYYY!!!!!
ALSO, I shall be super spiff guest at SakuraCon this year, as well as judging the cosplay! Yay my first SakuraCon, I hope you'll all be there and say hi to me, yeah!
Also ALSO check out my friend

's amaaaaazing Maggie Murdoch cosplay! You gets five shiny snakey stars for you amazing costumes, sassy!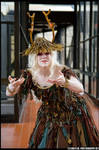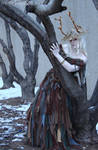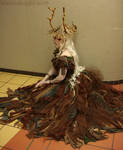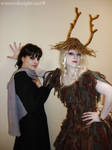 ----
ALSO, finally got around to watching a few episodes of that Bizenghast iManga thing on Youtube. WTF BRITISH VINCENT. Anyway. The guy who did Edaniel actually didn't do too bad a job. (I never got around to submitting my own audition for it so I missed out, laaaaaazy!) You can check out his first appearance here:
www.youtube.com/watch?v=B9ad--…
I like all the kooky stuff they do in the background while he's talking. It's silly.
High-pitched girly Dinah voice FOR THE LOSE, however. She's sposed to have somewhat of a deeper voice with a slight edge to it. Sort of like Mandy from The Grim Adventures of Billy and Mandy, but without the sarcasm.
Still, a very cool little mini-series, I suggest you check it out!
M
I have a chat with a puppet:
www.youtube.com/watch?v=T-541p…
YAY PUPPETS!
------
ALSO ALSO ALSO the Bizenghast forum 2.0 is back up and you should check it out!
bizenghast.forumsvibe.com/&nbs…
advice column is now being posted on there and has recently been updated, as well as other nutty stoofs. Stop by and see!
-a marty
The Bizenghast roleplaying game is almost ready to be released! I've seen the final treatment and think it's BOSS. I hope you'll all be on board for RPing and DMing yer BZGs and other acronyms.
-------------
I'm pleased to announce that Bizenghast is being made into a book series! I mean...it's a book series NOW, but it's a comic book series, while this new series is a novel series.
The books are written by an amazing chap named Shawn who is a professional writer and has a really great voice for the series that I really can't wait to see in the finished books!
I'll be contributing original illustrations to the books, as well the cover art. But really the best part of this series is all the cool stuff in it...backstory to all the characters and town of Bizenghast, as well as Di and Vi's adventures in the vaults that never made it into the comic series!
I hope you'll all check this series out when it's released, I'm super psyched about it!
----
Bizenghast Fan Club on DeviantArt!
bizenghast-fan.deviantart.com/…
guys, you're so cool for starting this club! I'm very excited about it.

MORE NEWS: In addition to The Poison Apple Book of Stories, I am working on a second self-published book called
Publish Me Or The Girl Gets It: How To Get Published In Comics Without Resorting To Blackmail
. Pretty self-explanatory title! More on that project later!
-----------
ART COMMISSIONS are always for sale! Black and white, Copic colors and pencil sketches available. Please NOTE ME on Da for rates, or email QueenAlice @ bizenghast.com!
-----------

:thumb68701830:
-----------
Featured art of the week: