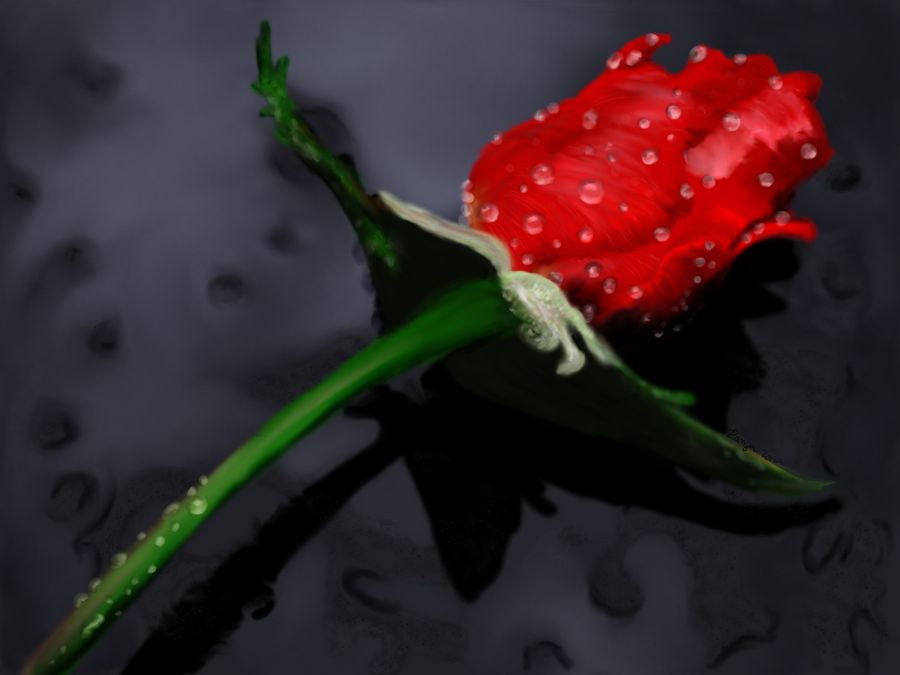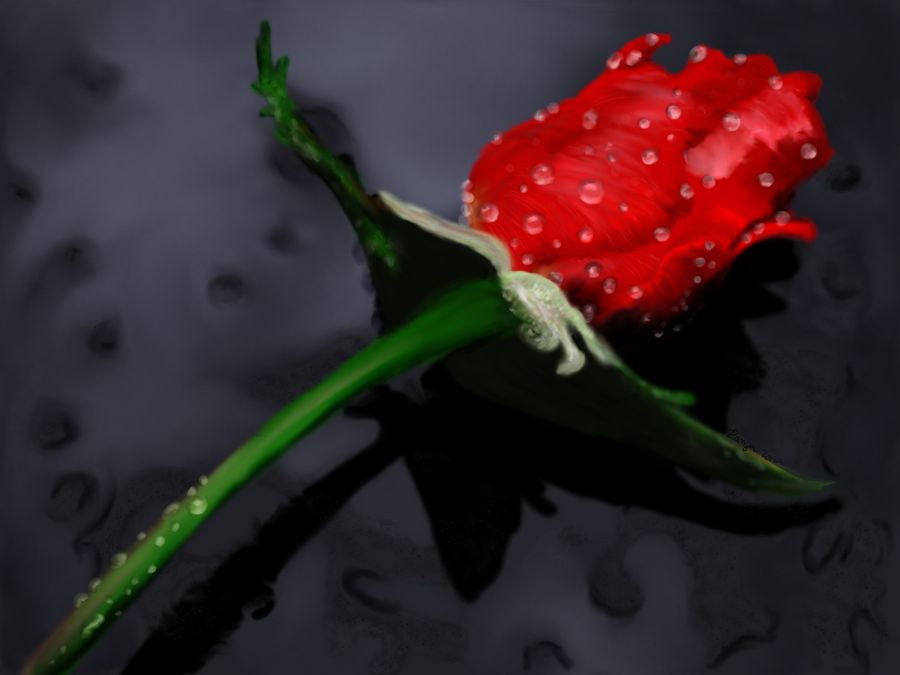 I first did this picture years back in pastels. I loved the background I had done in pastel, but I hated the rose as my red has messed up the rose bud and ruined the picture for me.
I've grown to like the pastel a lot more lately
and decided to re-do the picture--from scratch--digitally. I'm quite pleased with how it turned out. The water effects are something I've never done digitally before and I really enjoyed doing it.

Done entirely free handed in GIMP
No bases/textures/nothin' used but what brushes are already installed in the programme.
Reference used (some picture found on Google years back)
Edit 2:
Here's the link to the Draw This Again Meme I went ahead and did for this piece:
[link]

Edit:
Just decided to look at my traditional pastel of this picture--I like the digital sooo much better. It's much more vivid and detailed. I should take a picture of the pastel and put it up next to the digital in one of those 'Draw this again' memes


It's beautiful! This is the best digital art you have done yet! I love the details and the colors. It looks so realistic, but has that nice dreamlike effect of being painted.
Reply

WOW!!! How did you do the water droplets?
Reply

I took a small normal circle brush and lowered the opacity (I used a light pink for the colour). I then placed different sized dots on the rose. Once those were placed, I used the dodge tool to add highlights/dimension to each one. Once I was done dodging, I used the smudge tool to soften the highlights. Once
that
was done, I then took the burn tool to add some more dimension to the droplets.

Reply

That is awesome how you did it! It must have taken a looong time and a lot of skill! My parents don't like me drawing and i agree with them that i'm pretty bad so they've never gotten me a tablet that they promised

So I'm really amazed by the really awesome digital art people can do and this is one of them

Reply

It actually didn't take as much time as I thought it would. =\

Your parents don't like you drawing? Why's that?
Reply

Really? Well...it will take me ages just to do ONE little drop of water perhaps

Yes my parents don't like to see me drawing as I have no creativity and I am terrible at drawing and I agree with them on that fact

Reply

Awww that's sad! You just need to keep drawing and practice--then you'll get better.

I have no creativity in the sense that I cannot for the life of me draw a decent picture without heavy reference pictures.
Find a picture you really like and then practice drawing it. The only way to get better is to practice. I think if you want to draw and enjoy it (even if you feel your skill is terribly lacking), just practice. Practice makes perfect.

Reply

Reply

Wow, that's just amazing!
Reply

Digital Art / Paintings & Airbrushing / Landscapes & Scenery????????????????
Reply

Reply

Omygoodness! This looks so awesome! I didn't think it looked much different from the original because I didn't remember what the original looked like UNTIL I saw the draw it again!! This looks so awesome!
Reply


Thanks, Fluff!

I was of your same mind frame--I thought it was similar to the original...until I pulled out the original and saw just how horrid it looked!...and to think, I was thinking of framing that pastel. The only thing that stopped me was that I had already put it in my portfolio.
I'm thinking of re-doing my Cad Bane picture next.
Reply

No problem. ^^

Yeah, you don't notice until you compare!!


Cad Bane would look neat digitally. ^^
Reply