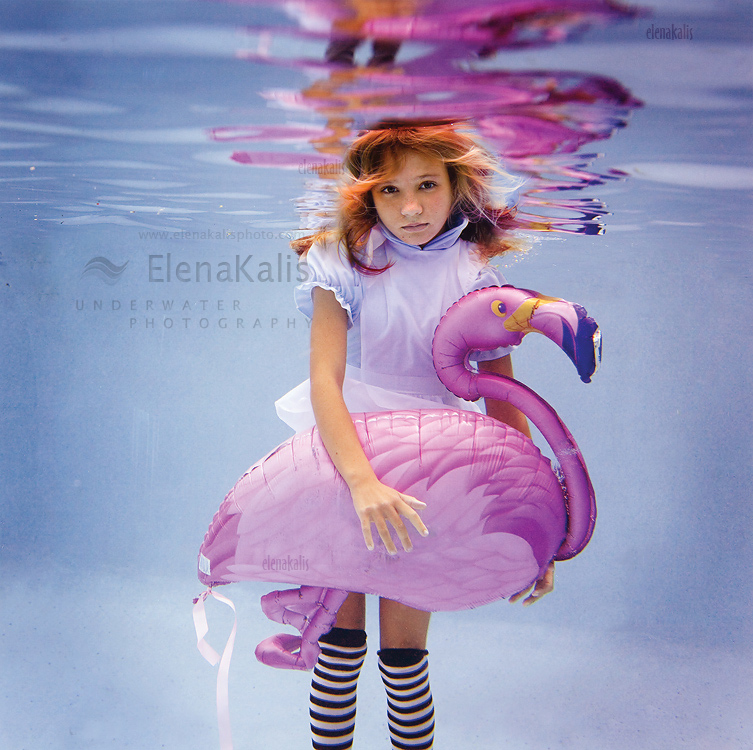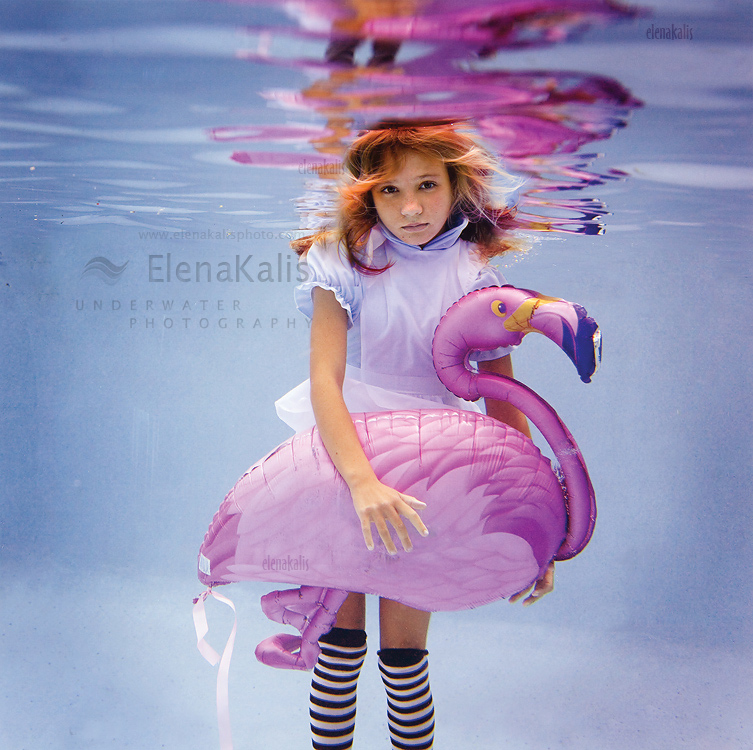 Watch
It's not very often I'm stunned by a photograph, so congratulations first on creating such an instance.

The overall composition is superb. The background is just that; a background. All the focus is on the subject, and the colors work in tandem.
I have but two qualms, both of which are negligible but shall be stated anyway. The first is the top of your Alice's head breaking the water's surface. It's not only a tad distracting, but it breaks the otherwise seamless fluidity of the photo.
The second is the choice of what appears to be a helium party balloon for a prop. The colors do not contrast enough and it looks very awkward. In Wonderland, where the unexpected is most often seen, it's not altogether out of place, but I would expect something of more vivid color.

Those trifles out of the way, the other details are lovely. I couldn't help but smile when I noticed the socks weren't completely even. Her hair flowing back and down while the puffy sleeves of her dress flow up add to the weightlessness of the picture. My favorite point, however, is the precariously blank expression. Merely in the act of holding her breath, she is almost so many emotions; curiosity, fear, determination and many more I am rather hard-pressed to recollect the names of at 5 o'clock in the morning.

Color me impressed, and good day to you.
The Artist thought this was FAIR
313 out of 331 deviants thought this was fair.
Technically, I think this is flawless, you have captured the model perfectly, the idea of Alice in WaterLand is brilliant! Shame it couldn't be a real Flamingo!
The model looks perfect, she really doesn't look like she's in water.
The originality, though some may argue against this, is wonderful and quirky! Even though it is themed off Alice In Wonderland, I think you've captured the idea, and made it purely your own.
Keep up the good work and the amazing, unique photos, and I hope to maybe critique some more of your photos one day!

Critqued by: darkmewleanne (Leanne Stanfield)

xx
The Artist thought this was FAIR
194 out of 207 deviants thought this was fair.
The owner of this deviation has disabled comments.