DOA X3 Venus Vacation - Kitty Honoka
Published: December 21, 2018
•
I do not own anything;
model belongs to: Tecmo Koei.
• Model of Honoka ported by:
Shuubaru
•
Programs used:

1. XPS 11.8
2. 3DS max 2013
3. Photoshop CS6
Please, have some respect and:

- Don't re-upload it on your own profile.

- I don't mind to share link to this render on other websites.

- Don't sell it for points or money.


- Don't ask me about model.

- I don't deal with any website to sell my arts. If you see any of my works on websites selling arts as posters for money, know it's illegal and I am not taking any money.

-
If you want to raise objections then feel free and write comment below. I have been opening for CONSTRUCTIVE critical remarks, there is no space for harassing or hate speech towards me or others.

Note:

Pose based on Kokoro: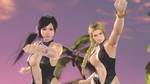 Image size
2200x3500px 1.83 MB
IMAGE DETAILS
Software
Adobe Photoshop CS6 (Windows)