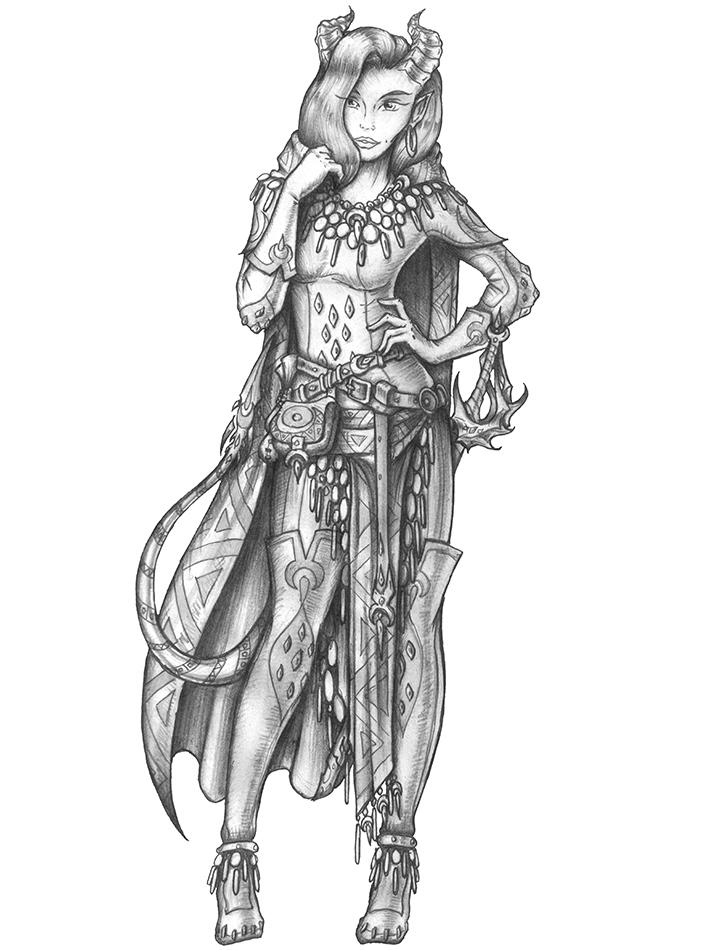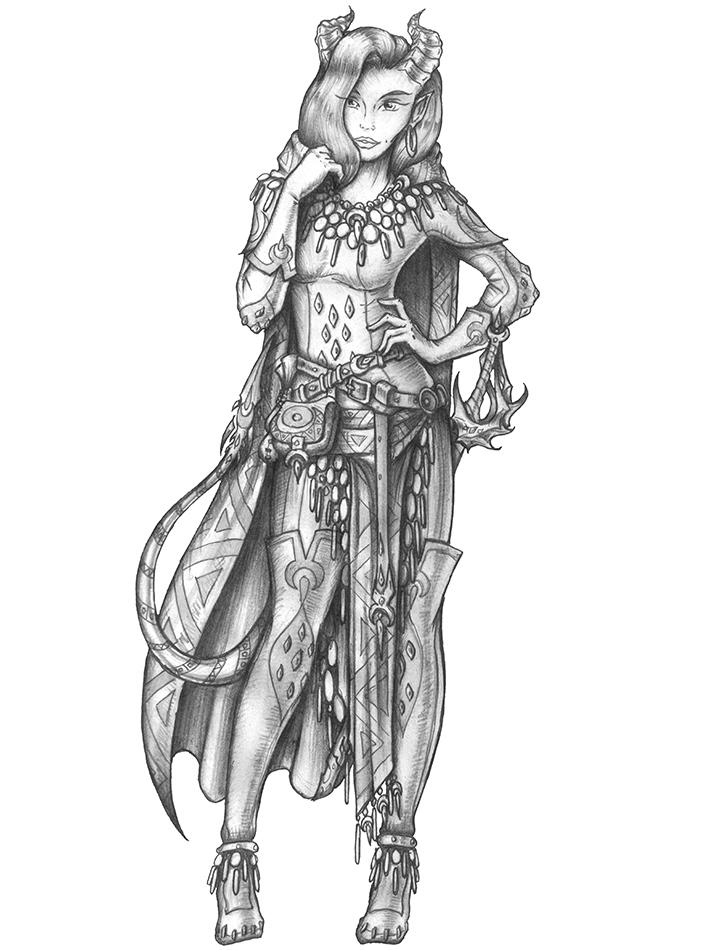 Watch
Commission for



First variant:

Keri was abandoned shortly after birth, being born to a human mother and father, with her tiefling background being the result of a recessive infernal bloodline. She was discovered as a crying infant on the streets by a cleric of Sharess, and taken in and raised by her in the festhall. She likely lived only a few blocks from her birth parents, unbeknownst to her.
As she grew, she was given a basic education, as well as lessons to defend herself in the world, especially given the hostility many may have towards tieflings. Her stepmother taught her fencing and the use of a crossbow. Keri spent her childhood diligently earning her keep in one of the city's festhalls of Sharess, as a serving girl and helping in the kitchens. As she grew older, she discovered a love of dancing. Her adoptive mother found teachers and instructors to help her hone her talent, both out of love for her adopted daughter, and service of Sharess.
Keri has also become a go-to for anyone who hurt themselves within the festhall, be it a sprained ankle from a stunt, or a stabbing from being mugged, and has become very proficient at taking care of those in need, aided by the blessings of her goddess, in addition to spreading joy and pleasure.
Now in her mid twenties, Keri has decided it is time for her to leave her home, and spread the joy of Sharess throughout the world, as well as helping care for the hurt and injured wherever she can.
Although she was taught that discrimination, hostility, and malice are very much a thing, she's never really personally experienced it. She's instinctively distrustful at first, as most tieflings are, but is much quicker to overcome it, and very joyously welcomes new friends once she trusts them. Unfortunately, given her sheltered upbringing, she is a bit naive with what sorts of people and places to avoid. This has led to her being abducted into slavery by some less-than-savory individuals when she was travelling through a bad part of town. After all, she's just a tiefling, who will miss her? She'll be perfect for the pits.

-------------------------------------
Commissions:
fav.me/d9icwwe
Support me:
Patreon
awesome she is less busty then your first version I think that is improvement.
Reply

Less seductive face, clothing and boobs are changes in 2.0

Reply

Can't say it enough, you captured her personality and her looks with the first one, just not so much her attire or physique (Which I get, not a lot of people asking for lithe and petite female characters). And you perfectly seized it with this one.

Maybe not what I had in my head, but it fits her better than what I had in my head. Thanks again for the work, and I don't know how you feel as the artist, but I totally don't mind anyone using her story, or her portraits, for their own characters.

Just don't be a dick, and make sure you give credit to this awesome artist!
Reply

Thank you! I always try to fulfill the wishes of the customer, even if I have to draw a second variant.

It is the best compliment for me

Reply