18 Favourites
1 Comment
487 Views
WARHAMMER MONTH IS OFFICIALLY UPON US!

This is the third year in a row that we here at White Noise Graphics have celebrated the grim dark strategy games of Games Workshop with commissions and original artwork from drama filled role play inspired by 40K!

Today's update is the official poster we made for Battle Zone Ursa 2019 this year, a companion piece to last year's Mandrake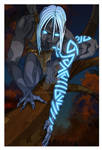 So meet Glowyrm's big sister Bansidhe!


Warhammer, Warhammer 40,000, Eldar, Drukhari, Dark Eldar, and Mandrake © Games Workshop
Art, Rendering, Character Design, Composition, Layout and this particular doting Mandrake © White noise Graphics

Commissions are: Closed until October 2019



Jenner's current update schedule:

- There will be SOME kind of content for you every single week, uploaded sometime in the weekend. Which social media site it will be on is random however. I aim for Friday night or Saturday morning for the upload, so keep an eye out!

- Updates will be mostly Warhammer related for the entire month of September!


Main Site
Art Sites
Social Media
IMAGE DETAILS
Image size
1200x1754px 382.21 KB