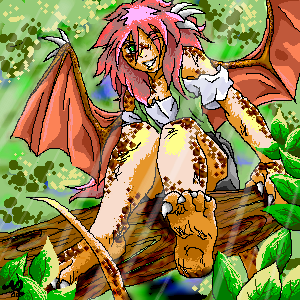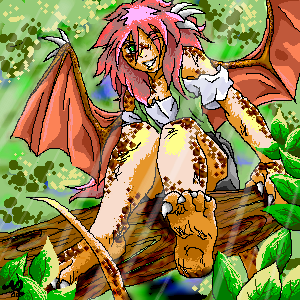 Watch
"... the birds have learned to speak. Gaily colored, they hide thier secerets in paride of clowns."
I had the Last unicorn sound track on repeat while I did this one. It's also been used in a project I did for Experimental Drawing class.
This is Fron from my Boys of Thrush o'Will Hall story... well a highly arltered version of him. I revamped him for Windblade of Drowkaki's chat RP. The original Fron was half fire lizard... and perminutly tapped in a human body. He eventualy became a great swordsman and a Soulseeker, a type of swordsman that could not only take life, but give it with his sword... he could use the blade to heal. For Windblade's RP, all the characters had to be half dragons... obviously so. So it wasn't to hard to convert him looks wise. But his ocupation changed in that RP... he grew up to be a docter and fire mage.

This is one of the best oekakis I have ever done... but there is two big goofs. One is his right foot looks malformed. The other is he looks like a she! Fron always was a little androginous in apearence, but this definutly looks female! But he is MALE ladies and gents! And as straight as an arrow! Got that? He likes GIRLS. Not guys.

Sorry to rant but seriously, I've had to many folks get the wrong idea about him. I am open minded, and I don't mind that stuff hinted at in fan art and such but I am not going to change my original story.

hehe I thought it was a girl at first ah well it's still a really nice pic good job haha I have had planty of people think my boys are girls so don't feel to bad
Reply

Aww, he's adorable! I love his design. I haven't seen too many well-done half-dragons.
Reply