3 Favourites
0 Comments
109 Views
WARHAMMER MONTH IS OFFICIALLY UPON US!

This is the third year in a row that we here at White Noise Graphics have celebrated the grim dark strategy games of Games Workshop with commissions and original artwork from drama filled role play inspired by 40K!

This is a quick sketch I did at Battle Zone Ursa 2018 featuring the Fly Ork from Death From Above. A Bike Boy and Speed Freak, he still takes time to enjoy a good convention and tournament!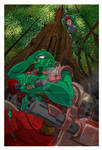 His look was actually modeled after my dad, who did get a touch miffed when I showed him the picture last year, though not for reasons you might think. My dad took one look at it and went, "That's very nice, but.." and his voice dropped super low and got super gruff as he barked his next works with great enthusiasm, a smile plastered across his face, "Me not ork! Me ogre!"

My dad is a complete and total adorable goofball even in his old age, and if its not obvious by now, I come from a family of geeks, nerds, dorks, and goofballs.




Warhammer, Warhammer 40,000, Orks, and Greenskins © Games Workshop
Art, Rendering, Character Design, Composition, Layout and this particular fly ork © White noise Graphics

Commissions are: Closed until October 2019



Jenner's current update schedule:

- There will be SOME kind of content for you every single week, uploaded sometime in the weekend. Which social media site it will be on is random however. I aim for Friday night or Saturday morning for the upload, so keep an eye out!

- Updates will be mostly Warhammer related for the entire month of September!


Main Site
Art Sites
Social Media
IMAGE DETAILS
Image size
1500x2100px 994.17 KB
Date Taken
Sep 15, 2018, 4:45:26 PM