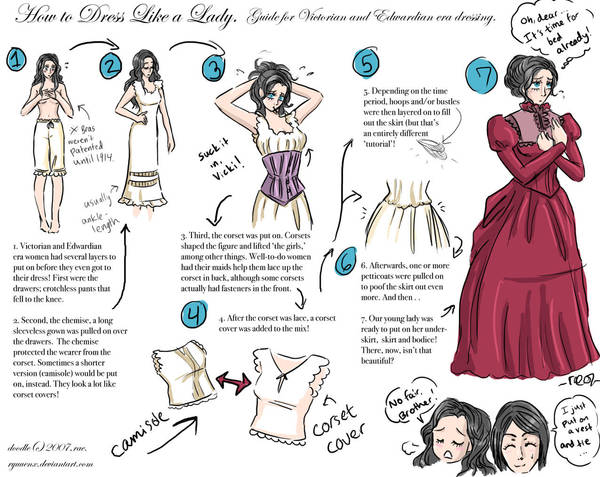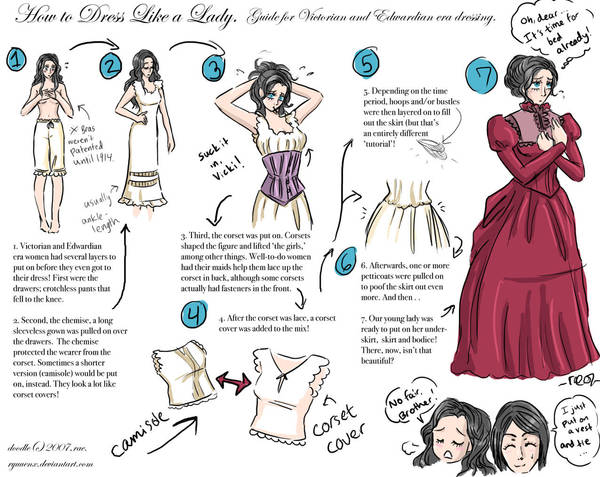 Watch
I suppose this is a tutorial of sorts; please let me know if you think it should go somewhere else! Also, please DOWNLOAD to see the full thing!
I've been studying late Victorian/Edwardian history/culture for the horror novel (hahaaaaaa) I've been writing. (Accuracy = less plotholes). It amazes me what the women had to go through to get dressed every day! To give myself a reference cheat sheet, and for anyone else who wants to see, I've created this 'tutorial' on how to dress a chick in late 1800's-early 1900's clothing. While the drawings aren't detailed, they get the point across. This stars my character Victoria. We've already seen her in a corset
[link]
(Mature content!) but up until now I've never reeeeally taken the time to draw her in super-accurate clothing for her time period. Perhaps this will help!
Note: I'm by no means an expert on this subject, so forgive any mess-ups!
References:
[link]
and Wikipedia.
Vicki and Vic(c)me. No touchie, but feel free to use this as cheap reference if you feel so inclined.