▪ Pre-adult ▪ biology student ▪ currently living in Brazil ▪ small baby bird ▪


Recipe:

Two cups of fuzzy, feathery formulations plus two of insanity. Stirred, not shaken, with a pinch of gaming and a lot of Anime.

Served with a part-time occupation of prose-composer and voracious reader.

Possible chocolate addict and compulsive doodler.

Might cut a rug, under the right circumstances

I might act nervous and dodgy, but don't worry; I'm always in the mood for a talk!
▪ Fluent in: ▪ English ▪ Portuguese ▪
▪ Learning: ▪ Swedish ▪ French ▪ Japanese ▪
---
▪
TUMBLR (main blog)
▪
▪
TUMBLR (side blog)
▪
▪
Twitter
▪
▪
Instagram
▪
▪
Charahub
▪
▪
Weasyl
▪
---
THANK YOU VERY MUCH FOR THE FAVES, COMMENTS, WATCH AND LLAMAS!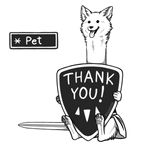 Favourite Visual Artist
Mark Crilley, Nate Swinehart, Canis Albus, Tracy Butler, Yonezu Kenshi (HACHI), Alexander Juhasz
Favourite Movies
Akira, Princess Mononoke, Star Wars, Indiana Jones, Quentin Tarantino films, Kung-Fu Panda (1 and 2), Big Hero 6
Favourite TV Shows
Doctor who, Breaking Bad, American Horror Story, Death Note, Fullmetal Alchemist (both versions), Hellsing Ultimate, Gravity Falls
Favourite Bands / Musical Artists
Owl City, Of Monsters and Men, 30 Seconds to Mars, Mindless Self Indulgence, Yonezu Kenshi (HACHI), Amazarashi
Favourite Books
The Lord of the Rings trilogy, Millenium trilogy, His Dark Materials series, Going Solo, The Boy Without Imagination
Favourite Writers
Roald Dahl, J.R.R. Tolkien, Dick King-Smith, Stieg Larsson, Carlos Eduardo Novaes
Favourite Games
Minecraft, Guild Wars 2, The Elder Scrolls series, Don't Starve, Ori and the Blind Forest, Undertale
Favourite Gaming Platform
A half oboe A.K.A. PC (inside joke)
Tools of the Trade
Watercolours, Staedtler pigment liners, ballpoint pens, Procreate and Intuos Creative Stylus
Other Interests
Webcomics, zoology, indie rock music, flailing my arms around and calling it "dancing"