Hey guys! I really wanted to make a more realistic looking base for myself, but I also thought I'd share it with you guys!
It is a bit on the sketchy side since the brush I use isn't the cleanest one, but I tried to make it cleaner than just a messy sketch XD
I also tried drawing a more..manly man? XD His muscles are a bit wonky but I thought I'd give it a go
I did try to use a reference photo for him too!
Let me know if you have any problems with the files or downloading it, thanks!
EDIT:
OMG so the lovely
SoraChiiy
did a line-art version of these bases, so if you don't have a sketchy style.. THEY ARE SO PERFECT!! <33

brokenhalos
has provided a MS paint friendly/pixel version of the bases!! They are so cute as pixels and perfect if you make adopts with ms paint!! <33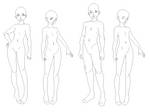 Once again, BIG THANKS to these guys for helping out and going out of there way to make this base more accessible to others!! <3
DL includes:
> SAI file
> PNG file

> PSD file

> Brush Settings for SAI

RULES


>Please credit me in the description!
>You can "frankendoll" them if you'd like, (Add ears, change eyebrows/mouth, etc) but don't change too much please~

>You CAN use these to make points/money on adoptables
>You CAN use these for non-adopts, for example, drawing an OC on them. But please, still credit me in the description.

>
DON'T use these for your commissions!
>Finally, HAVE FUN! ❤

ACQUA Brush Texture

BMP
No Preview