June: Fan Artist of the Month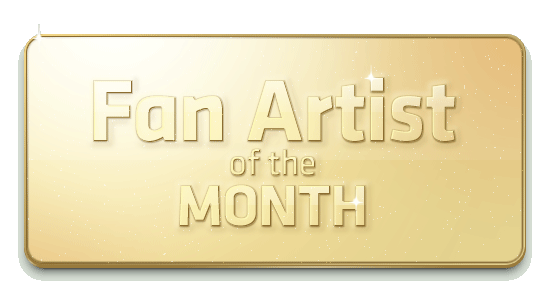 FAN ARTIST OF THE MONTH: JUNE
Welcome to another edition of Fan Artist of the Month

! With these series of articles we celebrate the marvellous work these deviants do within the Fan Art community! We want to show them our appreciation and gratitute for their time and dedication to our community.
This month we're honoured to grant this award to PatrickBrown !
PatrickBrown
is a dedicated fan artist worth checking out! He creates marvellous artworks full of life and movement!
His own characteristic style makes his art pop out among the rest of fan arts, making them unique and a real treat for the eyes!
A gallery full of diversity, with tributes to many different fandoms and also original work to spice it all up! It shows his progress and improvement along the years, definitely inspiring!
All in all, not only is
PatrickBrown
a fantastic artist but he is also a great person and deviant! Check the rest of his gallery out, you won't regret it

!
Getting to know Patrick a little bit more!

How did you first find deviantART? What made you stay?
I first found DA when a fan of my art said "hey you should check out DeviantART, make an account".. So I checked it out and I had no idea how good the setup and idea of the site was! I instantly fell in love with DA!

What do you enjoy drawing the most: Fan Art or Original Art? Why?
I really love drawing Fan Art more! I think because already I will have a huge amount of motivation for the picture since I'm a fan of whatever I'll be drawing! It's what keeps me going and it's what I do best I think


What are your aspirations and ambitions in the long run?
I really want to do cover art for console games, kind of like the Grand Theft Auto series! GTA plays a huge part in my art, because it gives me so much inspiration to what I want in life! I look at the boxart and think "I could do that someday".

What made you start drawing? What made you get into art more seriously?
What made me start drawing was just cartoons I watched on TV, I started when I was about 5 years old. As the years passed I improved more and more because my friends would enjoy what I did and it gave me motivation.
What made me get into serious art was when I hit college, I was a huge gamer and loved the artwork for the Grand Theft Auto series, as I was obsessed with Vice City I just wanted to make my own art in that style. So I used the college computers to try doing digital art, then it went from there


What would you do if you were physically unable to draw?
AAAAW NO!!! I would seriously hate life! Because my artwork is the only real, pure, happy thing in my life right now! It's my way of expressing myself. Plus it's just fun too


What other hobbies do you have?
I love doing Graphic Design, I actually do it for a living. Designing things like magazine covers, logo design, banners..
I'm a huge gamer, I play PS3 and Xbox 360, usually when I get some free time.
I love going to the gym, keeping healthy.
And I'm also a bit of a party animal haha, I don't know if you could call that a hobbie!

Anything else you'd like to share with us?
I really want to say a HUGE THANKS!!! To all the fans who have supported me. I actually wouldn't be doing any art here on DA if I didn't have people who appreciated it and enjoy what I do. I always look forward to seeing what people have to say, it really helps me improve, so thanks

DeviantART has actually made my life. Seriously!
Thank you for everything, Patrick! Congrats!


























---
To recommend a fellow fan artist for Fan Artist of the Month, send your suggestion to rydi1689. The artist nominated must have at least four pieces of Fan Art in their gallery, and be an active participant in or around the Fan Art Community.