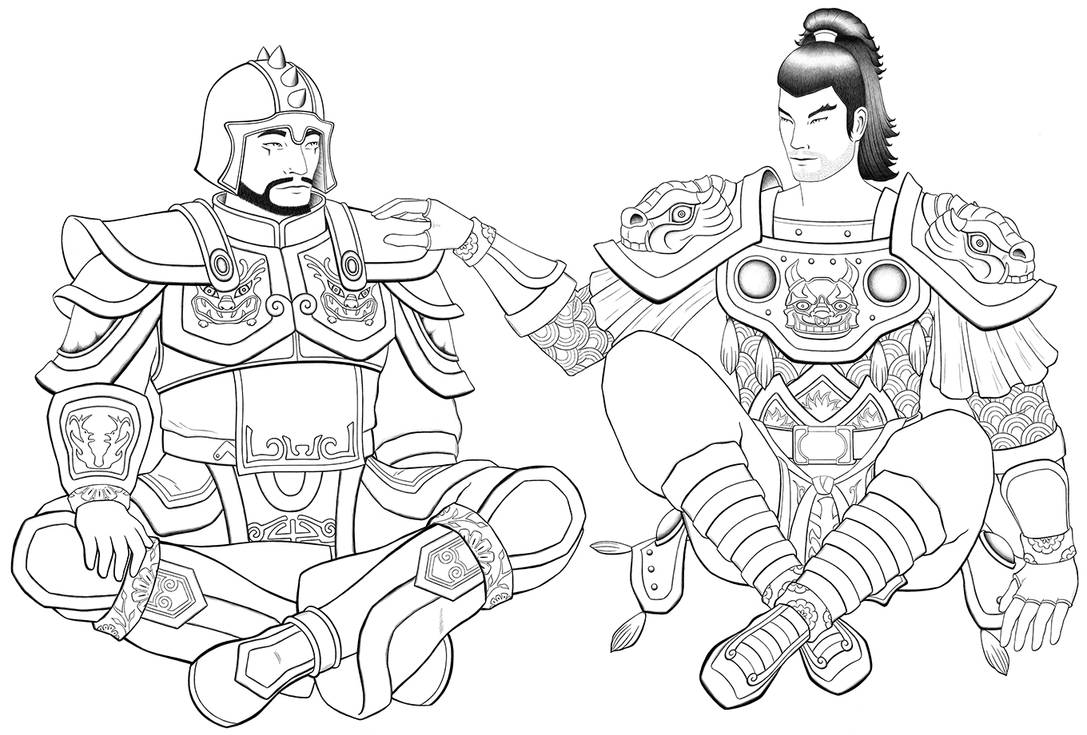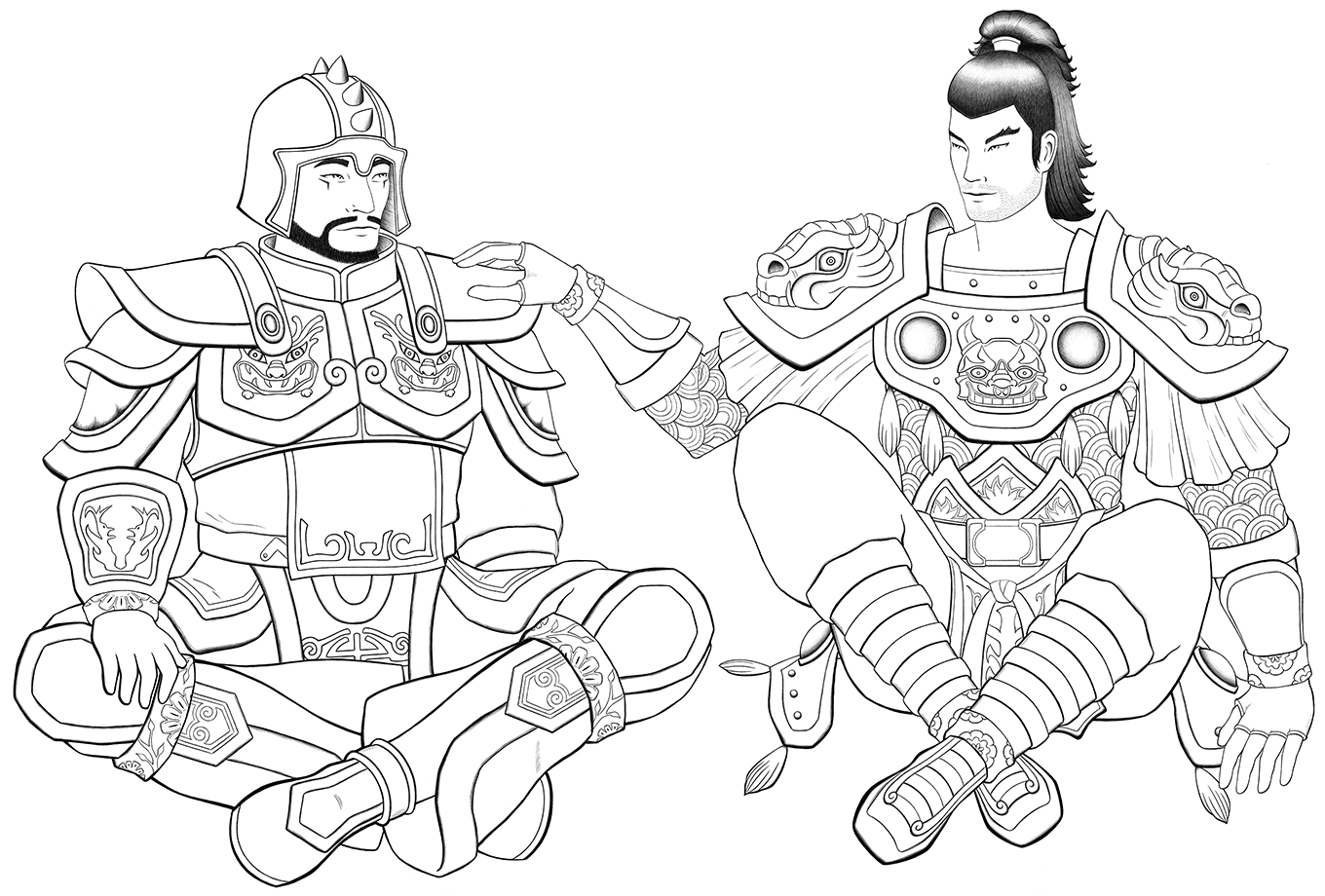 Once unruly youth, eventually two of the finest commanders in the Three Kingdoms. Cao Ren, a stalwart defender who began his career by raising a personal army, roused his men in the most arduous situations, and endangered himself to rescue ordinary soldiers. Lu Meng, a runaway who became literate and developed a brilliant mind for strategy. Both were reknowned for strict adherence to discipline, and their Sanguozhi biographies hint at a sense of perspective and compassion.
This piece takes inspiration from their joint command of the forces opposing Guan Yu at the Dynasty Warriors 5: Xtreme Legends Battle of Mai Castle, which was based on the 219 AD Wei/Wu collaboration that brought about Yu's defeat. Arguably, Cao Ren and Lu Meng's roles in that campaign were their greatest achievements. Surrounded and outnumbered, Cao Ren defended the flooded city of Fan for three months until relief arrived. Lu Meng captured the province of Jing with only a single death - his own colleague, executed for taking civilian property in violation of military code. The men's game characterizations - each with a unique, down to earth twist differentiating them from the usual tough guys and teacher types - piqued my interest in history research. These characterizations seem even more fitting with what I know of Ren and Meng's backgrounds.
I drew the vast majority of this picture freehand on a digital tablet, with some copy/pasting of the floral brocade designs and the etching on Cao Ren's knee armor. It was a giant research and development project for working out my style of hand inking, which I had never seriously done before. It went through many incarnations as I redid previous work and learned the hard way that I needed a good sketchy pencil foundation as a basis for the desired variation in my ink. Each bit of armor was its own small project.
Note me if you'd like a transparent version of the lines to color. Sharing is caring, and I'm happy to spread the love.

Look here for an updated picture of Cao Ren by himself.
[link]

Gosh.. all this detail. ;__; I could never do this.
Reply

Nice work, Rydain. I really like how you did their faces, especially Lu Meng's. It makes it feel like one of those Chinese portraits you'd see of them, and they're even sitting in the same style! The armor and anatomy also looks pretty good, so I like that.
Also kudos for going with the DW4 design. Personally my favorite take on the two, though DW6 Lu Meng does look pretty slick.

Reply

Thank you! I like that classic illustration style, and I was hoping my modern take on it would have a similar effect.

Cao Ren's DW4 costume is my favorite of his because it's the closest to period cavalry armor. DW4 Lu Meng is my favorite variant of his older armored costumes, but I have to say that the DW6 scholarly attire wins out over all. I will eventually draw him with those robes. And that hair.
Reply

The line work is absolutely wonderful -- crisp and deliberate and just well done.
Something is bothering me about Lu Meng. It feels like his arm (the one on Cao Ren's shoulder) is too long or is somehow out of proportion. Or maybe my eye is just thrown because of the combination of slight foreshortening and large pauldrons. I don't know, I keep going back and forth on that one...
The linework on this still makes me so HAPPY, I want to see a whole coloring book.

Reply

Thanks so much! I'm glad you like my line art, and I appreciate the honest critique. I took my best theoretical crack at Lu Meng's arms. The underlying sketch looked correct to me, but I could have very well goofed it up, and the pauldrons do obscure things to some extent. The point of his elbow may be too far forward for that sort of angle, too.

There will be more linework in the future when I get inspired to do another big project. I'm thrilled that my learning experience - redone and reworked countless times as I figured out better ways to render things - came out so well in your eyes.
Reply

This looks familiar, but why are they not naked? D: No, kidding, kidding!
TwT I love both of those men a bundle. They're real swell aren't they?

Great inking! I can never get my lines smooth OR straight, with or without pen tool.
Reply

Naked time is on my to do list. It counts as anatomy study, doesn't it?

Heck yes I love them too. One trip through Cao Ren's DW5 musou mode made me a fangirl. I got interested in Lu Meng through Warriors Orochi and DW6. The history research sent me over the edge for good. I'd love to write some serious business historical fiction about Lu Meng - similarly to what I will soon be finishing up for Cao Ren's early career - but I already have too many in-progress writing projects on my plate. Hopefully that will change in the future.
I work at 2-4x the finished size of the picture at something like 240-300 dpi. This lets me zoom way in and use a brush that can work at tiny sizes (relative to the picture size) without degrading into a dotted pixel trail. The brush used here was typically at a size of 6 to 8, even for small details and adjustments. Other than that, it's just practice practice practice to get those motions smooth.
Reply