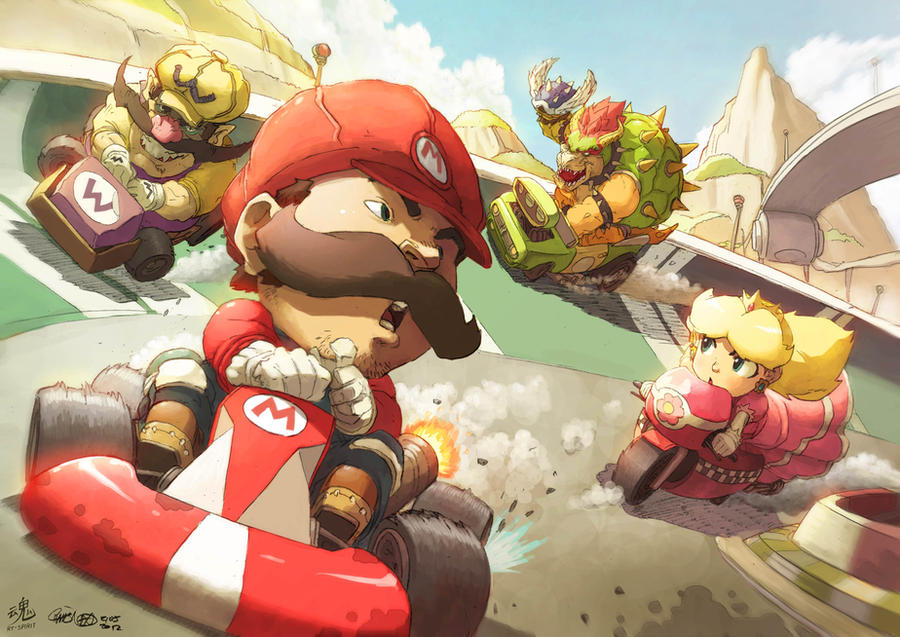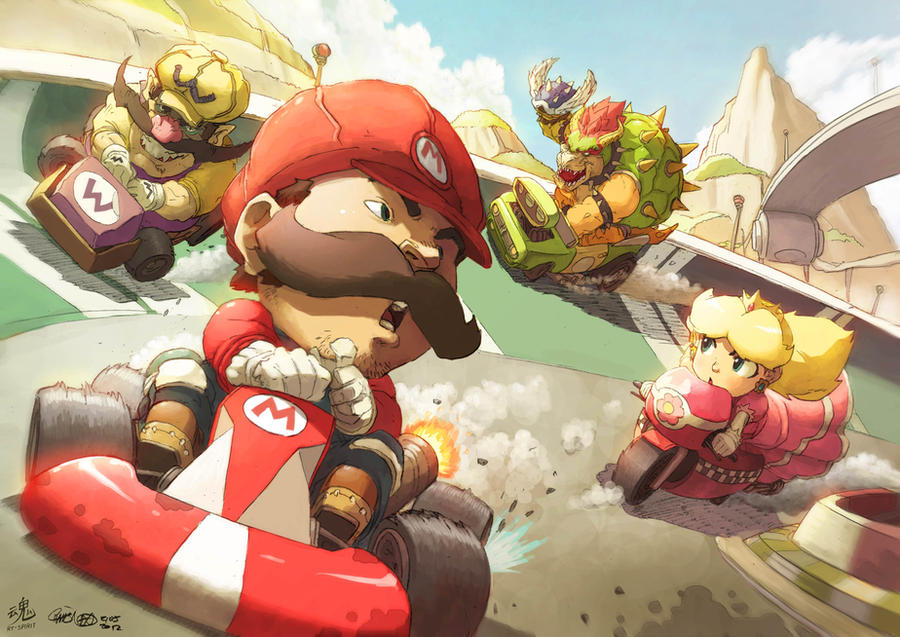 My first collab artwork, with *
theCHAMBA
doing the lines and I doing the coloring and shading. Took forever to finish as I didn't wanna let the man down.. Anyway its been a pleasure and honor to work with someone who was my earliest inspiration here on DA.
Lines:

Coloring and shading:

You can also watch speed paint of this here on my youtube channel:
[link]
----------------------------------------------------
You can also follow me on facebook:
[link]
This painting successfully delivers the childlike feelings everybody gets when playing the Mario Kart games. The artist has worked hard to give a unique look to the characters while still maintain their distinctive personalities.

The franticness and fear every gamer knows the 'Blue Shell' can deal is expressed perfectly on the faces of all the characters from the frontrunner Mario, knowing that his lead is about to come to an end while the evil Wario stalks just behind knowing he can steal it at any moment.

The artist has also kept away from 'overcrowding' the painting and resisting the urge to include more racers. This has helped to deliver a much stronger impact of the fun and anger this very game can deliver.
The Artist thought this was FAIR
10 out of 10 deviants thought this was fair.
the first thing that comes to mind is, "Which track from Mariokart Wii is this?" this is a rather surreal look to a vintage favorite, and the light source is placed well. I think Wario's shadow should be off to the right a bit, but the rest of the shadows. being an avid Mariokarter myself, can feel the incoming pain that Mario is about to receive as you drift around a corner. overall, I like this piece... it's like "Mariokart Fusion" in a good way. and if you want to exchange friend codes for Mariokart7, pass a note my way, competition is always welcome
The Artist thought this was FAIR
27 out of 28 deviants thought this was fair.