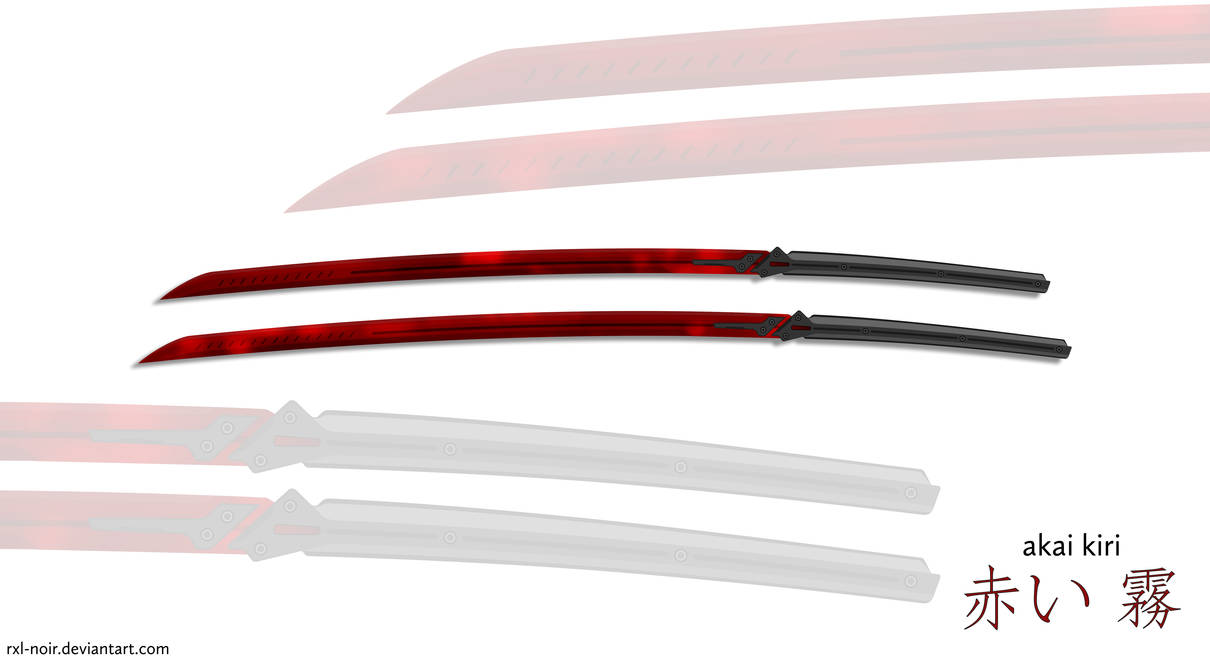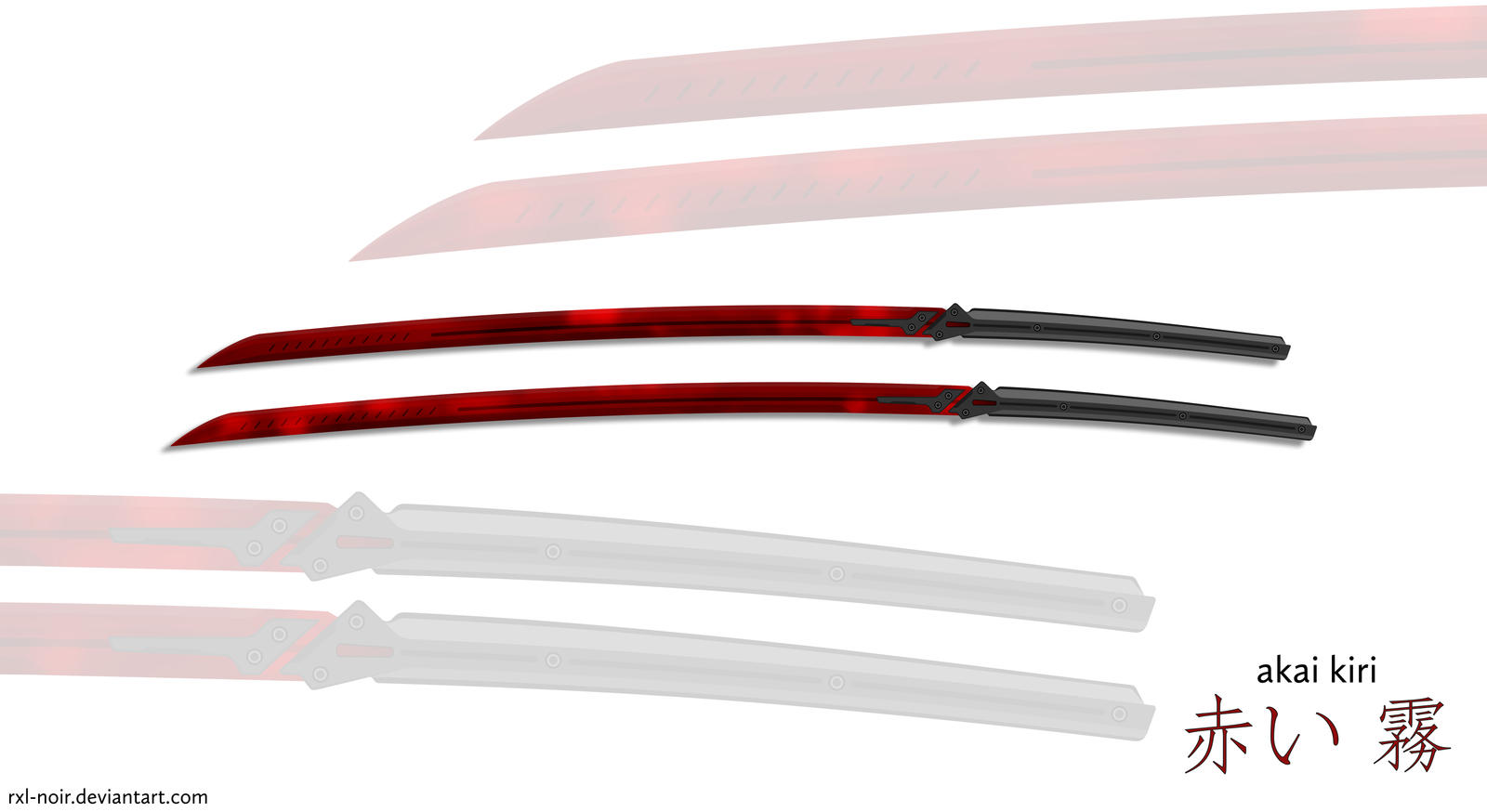 Finally, the third in my current 5 katana project; Akai Kiri, the dual red heat kodachi!
Designed as an anti-materiel sword, this baby cut through almost anything like a hot knife through butter. Next one is posibly a tanto, but since it's a small one, maybe I'll put it up the same time as the final one.
Oh, just in case I'm out of touch because of work/play/anything; each and every work of mine is free to use/modify as per Creative Common License (I'll update the license for most of my works), WITH attribution to me. As for commercial uses, try to contact me first, okay? (I doubt it there would be any though)
_______________________________________________________________________________________________________________
Akai Kiri, a dual heat kodachi developed by Reinhardt Armaments, specially designed for close range encounter with high-speed combat in mind, with anti-materiel weapon as its main purpose. Using an advanced metallic material and reinforced with a 3rd gen S3 (Shift Shield Stream), Akai Kiri have a superb endurance against anything while pertaining its flexibility. Using the nanobot technology inside S3, Akai Kiri is able to heat its blade to the point it hot enough to melt and slicing apart anything without breaking past its limit.
The rest of the series :
rxl-noir.deviantart.com/art/Sh…
rxl-noir.deviantart.com/art/Ku…
rxl-noir.deviantart.com/art/Ha…

Looks like something from Metal Gear.
Reply

Sorry for the spam, but I just got a new idea for you, if you're looking for another katana-style weapon to make, that is. It's two weapons like Akai Kiri, but instead of twin kodachi, it's a daito or katana & wakizashi set called Meian (light & dark in Japanese). The blades are a swirl of black and white and are commonly carried on the hip like they would traditionally, with the wakizashi hilt hanging below the katana. My personal preference would be to add a tsuba (handguard) to the weapons, seeing as you wouldn't want your hand to slide up during a forward thrust.
For their special ability, For now, let's make them "standard" HF blades that harness micro-vibrations and friction to cut through almost anything. Another idea would be to have them attach at the hilt to create a double-bladed sword.
We can bounce around some more ideas later, but please, tell me whatcha think when you have the chance.

Reply

Sorry for the late response, been ran into some trouble with my head lately.
Nice concept, and especially love the pair katana/daito + wakizashi set. Swirl? You meant the textures?
The double bladed though, seems like it'll look a bit cumbersome...

If you want, I'll make it for you, but probably outside from my current set though, since I already have an idea for the last of the series... Is that okay?



(and if you do want it, take it easy with the time. Since you probably know my flow time for works like this... Hopefully I wouldn't ran into some procrastination wall/sick days)
Reply

You don't have to make it, I won't force ya. Besides, I have no way to pay for a commission anyways

As for the basic look of the texture, here's a basic idea of the concept behind it:
c1.staticflickr.com/9/8208/821…
I might just write it out for myself and continue brainstorming.
But yea, if you wanna make it, I'll be more than happy to have some brainstorm sessions with you about it. Don't overwork yourself on my account, either. Do what you want.
Reply

Sorry for the super, super late response. 2 months without response is bad, I know

It's okay though, consider it as a gift for you

But alas, work and other IRL things in some ways or another keep on pulling me away from working on it. Hopefully though, it won't take another month or so to bring Meian to at least a presentable level to you.
Reply

I can't wait to see it. I know you'll put in your best effort. Crossing my fingers for ya. If I come up with anything else, I will let you know to see what you think.
Reply

Are we going to get a sheath for this thing?
Reply

Still haven't got the 'click' for a nice sheath, so probably not for now. But it will, trust me. Kinda weird bringing these swords without sheath.

And the relentless attacks of workpile (and mass procrastination) is harsh, so don't expect it to come anytime soon. And I still owe 2 more swords of this series to boot.
Reply

Too bad I promised myself to not use any DA domain art, cause I could probably come up with an OC or two to use these toys.

Reply

That's too bad... Welp, if you changed mind, feel free to use it.

Reply

Of course, it'd be a Cyborg Ninja-esque character.

Reply

Like Raiden right? not the Raiden from MGS 2 if not from MGS 4 and MGR Revegeance. By the way, I will use those blades for 1 or two of my OC and I have an idea for their sheat...if you want it
Reply

I'm all ears amigo. Or eyes, in this case.
Reply

ah, do you speak español eh? well, the first idea I got for the sheat of those swords are sheats similar to Raiden's one, but(if you want) with the function to release fast the blade, like Jetstream Sam's sheat
Reply

Only a little.

My idea for my OC would be him wearing it across his lower back in a single sheath. Kinda like this:
www.realswordmaster.com/produc…
Reply

Reply

Reply

Beautiful weapons I cant wait to see the other. 2 Katana's for this project you're doing
Reply