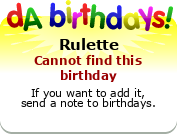 Get a FREE visitor map for your site!






Hi!...I am Ema

I am normal teenage girl (who´s secret love is MLP)
My love to MLP and Painting started in October 2013 when i saw some painting of KikiRDCZ :3
Somebody can say that i am crazy....But I´m not....I AM INSANE!!!
No i´m only joking....




I am-