**Here's a small but important update.**
SInce August 1 I am officially working as a T-shirt pattern designer.
It it a full time 8 hours per day work of drawing so I am free only at the weekends.
Just wanted to let you know guys since I needed to slow down a bit because of my work but commissions are developing in my free time.
Best Regards
Ruhisu.

Due to totally reworking my system, commissions are temporarily closed.
I want to let the free time I will finally get after June 14 to accomplish all commissions which still remain, therefore I am closing commissions but not forever.
The future of my system will introduce not 20 but only 5 slots because I agree that I have taken way too much on my back and a lot of people are waiting already. That's why I want to use that time for you guys. Also 5 slots will make things faster.
Right now I am accomplishing commission for: and for Twisted Cyclone later on.

I would like to give all my current customers a repay gift since I know you guys are very patient but you still deserve this.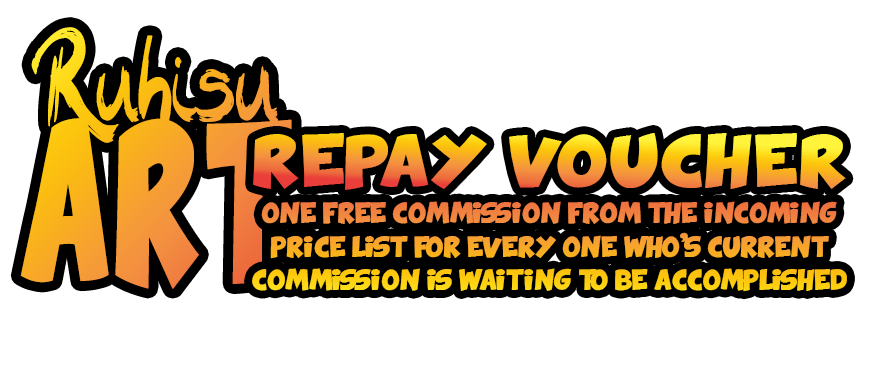 This voucher allows every customer who requested a commission and is in the chart to get one commission from my offer, TOTALLY FOR FREE.
Aurelleah and Silas-Shield Wing. Feel free to use this voucher as well.

!REMEMBER!
This voucher is not obligatory, I am not forcing it into you (it's your decision if you feel in need of such repay) so if there are any doubts or questions regarding this subject, please write me a note.
For more information you can write me a DA NOTE. I still have the chart so I will publish names of people who should receive a complete picture and if somehow I forgot to mention anybody, please inform me ok? I'm just a human.


BEST REGARDS.
Ruhisu