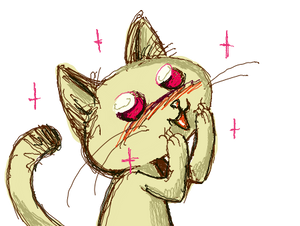 Cupcakes
Joining the Cupcakes grants access to the majority of my sketch work on this account. Things like WIPs of comics, finished pics, sfw pin-ups, and other content I have here will be visible for a Cupcake Subscriber.
---

Serpamia Flare Strip 041 - Reformatted
Description
This is reformatted from the old strip, updating the font and the speechbubbles only. However, I also removed the 'FWAAASH' SFX. It was actually an accident (I didn't mean to remove it XD) but after I noticed it, I realised it actually made it less cheesy so I left the change in. XD
This is the original strip!
(If you are viewing this for the first time, please check the Serpamia Flare Navigation link below!)

Next Strip

First Strip

Previous Strip

Serpamia Flare Navigation

The Serpamia Flare Entry

Please visit the Serpamia Flare webcomic website!



This strip updates every Monday, Wednesday and Friday, UTC/GMT+8.
As a side-note, both the website and my DA page update roughly the same time. It is possible to add serpamiaflare.com to your RSS feed in your bookmarks so please do so if you'd like to be alerted of updates automatically!

Watching me on DevArt will also net you automatic updates~


SF on Facebook and Twitter~


SF on Tapastic~


Serpamia Flare forums!~



The story...


Seeking meaning in a serie

Serpamia Flare Website

Tapastic Mirror

SF on Facebook and Twitter~
Image size
691x977px 887.57 KB