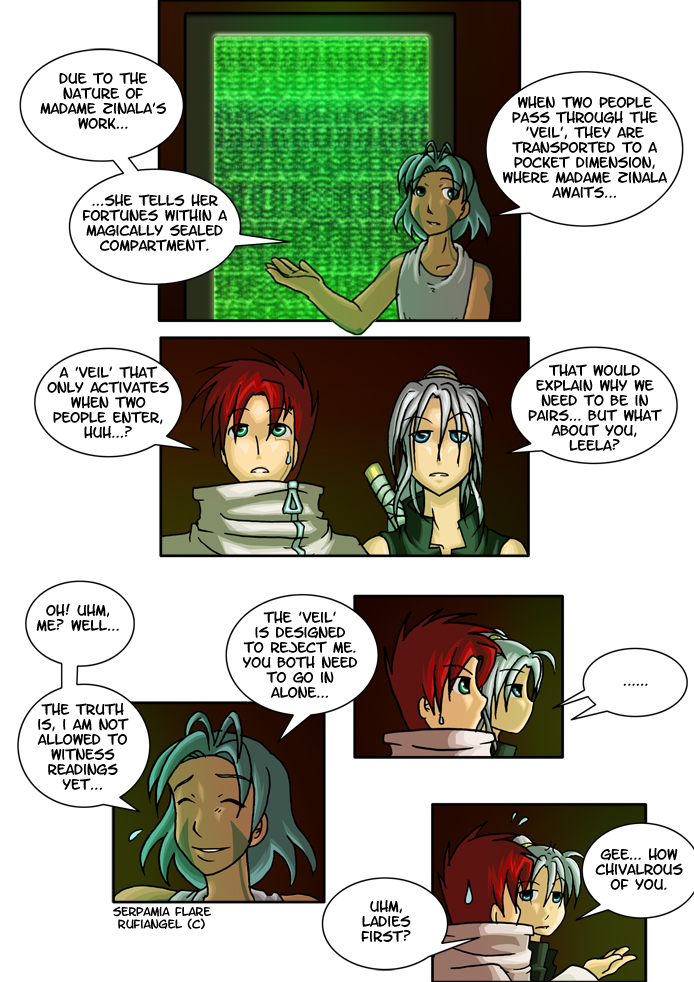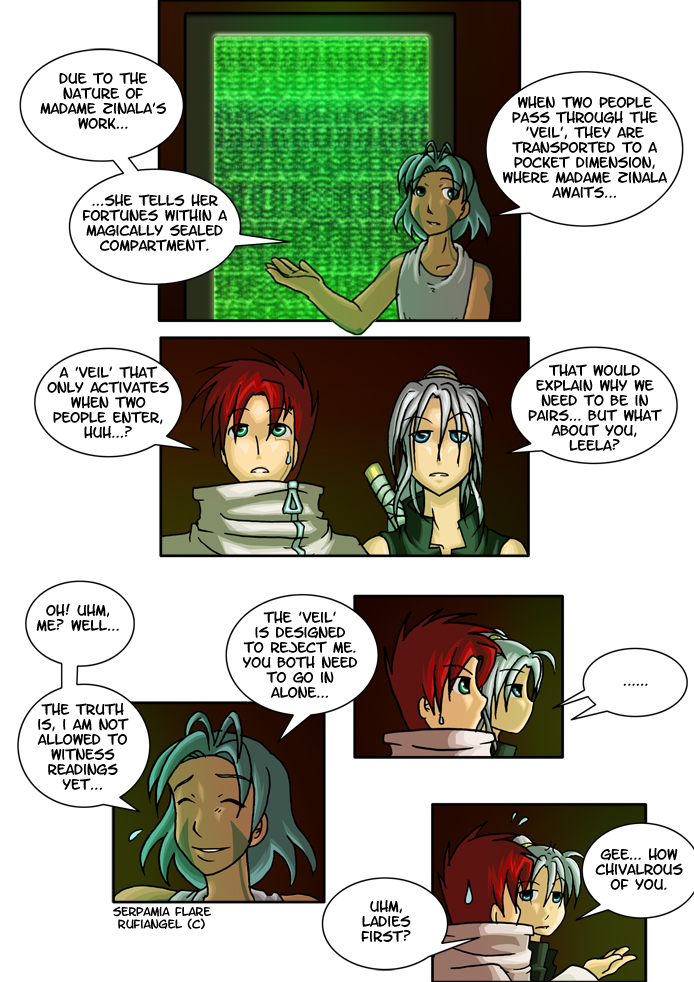 Watch
There isn't much to this particular strip, clearly... I did have fun making the 'veil' graphic, though, that was quite fun. ^^ This marks the point of movement in this particular chapter, where things rapidly shift into gear (after the lull, where the characters converse calmly over the table). I can only hope I can do it justice. ~_~;
The problem with my really crappy inking skills really hit me when it came to thi strip. How much I had to edit with my tablet, you don't want to know. (And even so it looks crap.) I really ought to ink on cartridge paper so I don't half-ass it like this... -.-;
I've also started considering trashing all the inks I did up to the next five strips and just ink a new direction for this chapter. XP What a waste of ink, though! Bleh... I'll have to think about it...
Inked by hand and coloured on PhotoshopCS as usual. :3

Reformatted version

Next Strip

Serpamia Flare Navigation!

First Strip

Previous Strip

Serpamia Flare Navigation

The Serpamia Flare Entry

Please visit the Serpamia Flare webcomic website!



This strip updates every Monday, Wednesday and Friday, UTC/GMT+8.
As a side-note, both the website and my DA page update roughly the same time. It is possible to add serpamiaflare.com to your RSS feed in your bookmarks so please do so if you'd like to be alerted of updates automatically!

Watching me on DevArt will also net you automatic updates~


SF on Facebook and Twitter~


SF on Tapastic~


Serpamia Flare forums!~



The story...


Seeking meaning in a serie

Serpamia Flare Website

Tapastic Mirror

SF on Facebook and Twitter~

a bit weird...if she is rejected to go in...how would she know that lady zinala wants to see anybody?! hmm.....haha maybe i'm just thinking too much. AND YOUR COLOURING IS NOT CRAP!
Reply

Originally Zinala sent a wind chime charm, but I cut that part out and just had Leela determine that 'it's time' via time passage. You're not thinking too much, I prolly just didn't make that very clear. u_u;; Bleh. Thanks for pointing it out though, it's a script revision I should make later.
I'm trying to get better at colouring, honestly. Oh! I got a new tablet. It's pretty big and it works so beautifully.

BTW I tagged you! You missed it didn't you?

Reply

i will deal with ur tagging wen i'm not as lazy and get back to hk!!! AND YOUR COLOURING IS NOT CRAP!!! i got a tablet that's rotting away and u use CS, i am still on 7
Reply

Reply

Damn, I knew I shouldn't have made it green. XD;

I suppose they'll now all have to follow you. Y'know, you being the 'rabbit' and all. Hope you're feeling better btw... I know you've got a cold. ;_; (Ah, the irony amidst immunology modules... XD;;; )
Reply

I ain't white yo. Despite the icon you created for me depicts me as so.
I took two tylenols and my headache's nearly gone, sneezing has seized for a while and ... I hope this continues till at least I get to HK

Reply

Geez. XD; What colour are you then? Shall I be trippy and colour you blue?
I can't wait to see you~~ I hope you're feeling better by then though. ;_;
Reply

Haha, very nice.

I like the subtle green glow you got going.
Why not try to ink digitally? I used to ink by hand, but switched over to the tablet because I found that that the Eraser tool was super handy. XP
Reply

Thank you~!

I wasn't sure whether to strengthen the green glow or not, but I'm glad you could still pick it up. X3
I don't like inking digitally, to be honest. I do it every now and then, but when it comes down to it, I'm so shaky-handed with inks (both on tablet and on paper) that it takes just as long anyway. >_>;; I *am* trying to get better at it though!
Reply