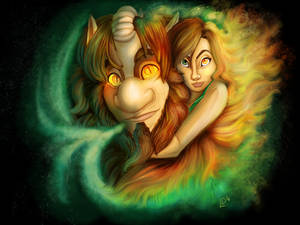 Comic Tier
Burnt out folklorist hides from the world and her antagonist who plumber the outside of her home. Upon receiving a random invite to a cabin from a fan. Mel escapes the drudgery of her life only to find another annoying neighbor who turns out to be fey. Can she survive the encounter or can Mel give him an offer he can't refuse? This tier has all of Shurale season 1 and 2 Shurale fairytales! Updated every month.
---

Serpamia Flare - Chapter Six Cover Art
Description
This didn't turn out exactly the way I envisioned but it's close enough, I suppose. I kinda like to think of this shot as a scene capture of those moments in RPGs you find yourself wandering around a village alone, with your party members spread out in different sections doing different things. XD;

Next Strip

Previous Strip

First Strip
/
Redrawn First Strip

Serpamia Flare Navigation

The Serpamia Flare Entry

Please visit the Serpamia Flare webcomic website!



This strip updates every Monday, Wednesday and Friday, UTC/GMT+8.
As a side-note, both the website and my DA page update roughly the same time. It is possible to add serpamiaflare.com to your RSS feed in your bookmarks so please do so if you'd like to be alerted of updates automatically!

Watching me on DevArt will also net you automatic updates~


SF on Facebook and Twitter~



The story...


Seeking meaning in a series of strange dreams involving her mother who died years ago, Kylie journeys to Raswen to find Madame Zinala, a fortune teller who has been known to interpret dreams w

Serpamia Flare Website

SF on
Facebook
,
Twitter
and
Tapastic
~
Image size
691x977px 605.04 KB