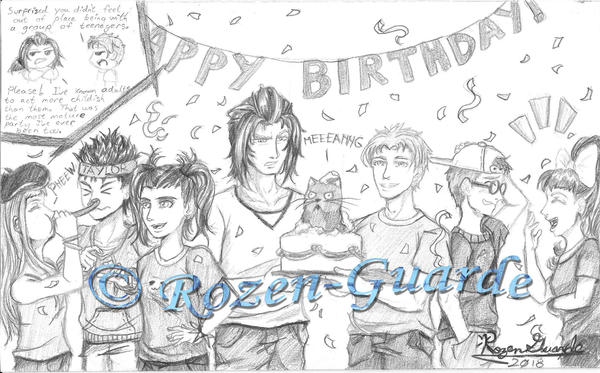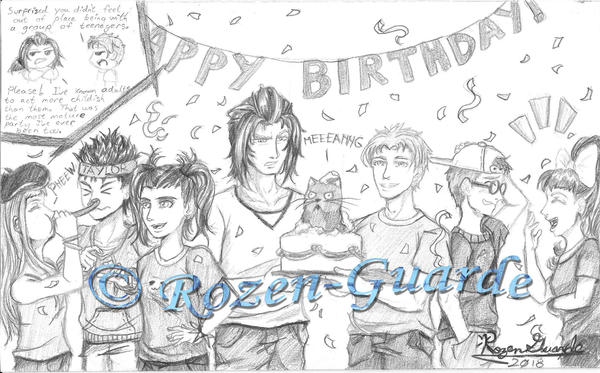 Hey! In case anyone is curious, today is

birthday, and I wanted to give him a gift~ So here, I drew my O.C. Saraquel from my manga, and myself, along with some of Jeff's O.C. characters from his comic.

There's Bloo, Jeff, Taylor, Jane, and Cassidy along with his other fun character Crazy Cat in the cake XD I was gonna ink this and then color it, but I was afraid if I inked it, I'd lose some of the details I had with just pencil alone. So instead I just shaded it in with more graphite

Hope you like the present Jeff! The original is in your email~ Happy Birthday!
P.S. In case you can't read what me and Saraquel are saying up in that bubble in the corner, here's the dialogue:
Rozen: "Surprised you didn't feel out of place being with a group of teenagers."
Saraquel: "Please! I've known adults to act more childish than them. That was the most mature party I've ever been too."

The expression on Saraquel's face is one I'm too acquainted with. It's good to see him around though. Never a dull moment XD
Reply

Yeah that's right! Never a dull moment with Saraquel

I got another small comic of him coming up starring a cross-over, almost completed. I gotta finish coloring it, then I can put it up. It'll be a colored comic, which I've not done before, so it's taking me a little bit of time

But you have that to look forward to very shortly~
Reply

Oh wow, this is really sweet! It looks like a fun party!

Reply

OOOOOOOOHHHHHH MYYYYYYYYYYY GOOOOOOOOOOOSSSSHHHHHH!!! XD Like I said on the stream, I was super tired at work, so I checked my phone and saw your email. I was genuinely surprised by this!

Got me smiling the rest of the day. Thank you so much! I love the detail that you put in it! Crazy Cat in the cake, Cassidy playing with Taylor and Bloo, Jeff and Jane talking, And Saraquel knows he's having fun, he's just hiding it! XD
But I love it! Thank again!

My mom got my a chocolate cake with vanilla ice cream in the middle! So I had a slice after the stream ended. Also, thanks for the watch! Hope you'll enjoy my art. Well, I just wanted to fave and comment this before I head to bed. Again, for the millionth time, thank you for being so awesome!
Reply


I'm happy to hear it made your day~ I was working hard all week on it trying to get it completed on time. Fun fact, I drew this on watercolor paper because of my original intention to color it XD But then, I was gonna lose some details if I inked it in because my inking pen is not as thin and small as my graphite pencil to do finer details

And yes, Saraquel is having fun, like you said he hides it.
Of course, no problem~

Thanks for being awesome as well~ As I was uploading the piece, I went to your DA and wondered why I wasn't watching you yet. You make good stuff too! So now it's official and I can keep up with your progress on your drawings as well

Hope you enjoyed your cake and had a good nights rest!
Reply