Do you have a character that you'd like to have drawn? Is your wallet so massive that it looks like you shoved a small boulder into your pocket and is hindering your mobility? Perhaps I can help!
I draw expressive, cartoony characters, usually in the realm of anthro (but also humans/humanoids). Below are some examples found on this account and my other two accounts,
RieselUniverse
(art for my book series) and
NuclearCookout
(mostly fan art and personal stuff). Please note that despite the presence of Pokemon fan art, I don't do such commissions. These are examples of expression and quality only.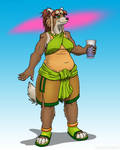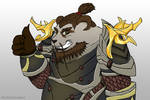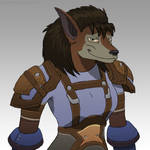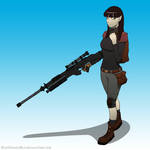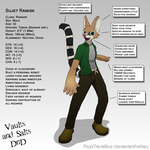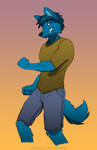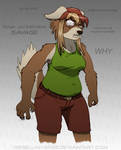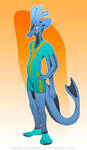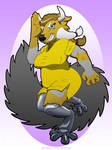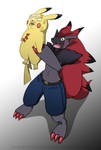 AGREEMENT
These are my terms:
Send me a coherent and complete order. I will review it and either accept or decline. I reserve the right to decline for any reason. Please don't take it personally if I do!

If I accept your order, then you must pay ahead. I don't want to be halfway done with a drawing only for you to say "Oh! My cardboard box needs new paint, so I'll have to pay next year. Next year is 2036, right?"

Send me reasonably detailed instructions (and references, if possible) for what you want. I work better with instructions and references, unless you specifically want me to be creative. In that case, please be prepared to accept the results!

Personal use only. If you want it for business/full rights, we'll discuss it in private messages.

I prefer to draw in my own style, but if you REALLY want a particular style, we can discuss it.

You may upload your commission to your own DA/etc page, but please make a clear credit to me and add a link to the original page.

I can do backgrounds if you have a good reference for me to use, otherwise just abstract/graphical. A simple gradient background is free, but ANY extra detail will be at least $5.

I like to get my work done in a few days, or a few weeks if I'm overloaded. No stringent deadlines. If a stringent deadline is absolutely necessary, it will cost extra.

Once payment has been received (via PayPal), I will begin a rough partial scribble. I am open to one basic adjustment request to your order during this time. After I send you the finished scribble (cropped and covered with watermarks), and you approve, further requests for adjustments will be disallowed. If you disapprove, I will allow for one more basic adjustment (but no redraws). If you ONLY ordered a rough scribble (simple sketch), the order will be considered finalized upfront, no previews will be sent for approval, and no requests for changes will be allowed. PLEASE be sure of what you want beforehand!

I will not draw anyone's fetishes* or political opinions, nor will I draw a copyrighted character from a company that has contested such commission work. No lewds, vulgarity, gore, etc. No special interest group/activism/sexual pride stuff. No Nintendo properties, either. All art will be PG-13 max. (*I am aware that technically anything can be someone's fetish, but I won't do anything blatant.)

HOW TO ORDER
Please send me a message with the following info:
Commission info.

Character name.

Basic character info (and extended info if you want a character sheet), desired pose and expression, etc.

Sample pictures or relevant references.

PRICING
Adding significant detail may cost extra. Intricate swords and guns, pets, complex cybernetics and devices, super-fancy armor, high-detail clothing, and the like will cost extra. I might draw robots, especially if they are simplistic, but detailed ones may be expensive.
Definitions: "Portrait" refers to head and shoulders; "Half Body" refers to waist and up; "Full Body" is self-explanatory.
Simple Sketch
Basically a rough scribble, no color or shading. If desired, flat color can be added for extra cost (noted below). Shading can be added for $3 per character.

Portrait: $5 (add'l characters $3/ea; color adds $5/ea)

Half Body: $7 (add'l characters $5/ea; color adds $7/ea)

Full Body: $10 (add'l characters $7/ea; color adds $10/ea)

Lineart
Cleaner lines (but still somewhat rough, as per my style), no color, more detail, minor shading if desired (adds $3 per character).

Portrait: $12 (add'l characters $9/ea)

Half Body: $15 (add'l characters $12/ea)

Full Body: $20 (add'l characters $17/ea)

Full Color with Shading
Yup, full color with shading. Shading can be omitted for a $3 discount per character.

Portrait: $20 (add'l characters $15/ea)

Half Body: $30 (add'l characters $25/ea)

Full Body: $40 (add'l characters $30/ea)

Character Sheet
Lineart, or full color with shading. Three full body views of one character (example: front, side, and back). Statistics column and guides. Basic facial expressions can be drawn at the bottom of the page at extra cost. Types/angles of views can be negotiated.

Lineart: $60

Color: $110

$4 per lineart expression, or $7 per color expression.

Background (as an addition to an existing order)
Abstract, nothing ultra-detailed.

$5-$30 added to main order, depending on detail.

$20-$40 if you want ONLY an abstract background with no characters, say, as a wallpaper or banner.

A non-abstract background (such as a room or something) can be done if adequate references are given. Cost will be discussed.
REFUNDS
You will receive an 80% refund if you cancel during the rough scribble phase (and the scribble will remain in my possession). If the rough scribble phase has already been passed, there will be no refund. If you ONLY ordered a rough scribble (simple sketch) and then cancel, there will be no refund. Once again, please be certain that you want, and can pay for, what you commission!
TAGS
Ignore these. These are for website search purposes.
#commission
#commissions
#commissionsopen
#anthro
#anthrocommission
#sketchcommission
#warcraft
#wow
#warcraftcommission
#worldofwarcraft
4/25/18 revision: Price reductions and rewording for clarity.