Although not tagged (

), I thought I'd include one of mine anyway ;-P
Rules(because they matter)
1. Pick one of your OCs
2. Fill in the questions/statements as if you were that OC
3. Tag four people to do this meme
Going with CYBORILLA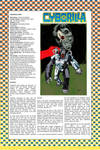 1. What's your name
Cyborilla, or Master to you, you puny human
2. Do you know why you were named that?
<sigh> I am clearly a cybernetic gorilla, you ignoramus
3. Are you single or taken?
I have found none worthy of my affection
Although I am on MyCupidMatch as cyby486
4. Have any abilities or powers?
Cretin! I am the greatest scientific genius the world has ever known. Given that all previous ones were humans, this is not a great feat. Ha!
5. Stop being Mary Sue
I do not know this term
6. What is your eye color?
Look into my eye and tell me what you see
7. What's your hair color?
Grey, with a distinguished white streak
8. Have any family members?
That is none of your concern
9. How about pets?
I think of all humans as pets
10. Now tell me something you don't like.
Stupidity
11. Do you have any activities/hobbies that you like to do?
I am an excellent chef
12. Have you ever hurt anyone in any way?
Oh yes!
13. Ever... Killed anyone?
What do _you_ think, foolish human?
14. What kind of animal are you?
...
15. Name your worst habits?
I read in bed
16. Do you look up to anyone at all?
No
17. Are you gay, straight, or bisexual?
Bah! Humans, with your concern over trivialities
18. Do you go to school?
...
19. Ever want to get married and have kids one day?
I have not the time
20. Do you have any fangirls/fanboys?
What?
21. What are you most afraid of?
Leaving the human race in charge of this planet
22. What clothes do you usually wear?
Armor
23. What's one food that tempts you?
I do have a weakness for mango
24. Well, it's still not over!
...
25. What class are you in? (Low/middle/high)
The highest of classess
26. What are your thoughts on pie?
Five decimal places is sufficient
27. Favorite drink?
Mango juice
28. What's your favorite place?
Junglopolis, my sanctum
29. Are you interested in anyone?
In destroying the infernal Optima
30. That was a stupid question.
You dare!?!
31. Would you rather swim in a lake or the ocean?
I do not swim
32. What's your type?
High technology
33. Any fetishes?
What?
34. Camping or outdoors?
outdoors, you fool. We are done with this frivolous exercise; now away!!
Oh, I do enjoy Chopin
Tag