EDIT: Pistol has found a home. He is going to be the new demo dog for a trainer in Oklahoma!
This is Pistol...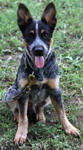 Pistol is a 5 month old Australian Cattle Dog, or Blue Heeler, that is looking for a new home. He is started on Obedience training and is a very fast learner.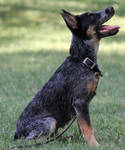 He has a TON of ball drive and he LOVES food. He knows sit, down and bring(fetch). He's very sweet and loves to be around people. Very, very active. He needs to go to a new home where he will get plenty of playtime. He climbs like a monkey; VERY surefooted. xD Located in DFW area of Texas.