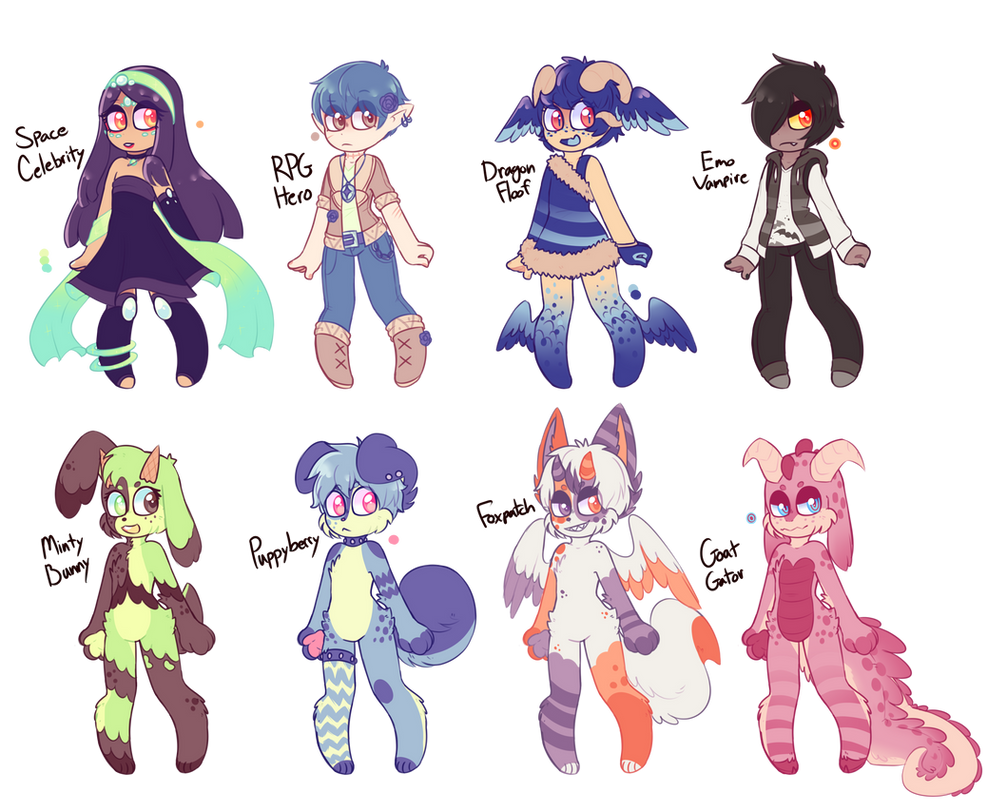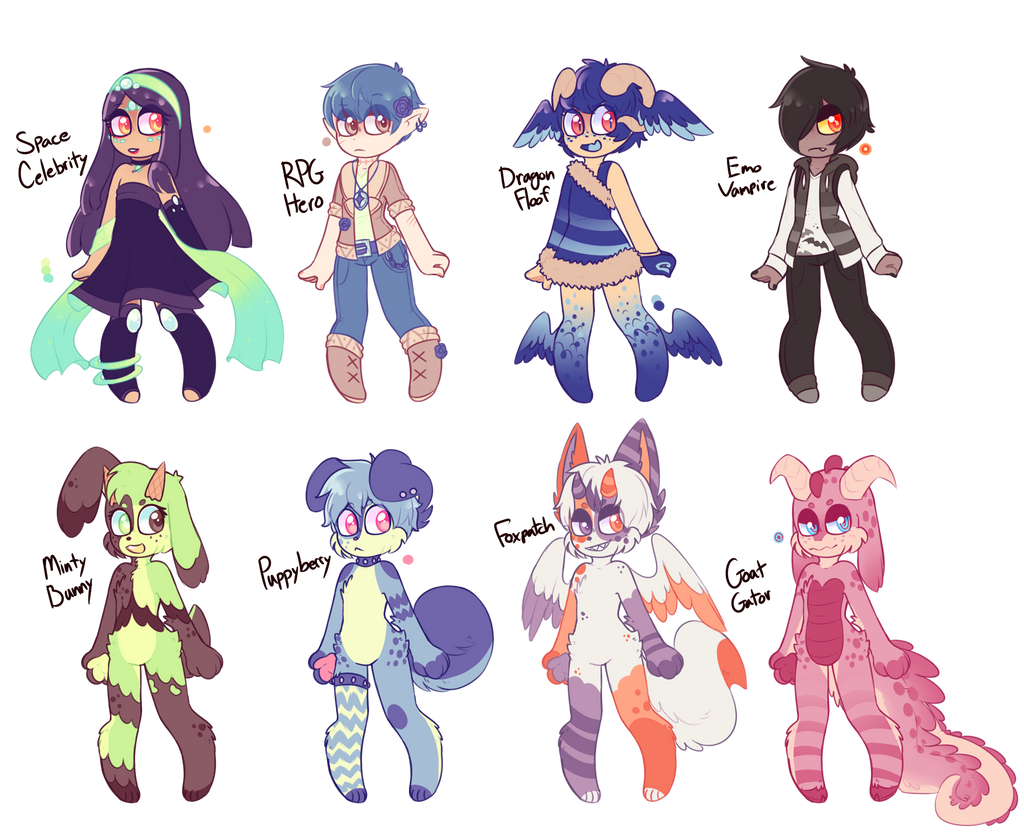 By purchasing this adopt, you agree to my
adopt t.o.s.
.
---

Yes hi I made a little base to pump out some designs faster?? I had a blast with them too ;;
I'm really bad at making bases and reusing them a lot bc i end up disliking everything I make within a week oOF-

But ya if they sell well would you be interested in more batches like this?


$10/1000

each

Space Celebrity - (SOLD)
RPG Hero -
(SOLD) (sold to
Cheekymoomoo
)

Dragon Floof -
(OPEN)

Emo Vampire -
(CLOSED) (traded to
RenDice
)

Minty Bunny -
(SOLD) (sold to
x-SpookyBoo-x
)

Puppyberry -
(SOLD)

Foxpatch -
(SOLD)

Goat Gator -
(SOLD)

Could I get Space Celebrity?
Reply

Reply

May I have Puppyberry please? HE'S SO CUTE, ahhh <33

I might need to pay later if that is okay? I will pay via Paypal if that is okay.
If you rather not put the adopt on hold, I will accept your decision : )
Reply

I don't really do holds sry ;;

Buut it would depend I guess- how long do you think it would take to pay?? I'd be open to up to 3 days??
Reply

Reply

Reply

Awesome, thank you so much. <33

I really hope that you don't mind. The last thing that I would want to do is make people paranoid, worried etc.
Reply

No it's fine! I just don't like holds that take longer than a day or so since almost all I've accepted in the past fell through ;;

But I don't mind waiting a little bit to give people enough time to pay o:
Reply

Fair enough. I can imagine that it is a worrying procedure because you don't know if the individual will pay or drop out last minute.
Reply

Reply

Reply

JUST SENT THE POINTS AND NO PROBLEM!

I just couldn't handle not buying them, the design and colors were too perfect..!! / w \

Reply

All yours! I was a little iffy as to how the design turned out and wasn't sure if it would sell, so I'm really happy to hear how much you like 'em! ;; thank you again for buying!!
Reply

Thanks, I cannot wait to start drawing stuff with them! Ah I know how hard making character designs can be, but Foxpatch there is a really great design, the pastel orange and purple is a nice combo on them!
Tbh I was deciding on either Minty Bunny or Foxpatch, one of the things that made me go for them more was that mischievous, troublemaker expression they have.
Also idk yet but I might keep the name Foxpatch for them if that is okay, it just seems to fit them so well. * w *
(Oh dang it sorry about the super late reply, well it's hard to tell for you I know so many people in different timezones..

)
Reply

Aaaa if you feel comfy with it I would love to see what you drew! ;;

I'm really happy to hear that! Yah you can keep the name too if you like
Reply

SLAMS HANDS DOWN
GIMME GOAT GATOR

Reply

Reply