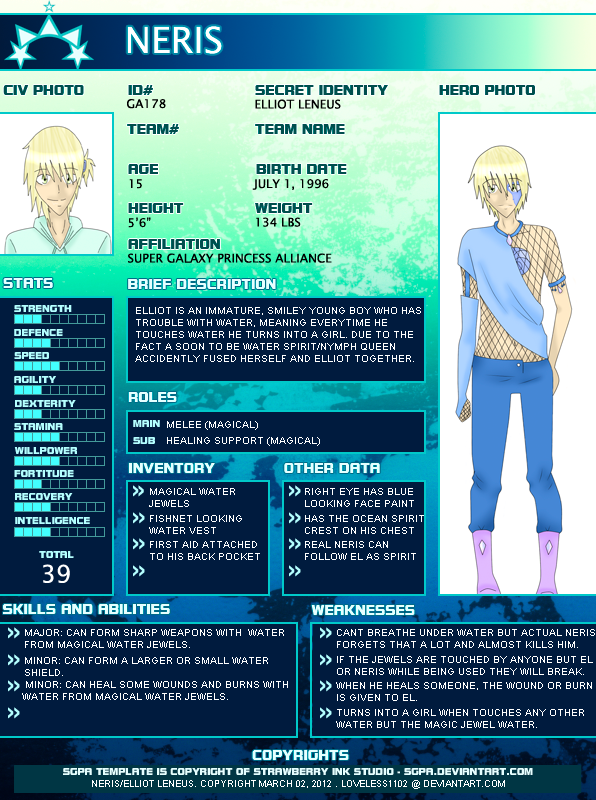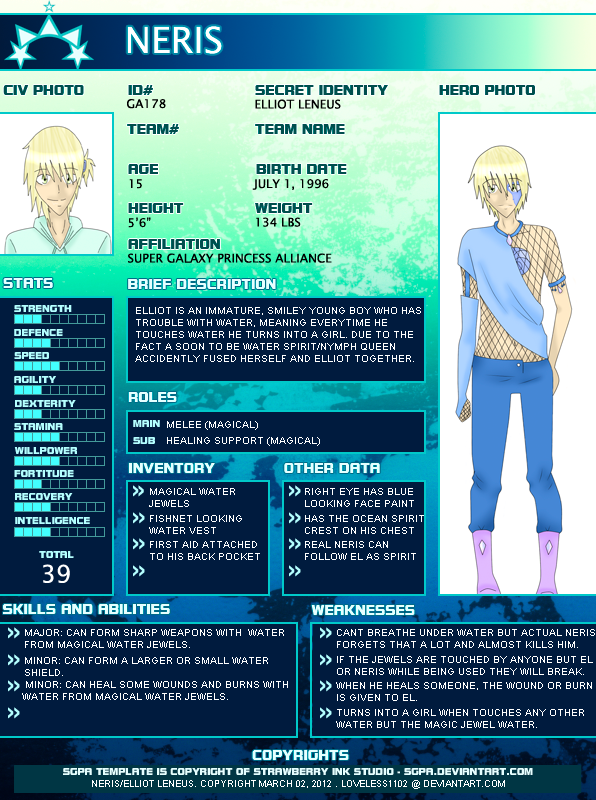 Watch
This is my newest oc Elliot Leneus aka Neris~ HE IS MY PRECIOUS BABY SO I WONT TOLERATE HARASSMENT xDD jk~

knows what I'm talking about~ I actually cant wait for him to be teased by people because he is so fun to tease.
Template belongs to

Profile:
BASIC STATS
Secret ID: Elliot Leneus
Superhero Alias: Neris
Group / Alliance Affiliation(s): Young Justice, the Super Galaxy Princess Alliance
Nickname(s): El and Lele
Age: 15
Gender: male (when touches water female)
Nationality: American
Current Residence: Happy Harbor
Height:5'6"
Weight: 134 lbs
Eye Color: Green
Hair Color: Blonde
Hair Type: Medium, bangs cover face.
Skin Color: Surfers Tan.
Physical Description: He is small, his mother is a bikini model who is extremely beautiful and he got some of her facial features. All throughout his childhood he was always being complimented and touched because people thought he was so cute so he grew his bangs out to cover most of his face. He loves the ocean so he has a slight tan from being on the beach all the time while his mom is working.
Personality
General Personality: Elliot is an immature boy; he has a cute face but covers it up with his hair. He is shy when it comes to relationships and sexuality; he gets red in the face and starts wanting to leave. He has never dated a girl or boy, and ever since Neris entered his body he has been more feminine and attracted to men than he used to be. He used to think girls where cute and was always teased about dating girls by his mom but lately he has been interested in both genders. He is also very insecure about his body because he is so small
Good Traits: Cute face, childlike innocence, has an urge to protect people, and sensitive
Bad Traits: Immature, mind hasn't caught up with his body, crybaby at times, and loves to tease people
Quirks: sings an ocean lullaby that Neris taught him, draws faces on band aids when he uses them, when sitting he plays with his feet, and often has conversation with himself when trying think of stuff to meet new people.
Hopes: To get Neris her body back.
Fears: to Lose his mother or Neris.
Memorable Quote(s): "NERIS! Why do I have BOOBIES!?"
Relationships ADD INTO THIS SECTION AS NECESSARY, LIKE FAMILY MEMBERS
Closest Friends:
Neris, and Aqualad
Enemies: 
Villains, mean people, and guys who harass his mother.
Girlfriend(s)/Boyfriend(s): no one.
Battle
Power(s): When Neris entered his body he became able to use the Magic water jewels.
POWER/ABILITY 1: Can form sharp weapons with water from magical water jewels.
PROS: Can defend off enemies, can get a weapon if needed.
CONS: Is made of water so if you use water against it, it turns to steam, if jewel is touched while Neris is using the weapon the jewel breaks.
POWER/ABILITY 2: can form a Large or small water shield.
PROS: Protects him and others from enemies attacks, can give comrades time to get ready while he blocks off the enemy.
CONS: Can't see the enemy through the shield, he can't do anything while using a shield or it will fall.
Weapon(s): Magical Water spirit jewels.
Style: He uses magic that requires him to attack while close up. So he is a short range magic user. He very inexperience in battle so requires the actual Neris to take spirit form and watch his back.
Strengths: He can shield comrades from enemies with his water shield, Can use his magic water jewels to heal people, he his small so he is a fast mover, and he is used to being in a team.
Weaknesses: Can't breathe under water but real Neris forgets that a lot and almost kills him often, if the jewels are touched by anyone but Elliot or Neris while in use they will break, when he heals someone the wound or burn is transferred to Elliot, and turns into a girl when touches any other water but the magical water jewel water.
Background:
Elliot and his mother moved to Happy Harbor when he was 10 for her job. Ever since they moved he spent all his time when not in school on the beach. His mother is an over confident bikini model who appearance catches the eye of most people who pass by her, Elliot inherited her features but instead of using them like his mother does he hides them with clothes and hair. He was raised by his mother alone because his father died when his mother was pregnant, so he is a huge mommy's boy. Because of his mother lifestyle and personality he is used to walking around meet new people every day and he is very outgoing. When Elliot was 14 years old he threw an ice cream at a surfer for talking to his mother and asking her out, he then ran off trying to hide from the man and took his surf board and swam off into the ocean. While out in the water he was playing in the water and saw what he thought was a young girl drowning. He franticly swam down to get her but soon realized that what he thought was a young girl was actually a ocean nymph her name was Neris. Neris told Elliot "I am expected to marry and be queen but I don't want to…I want to live on the surface with the humans where I can chose who I marry and what I do with my life. But I can't live on the surface with this body I would never survive. I require your body, so please don't fight it there is no way you're getting away." As she attempted to use her Families royal Magic water spirit jewels to switch their bodies she realized that something went wrong. So instead of switching bodies they fused together. Elliot in control swam to the surface in a panic not knowing what was going on, he then realize that he wasn't the only one in his body. Neris had fused her soul to his body. Elliot confused by his new 'roommate' began to cry. Neris explained that until they got her body back he was going to have the emotions and feelings of a girl and a boy; also that he had the ability to use her families jewels. 6 months after that Elliot had learned that every time he touched water he becomes a girl and that for 12 hours Neris can separate herself from him and be a spirit familiar. After going out into the water to try and look for some way for getting separated he ran into Aqua man who saw the jewels and knew what had happened. Elliot was taken to the rest of the justice league where they tried to help but couldn't. Neris new who Aqua man was and then suggested that Elliot be trained to use the jewels for good. Aqua man agreed and sent Elliot to be trained by Aqualad and that where Elliot became part of the young justice group and the SGPA.
Timespent: 8 hours
Tools used:
0.5 mechanical pencil
clik eraser
Adobe CS3
Paint Tool Sai

Sky Girl: So what you're trans-gender or something? Cool, but weird definatley weird...
Reply

Elliot: -Looks away embarrased- Y-yeah....forced trans-gender....
Reply

Sky Girl: I think it's kind of neat. To each there own right?*smiles*
Reply

Elliot: -Smiles with her- Your right, thanks for no being mean~
Reply

Sky Girl: Hey I know lot's of people who are "freaks" I learned 'normal's a relative term. If you take into account cultures,homes families and personality also nature vs. nurture is an argument and expieriences. Isn't human behavior fasinating!? But I digress *giggles*
Reply

To Elly: So your a girl?And a boy?
Reply

"mind hasn't caught up with his body"
LOL AND THEN HE GETS TURNED INTO A GIRL! NO WONDER! THAT IS THE WORST TYPE OF PUBERTY!
Reply

xD yes!!! Haahaaha everytime he showers or gets caught in the rain he gets boobies!!! He is such a BABY!! I had WAY to much fun with this character!!
Reply

hahaha, it's like ranma! xD
Having fun is the most important part!
Reply

Yeah just like ranma except th part where Elliot cries everytime and his mom has to calm him down( she is a huge Fujoshi) and that is the best part!!

said I had a mommy complex with this character xD
Reply

Reply

Ahahaha.. he has a Ranma complex~~!
5'5".. he's not that small! >__> He's slightly Ezra-short. LOL

Seiren: O: "A water princess~~! Oh my, your highness~! How may I serve you???"

Typo report time~~ xD
STATS TOTAL: it actually adds up to 39 right now.

BRIEF DESCRIPTION:
nympth => NYMPH
accidentally fused her => ACCIDENTALLY FUSED HERSELF

WEAKNESSES:
alot => A LOT
touches anyother => TOUCHING ANY OTHER
Reply

xDD He is supposed to be small lol haaha that is very short though!!

Elliot: >/////> G-Get you eyes check I'm no girl -face red-

Neris: Hes talking to me... -she shakes her head and rolls her eyes at Elliots face- I can see you come from the ocean what are you?

I"M SORRY I am horrid at grammar!! That ass lied to me!! I had my brother help me because I'm lazy and he told me that it added up to 40....he succeeded in making me look like an idiot(he didn't have to do anything I just look like one) I shall correct it right away! Thank you for making sure I am in check~!!!
Reply

He's not THAT short.. or he's at least still taller than me.. LOL
Seiren: "h, don't be shy~~! I am a black seiren, a spirit that serves the ocean and protects it from danger~! Do you need protection, your highness? I will be lad to serve. <3 "

Hahaa.. maybe he can't add either!
Reply

xDD He's supposed to be little~

Elliot: Ehh -shifts slightly behind Neris's spirit- I-I am not shy!! I-I am used to seeing w-women extremely b-beautiful but I've never seen m-men that are as b-beautiful as you!! -stutters using his hand to pull his bangs longer to hide his bright red face-

Neris: -slight confused- Wow I've never met a Siren in real life before!! I would shake your hand or hug you but as you can see I'm kind of unable to do so... -shifts eye to Elliot- This boy and I had a bit of an acident together...
Reply

But with his costume... as soon as he gets wet, won't one of his boobs and nipples show?! XD He'd have to scramble to cover up! Ahaha~~

Seiren: ~3~ "Oh, you sweet darling~! Why thank you~! You're adorable too! --Ohhh.. I seee.. I see.. Accident of combining together.. Well.. two beautiful people sharing one beautiful body is not bad~! xD"
Reply

Yeah xD Neris tried to tell Elly but he wanted to try to stay that same little boy. When hr turns 17 he asks Neris if he could be permanently turned into a girl.

Elliot: ehh! N-no way...boys aren't supposed to be adorable...we're supposed to be cool...-tossles hair around- girls just want to play and dress me up anyways...so wierd.
Neris: thank you, but what are you doing on land? I mean I'm forced here, are you being forced to stay here?
Elliot: I-Is someone forcing you to stay on land!? Neris shouldn't we help him? We can't do much but we can and try and help you!!
Reply

Oooh he decides he just wants to be a girl in the end?
Is Neris okay with that?

Seiren: "If they aren't supposed to be adorable, then why are you being so adorable?!??! XD *squeeze his cheeks* --Oooh.. Oh.. yes.. I am forced to stay on land until I can convince enough people to become ocean spirits with me and protect the world's waters~~! Please help me me.. i would be so grateful~!"
Reply

Yeah, he always wanted to be a girl but thought that only dirty little boys thought that way and he is scared to death to admit he is queer-ish(not in a rude way xD) because of the way other boys talk about it so he hid it always tries to act very boyish, but his mom is very supportive because her mother was a lesbian. Neris gets angry when he says it but in the end realizes that she was wrong and that her magic cant change him so he has to do it the human way.(Neris can come off as a bitch towards Elliot)

Elliot: -grabs his hand and pushes them back getting really flustered- E-Ehh, no way!D-Dont say such weird things, I'm a boy! -makes hair fall over his eyes so he doesn't have to meet the tall mans eyes-
Neris: Huh...I see -she looks at Elliot- sorry to disappoint but his body is mine as soon as I can get it. After that you can do what you must with his soul -neris made no attempt to spare the young mans feelings- I could care less after his body is mine.
Elliot: -looks in her direction with his eyes to the ground- What ever. its not like I'm going to cry about your harsh words.
Reply
(1 Reply)

I love him.

Like, seriously.
Reply

xDD Thank you!! I was like he is SOOO girly in my mind so I was all super protective because

and I where joking and teasing him. His personality is sooo cute; he acts like a girly 13 year old boy who blushes at the slight mention of sex.
Reply

That sounds like this one guy friend of mine. LOL It could be because I talk about sex explicitly and almost constantly, buuuuuuuuut, that doesn't mean anything~! XD

Disk: *serious face* Sex.
Reply

xDD I and exactly the same!! I am always talking about sex or perverted stuff an my brother is just straight face listening

Elliot: E-Ehhh -uses hand to make his bangs longer so they cover more of his face.- D-dont just say strange things like that to me...-face red- I'm not some p-p-pervert-t
Reply

LOL I love with my friends at school, I could say, like, the most explicit thing, and then they laugh with me. LOL

Disk: *smirks* It's not perverted... *moves hands and bangs*
Reply

ME TOO!!! me ,

, and :gamefuel253: were at the library last week trying to teach

's little bro how to say "Fuck off" and use the middle finger xDD We are horrible people
Elliot: -shifts eye while face gets redder- i-its veryy perverted to just blurt out s-se...s-s-s-se....you know what you said! -avoids eye contact- m-my hair...
Reply