Hello everybody.
sorry for the delay, but dA was down earlier so I could not make the announcement of the winner earlier. The winner was already contacted via dA mail and I am waiting to hear what nice art the winner is picking from his ... correction HER

wish list.
I will let you know once I know and placed the order at the dA Shop.
Okay. The Winner of the Roy/SAC Ad Hunt Contest, with
16
! provided Screen shots, is....



shelldevil-art is a fellow female deviant artist from australia.
Congratulations
MammaThatMakes
!

Thanks for everybody that participated in this contest and thanks for your efforts. Hey, maybe next time. I got a lot of positive feedback so the chances are good that I repeat the contest again in the near future.
I hope everybody had a good time and also visited the Site that was advertised

Here is the URL to the site:
RoySAC.com
.
BTW, here is the Ad that was the target of this contest, for everybody who did not "find" it hehe.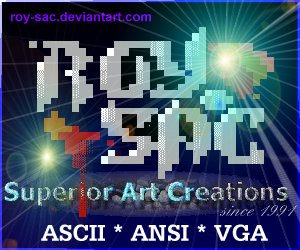 Cheers!
Roy
[SAC]
.oOo. <a href="www.RoySAC.com/" title="ASCII and ANSI Text Art>ASCII & ANSI Text Art</a> .oOo.Blog
---