Community Engagement Week
Hi everyone!
In this article we'll talk about how to customize your DA experience, but the also important subtitle is:
What customization options would YOU like to see?
However to start, we're going to look at a few ways you can customize DA. For this I recently made a journal showing one way I make DA more to my personal liking (which I'm sharing here too), and asked other deviants to share some of their own customizations. So let's get to it!
What's within DA
Since it's likely some new deviants will come around, I'll start with the options DA itself gives you in the User Settings menu. Don't worry, I won't take too much of your time with this one.
In your settings menu (hover over your username at the very top right of the page to get there) you can navigate to
Personal/Browsing
for most of the customization options. Aside of telling DA how many posts, comments, etc per page you want to see,
this is also the place where
you can activate or deactivate the Mature Content filter.
One thing I find useful, especially if you're having trouble loading the infinite thumb pages, is setting
Paging
to
Click Through Pages
. That will load only as many thumbs as you tell DA, and add
Previous
and
Next
buttons at the bottom of the page.
You can also activate the Stick Menu, which will sort of unfold the main menu and give you some bookmark-like shortcuts to a lot of DA's functions that will always be at the top of the page.
Third Party Add-Ons
Cleaning Up DeviantArt
(thanks Theobald93)
This is a filter to clean up a bit DA's code, hide some elements that you may consider unnecessary, such as share buttons, groups the deviation is in and so on, making the page a bit easier on the eye. To my knowledge, this will not speed up loading times, as everything is sent to the browser anyway.
Here's Theobald's filter:
Cleaning up deviantART (uBlock cosmetic filter)
As the name says, this uses a browser add-on called uBlock, which you can download here for
Chrome
,
Firefox
or
Opera
. Keep in mind that this is his own filter and is made to his preference, but you can also make your own if you know a little about website innards.
DeviantArt Filter
DeviantArt Filter
is another similar tool, although this one lets you hide deviations in the browsing pages either by author name, tag, category etc. This may be useful if you're concerned about certain types of content that is being uploaded, or if your children are browsing DA.
DeviantArt Filter
is a browser add-on, and is available for
Chrome
and
Firefox
Stylus
I have been here for a few years now, and I felt like switching from the classic DA green.
Stylus
is a simple and easy-to-use add-on for
Chrome
,
Firefox
or
Opera
, that lets you re-skin any website that has available skins for it.
Of course Deviant Art is one of those and there are over 500 themes available for it! They range from very mild modifications to the original dA theme, to complete overhauls that can give your dA experience a completely different look. I went for a dark one, that's my thing.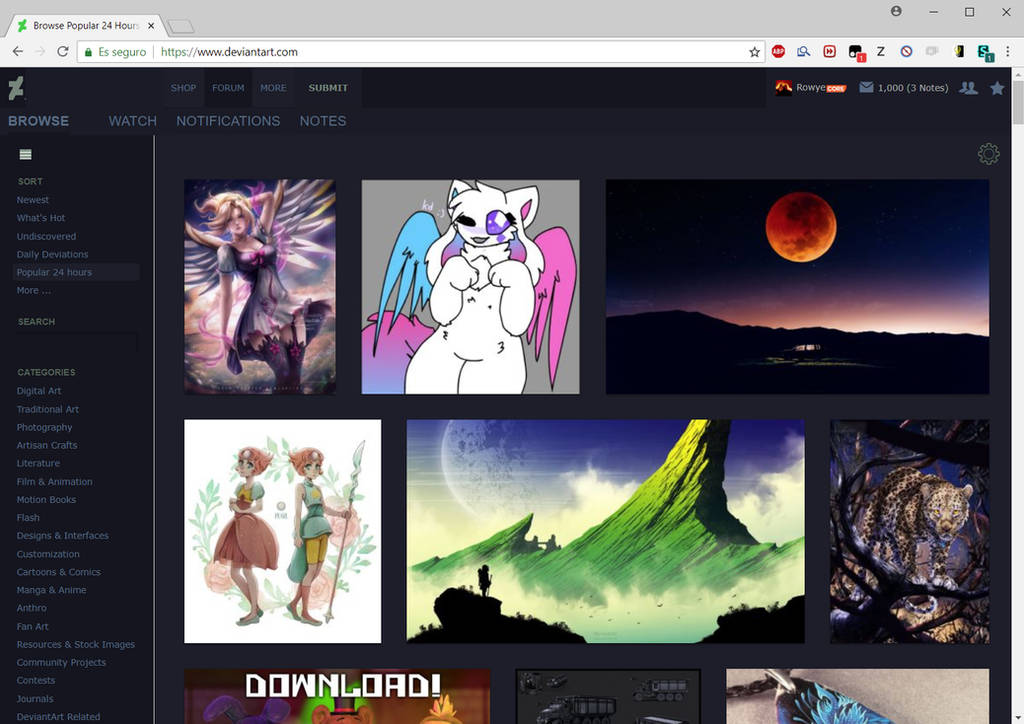 To add themes, you can download them from here:
userstyles.org/styles/browse?s…
*Important note*: The themes page is from another extension, Stylish, which operates the same way, but was recently found to log user information. The themes are user-made and completely safe to use, but make sure you do not install Stylish instead! Use that site only to find themes.

Greasemonkey and Tampermonkey
There are two other browser add-ons,
Greasemonkey
and
Tampermonkey
, with incredibly powerful abilities and that can also be used on other websites than DA.
Greasemonkey
is the original one and made only for
Firefox
, while
Tampermonkey
works almost exactly the same and is made for
Chrome
,
Safari
,
Microsoft Edge
and
Opera
.
I use Chrome's
Tampermonkey
with
this script
which, when you click on "
Add to a group
" in your deviation's page, opens a window where you can make collections of groups, display only groups in certain collection, and submit your deviation to any group within that same window. This is a huge time saver for me, but it's not the only script for DA at all.
Here's a list with all the available ones, I'm guessing around 50 or so:
greasyfork.org/en/scripts/by-s…
?
Now...
What customization options would YOU like to see?
As you likely noticed, only one of the entries above was brought up by another deviant. That is possibly because my request journal was a bit long and maybe it was tough to read. Since most users that responded to it did so with customization wishes,
I will instead paste those here as examples, so they don't get lost in my old journal. You can tell us in the comments what your take on this is!
So, here we go!
Shirokibo
said:
It would also be nice to have DDs take up the front page again. I'm not having anything against pieces of art that were popular for the last 24h to take up center stage. But these days, a lot of these popular ones also include pieces that are not art. I don't think it's nice to have someone visit dA and then have such obscene images greet them first thing. This, I think, is one of the easier solutions to go along with.

StormStarDragon
said:
It would be nice if DA had a light/dark mode option built in.
In regards to customization and what I'd like to see on DA...I'd say freedom. Very frequently I find myself frustrated that I can't put a custom box where I want to or move something with lesser relevance further down my page.
Secondly, I'd like for DA to come out with some official "how-to"s so those who invest time and/or money into customizing their pages can do so in an efficient and educated manner. Between setting backgrounds on various boxes to buttons to page dolls to creating journal skins and more fun stuff, researching and troubleshooting the coding puts me off.

LadyEvilArts
said:
I wish DA had day/night version like many mobile apps.

SecretDarTiste
said:
We should have more freedom to create our own profile (like on Wix.com)... It should be easier just to hover over things and replace items, in stead of using CSS like here... Not everybody has the knowledge of CSS and so on, and it takes too long if you want to change anything.

BarryD-Alive
said:
I would love to learn how the DA "Search" field can be added to any and all windows/pages/frames of DA, I hate having to go back to my Profile or some other window, have to scroll-up and finally see the field at the top.

lauraypablo
said:
It would be great being able to personalize DA's theme color to the user's taste.

What worries me more though is how my profile looks like. I try to do my best with code and CSS, but sometimes it is a real headache to do.

Mutinate
said:
I would like a feature added to the User Settings. When I do a keyword search of DeviantArt, I never want a "Popular all time" view of the results. I know what I'm looking for, and thus want either a "Popular in the last week" or "month" view, depending on how long I've been away from DeviantArt. It would be useful not to have to have to switch out of "Popular all time" every single time I do a keyword search.

Finally, my own wish for customization, that I had planned for this journal:
I would love it if, since the Mature Content Filter is very detailed when we post deviations, that it was the same on the other end, so that we could block certain filtered content and allow other.

That way, we could for instance allow Nudity but block Sexual Themes, and so on.

And what about you? W

hat customization options would YOU like to see?Let us know below in the comments!